If you're wondering if Passive Paychecks is a scam, I got all the answers in this Paychex review!
This program claims that you're going to earn money fast by simply paying a small fee of $47.
But what's behind this system?
If you want to learn the truth & find a legit way to actually earn just read this Passive Paychecks review!
Quick NavigationPassive Paychecks Quick ReviewWhat is Passive Paychecks?How Does Passive Paychecks Work?How Much Does Passive Paychecks Cost?How to Make Money Online!
Passive Paychecks Quick Review
Name: Passive Paychecks​
Website: PassivePaychecks.net
Price: ​​​​$47 + upsells
Owner: Unknown
Recommended? No

My #1 Recommended Training for Newbies
What is Passive Paychecks?
Passive Paychecks aka Passive Paychex is a site that says you're going to earn money without hard work or effort
The person voicing the sales video is unknown as there is no information about him online.
But he says that he's a millionaire and has a secret he will share with you to start earning effortlessly.
He says that celebrities like Bill Gates and Oprah know and use this secret.
A $47 Secret?
So this millionaire says that he going to hand you this secret for only $47
He says that he normally should charge over $5k but since he's a nice guy and genuinely wants to help newbies get started
Unfortunately, this is just pure BS & empty talk.
Everyone can splash a landing page and tell people he's a millionaire
In fact, Passive Pachecks is not the first program to come with such a fake story.
I have reviewed many similar scams identical to this system that come with fake stories and fake millionaires
Here are some examples:
Passive Paychecks is as unethical as the scams above
This program uses fake scarcity like the fake counter that says there are limited spots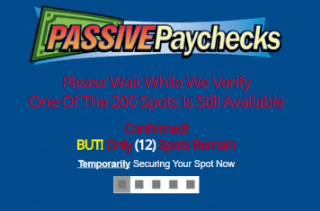 That's just a tactic to make you hurry up so you spend money without doing your homework.

Passive PayChex = MOBE
After having a closer look at the Passive Paycheck system I noticed that it's all about selling you another program known as MOBE.
Mobe is a 21 step training where you learn how to create websites just like Passive Paychex and start promoting the same program you bought.
There are a lot of affiliates promoting MOBE under different names like:
If you go to the purchase agreement page of Passive PayChecks you will see that this is another MOBE doorway.
How Does Passive Paychecks Work?
Passive Paychex is actually just a page that sells MOBE
Here are the steps you're going to go through in case you buy this program
Spend $47 to get a taste of the 21 Step Training
You wil need $2,500 to be qualified for the rest of the training.
Start promoting MOBE
Spend more money up to $70,000.
You will need to spend more money in order to earn higher commissions
Yes you can earn big commissions but they will only come after you invest lots of money and convince people into spending the same money which is hard.
My #1 Recommended Training for Newbies
How Much Does Passive Paychecks Cost?
This is a very expensive program
You will need to invest a lot of money upfront to get started and up to $70,000 to be all in!

As you can see it's a very expensive program.
If that's more than you can afford
Here's the Best & Affordable Training for Newbies
 Passive Paychecks is a Scam
Passive Paychecks is a clear scam as they are not going to teach you how to earn money
They don't even have a training under their name or something
they simply link you to buy another program that costs tons of money and has a low success rate!
Passive Paycheck system is a fake program and it comes with different unethical tactics like the fake limited spots and the fake endorsements

How to Make Money Online!
If you want to finally start making money even if you're a complete newbie
I have an amazing program that will help you with so
It's affordable, straightforward and step by step
This is not a click button program
You need to put in work to make money but it works!
It's free to get started, no credit card!