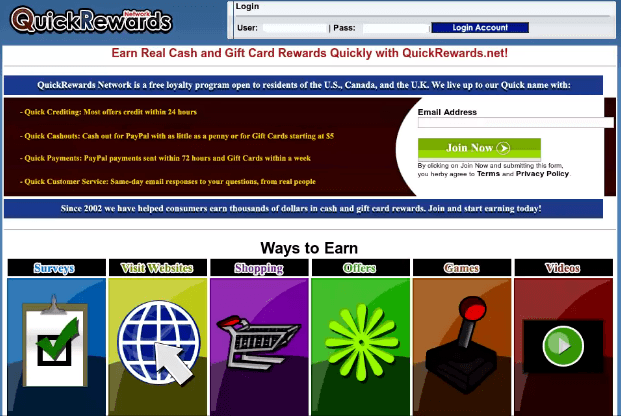 Quick Rewards is a website that promises you to earn some extra cash doing various simple tasks
It's always a great idea to earn some extra cash doing simple things like surveys
But some sites are really not worth it as they make it hard to even reach the minimum payout
If you are struggling to find a legit site that actually pays
I recommend you to read this full Quick Rewards Review
QuickRewards Review
Name

: QuickRewards aka Opinion Router

Website

: QuickRewards.net & Opinionrouter.com

Price

: Free

Owner

: Dmitry Beker

Rating

: 3/5
What is QuickRewards?
QuickRewards is a GPT (Get Paid to) Website where you earn money by doing different tasks
Quick Rewards was created in 2002 by Dmitry Beker
When I had the first look at Quick Rewards I assumed it was the usual scam
But After having a closer look I realized it was a legit site
With that said, there is better stuff than Quick Rewards
Check out these High Paying Survey Sites to earn some really good extra cash.
How Does it Work?
To get started you need to go to their website and register
It's quick to register, after that you have to confirm your email address
Remember that you need to be at least 18 years old in order to register.
Note that you don't have to register on their other website Opinion Router
All you have to do is enter your email address that supports Paypal and you're ready to go.
How Can You Make Money with QuickRewards
There are different ways in which you can earn money with QuickRewards
There is nothing complicated to do here just some simple tasks that even a newborn can complete.
1) Take Surveys
I personally hate the QR surveys as they are very long and pay very little
You get $1 for every survey you complete
I don't think that is worth it especially when there are great surveys like Swagbucks that pay way more than that.
2) Visit Websites
You earn some points by visiting sponsored websites
To be honest with you, it's just a waste of time
All you earn here is some little points.
3) Get Paid to Shop Online
Shopping online is a great way to save, however, when it comes to this I prefer those rebate websites more.
Swagbucks and Ebates are the best when it comes to getting paid to shop online.
4) Read Emails
Reading emails is another way to earn some extra points by opening paid emails that contain offers.
You can check out these great sites where you can get paid to read emails
5) Get Paid to Search
QuickRewards also allows you to make money by searching the web
Instead of using Google you can use their search engine and earn some extra points.
6) Watch Videos
Watching videos is another way to earn some extra points
However, the pay is miserable here
You can get paid to watch videos and earn more with these sites.
6) Participate in Trivias
You can earn points by answering trivia questions
7) Guess My Number games
This is a game that is fun and easy way to earn some extra points
8) Invite Your Friends
If you invite your friends to join Quick Rewards you will earn 5% of whatever they earn.
How Much Money Can You Make with Quick Rewards?
When it comes to how much money you can make
It's disappointing
Here's how much you can earn for each task you complete
Surveys = $1 to $12 (the longer the survey the more you earn)
Visiting Websites = some points aka cents
Watching videos = $0.5 to $5 (depends on video length)
Playing Games  & Trivia Questions = some points/cents.
It's really annoying because you need to spend lots of time to earn something valuable.
In my opinion and experience, it's not worth it.
I see people online talking about a hack to make more money with Quick Rewards
I think the best hack is to refer people.
How Does QuickRewards Pay You?
What I like about QuickRewards is the fact you get paid as soon you earn something
There is no cashout limit, which is very good.
You can get paid in two ways
Quick Rewards Reviews
If you are looking for Quick Rewards reviews here are some opinions from former QuickRewards members at Survey Police and SiteJabber
What I liked about QuickRewards
Legit
Paypal payments
No minimum cashout limit
What I did not Like
They send many promotional emails
Time consuming
You have to register on different sites
Is Quick Rewards a Scam?
This is a legit site, definitely not a scam
There are some people that enjoy it and some that don't
In my opinion, it's not recommended because you have to spend hours but at the end of the day, it's not worth it.
If you are looking for websites that actually pay and are worth it
Check out These High Paying Survey Sites.