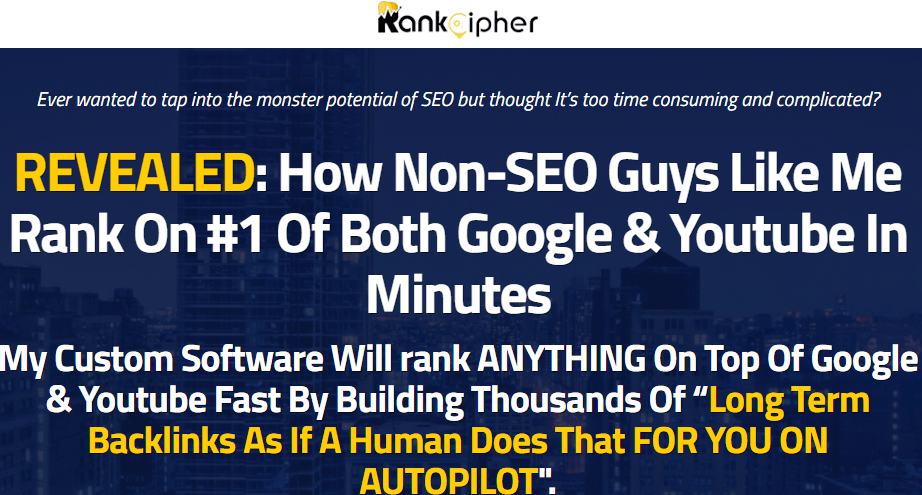 This review is going to be about Rank Cipher, if you are about to buy it, don't do it until you read this review!
If you were looking into Rank Cipher tool chances are you stumbled upon reviews that say how great it is and how it can drive thousands of visitors to your site.
Honestly, I think Rank Cipher is complete garbage and BS I am going to explain why in this review.
What is Rank Cipher?
Rank Cipher is an SEO tool that claims it will build thousands of backlinks in minutes so you don't have to spend time creating unique content for other people or doing any annoying manual work.
This SEO automated tool was launched on the 23rd of March since then a lot of people are promoting it everywhere along with bonuses.
How Does it Work?
After you buy Rank Cipher you will have to use a visual designer where you can just drop elements which are sites that will link to your money site.
When you set up the sites to link to you, you can relax and wait for the backlinks to be automatically generated for you.
With your purchase, you will have an article spinner to make your blog posts unique, which is complete BS and we all know how SMART Google is these days I am going to get to this point later.
Rank Cipher comes with a bunch of upsells and bonuses, sorry I am not going to mention them here, you can easily find them on other blogs that promote the product.
I'm 100% against Rank Cipher so is Google and the top internet marketers that do SEO right.
Can Rank Cipher Help You Get Tons of FREE Traffic?
If you want to get your website COMPLETELY banned from the search results then go ahead and buy Rank Cipher, backlinks are important but if you buy them or get a tool to automatically generate them for your site, rest assured that you will be only killing your site.
One thing that Google wants you to do is to focus on providing quality content for the searchers if you do that you can outrank people that only focus on backlinks.

Honestly, I have never built a single link to this blog and I'm ranking very well and getting a lot of free traffic.
How? Because I write unique and helpful articles and I focus on that all the time, gone the days when you could rank only if you have backlinks.
I'm not saying backlinks are not important, they are important but if your content adds no value, you can have thousands of quality backlinks and still struggle in rankings.
Want to rank well in Google? Simple, write helpful and valuable content and build only HIGH-QUALITY BACKLINKS not automated spammy links from automated SEO tools like Rank Cipher.
Google Guidelines Are Crystal Clear
Google is INSANELY smart, building spammy, automated backlinks is a big no, no, Google can detect spammy backlinks, if they do, rest assured that your site will be permanently wiped out from the search results.
Automatic backlinks are what Google calls link schemes if you go read their guidelines you will see how they hate people that cheat the system.
Don't take my word for it have a look at this screenshot from their official site.

Learn more about link schemes on their official site.
With that being said, Rank Cipher or any automated backlinks builder out there is a fast way to lose your rankings.
Is Rank Cipher Worth the Price?
I'm afraid that Rank Cipher is complete BS and scam they even give you an article spinner software that will automatically generate content for you, which make the products even worse!
I can go and talk about how automated generated content can kill your business but no need to mentioned that you can do simply Google that and find out.
Honestly, I'd NOT use Rank Cipher even if they would pay me.
Do you Want FREE Targeted Traffic from Google?
The Good news, Google is willing to give you a lot of free targeted traffic that will generate a lot of sales but only of you do things right.
Play the Google's game and you will win.
Yes, it's going to take time and effort but it's worth it!
If you own a website or you want to make an existing one successful I recommend you to check Wealthy Affiliate
It's a great training that will teach you how to Get traffic from Google the clean way and more.
Wealthy Affiliate is 100% free to try, you will get 10 free lessons to judge the quality of the WA
What do you think of Rank Cipher? Would you use it? Any thoughts or comments are welcome.