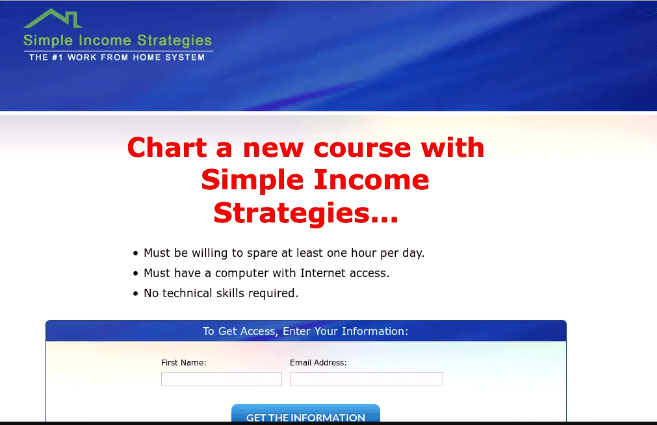 If you have been paying attention to ways to make money online, chances are you have heard about simple income strategies.
If you haven't, read the simple income strategies review below to learn everything there is to know about this business opportunity.
What Is Simple Income Strategies?
Simple Income Strategies is a program that teaches people how to make money from home just by sharing links online.
It's some kind of an affiliate program where users are asked to post and share advertising links of various products online.
The domain "SimpleIncomeStrategies.com" was registered in March 2016 and is owned by John Shaver. There isn't any other information about the owner of this business opportunity.
Usually, when an opportunity is not open about the people that own it, it means that they have something hide. Actually, the techniques used by this opportunity to earn money are questionable.
How Does It Work?
Once you signed up for this program, you will be required to watch some videos that will teach you how to post advertising links online.
You will actually be to post links of various products online.
The truth is, many of these products are legit but the way that Simple Income Strategies promises you cash by sharing these links on the web is what is questionable.
The simplicity of this program makes people wonder if it's legit or just a scam.
Posting advertising links to earn some money is actually what this opportunity promises you.
What Are You Actually Buying?
According to the company's official website, members are asked to buy what the opportunity refers to as "Earnings Disclaimer".
The truth is this program is actually known as "37 Clicks" and not what the company is trying to call it "Simple Income Solutions".
A little digging into 37 Clicks reveals another program that looks like Simple Income Strategies.
The program is owned and run by an individual identified as Kelly Simmons.
It looks like that isn't actually her real name; it appears to be a name that she uses to hide her true identity.
Can You Make Money?
The opportunity promises you a return of up to $379 in a day, but is this true?
This amount sounds too good to be true. If you are thinking about joining this business opportunity, you will be asked to pay $97 upfront as joining fee.
This amount is non-refundable.
So, can you make money with Simple Income Strategies?
There isn't a definitive answer to this question.
The brains behind this opportunity and the people that joined first are likely to make some cash.
In this light, it's in your best interest to think really hard before you decide to join this business opportunity.
Is Simple Income Strategies A Scam?
There are many people out there who earn their living through affiliate marketing.
This business opportunity promises people a huge amount of money just by sharing advertising links online.
To be honest, there is no way that you can make $300 just by sharing 15 links.
In fact, there's no way of telling how much money you can earn by sharing links.
This means that Simple Income Strategies scam people to get what they want.
In addition, very little is known about the person that owns this business.
The bottom line is there is no guarantee that you can make $379 in a day just by sharing links online.
Legit Opportunity!
If you are looking for a legit online business opportunity I invite you to try the training that allowed me to work from home full-time, the training is called Wealthy Affiliate and it's perfect for newbies!
---
Did Simple Income Strategies scam you?
Let know by leaving comments below!