Teeban.com, DutySet.com, and MoneyJob.online are some scammy websites that I am reviewing today to show you they are nothing but only shady programs.
It's very sad to see a lot of people looking for online jobs falling for these websites.
If you are interested in joining those sites or you are already a member of one of those you have to read this whole review.
Quick Review
Names: Teeban, Duty Set, Money Job
Websites: Teeban.com – DutySet.com – MoneyJob.online
Price: free
Recommended?: NO
Recommended Online business training
UPDATE! Beware of EarlyPayJob.com is the same scam!
UPDATE! Netduty.site is another similar scam!
UPDATE! MyPayStuff.com, DollarTeller.com & RevenueBrust.com (this one with different design) are new scams to the network!
FreshEmploy.com & EmplyCash.com are new scams!
Teeban, DutySet & MoneyJob what are They?

These websites you see in the picture are scams that are not going to pay you.
They belong to a network of scams, the owner of these sites produces the same scams with different domain names.
Sometimes one will redirect you to a similar site with another name.
This is not the first time I review this kind of websites feel free to read my DollarBirth, RapidUSD, Super Jobs and DutyScreen, PokeLazy and Dollargrowing.com reviews
Nine websites and they are all the same when I say the same I mean literally, the only difference is the name.
Will you earn Money with These sites?
Money can be made by these sites but they will all go to the owner of the sites.
They only want to use you to make money for them so please don't fall for it.
Nobody is going to give you 'easy" money if you don't work very hard for it, you are not going to earn it.
Looking inside Teeban, MoneyJob & DutySet
I already know what they are all about and how they scam people because I reviewed their similar sites.
Assuming this is the first time you hear about these and probably you don't know that they belong to the network of scams I mentioned earlier so I will go into explaining how they scam people.

These sites are all about sharing an affiliate link everywhere they say you will be earning $5 to $10 everytime someone clicks on your affiliate link.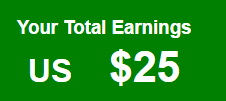 When you register and log in you will see a $25 dollar in your account, the minimum cashout limit is $300.
So even if you collect enough clicks to reach the $300 you are not going to cash out and that's how they scam people.
You will have to take a survey to make money which asks for money itself.
There are other similar scams which are the following
Jamlass.com
DollarTent.com
DutyTrend.com
DutyKat.com
MyPaystuff.com
BuckStip.com
DutyLeaf.com
Dollarsaw.com
Dutyspace.com
Dollar2refer.com
Dreamduty.com
Here's a video of some of their previous scams.
Solid & Legit Way to Earn Money from Home?
Unfortunately, most online jobs are either scams, not for newbies or pay less than minimum wage that's why I recommend starting an affiliate website.
Within an affiliate website, you can promote products people are looking for whenever someone purchases an item through your website you earn commissions.
If you are a novice at this then you need a training and a place where you learn from other members and get help when you need it.
The best training I recommend for newbies is Wealthy affiliate which will teach you how to start an affiliate website, how to get visitors and how you can make money.
It's an honest way to make money but it takes months of consistent hard work but it's totally worth it because with an affiliate site the sky is the limit in terms of earnings.
Wealthy Affiliate will give you 2 free websites and 10 free lessons to get you started.
Here's what you will be learning from Wealthy Affiliate
Read my Wealthy Affiliate review for more info.
---
If you have heard about any other similar scams to Teeban.com, Dutyset.com or MoneyJob.online please let us know by dropping a comment below!