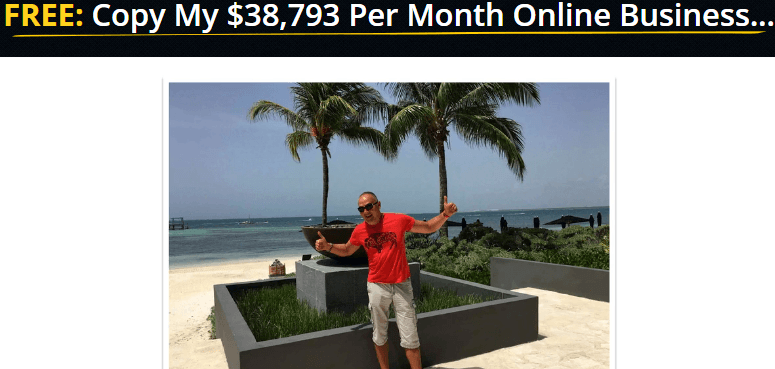 TimeFreedom.me is an online business opportunity where you are promised to earn $38,798 per month, in this review you will find out if TimeFreedom.me is a scam or not!
TimeFreedom.Me Quick Review
Name: Time Freedom
Website: TimeFreedom.me
Price: $1 – $20,000
Type: MLM Scheme
Owner: Alex Z
Verdict: Legit
Recommended? Yes, if you can invest massively and have experience
Alternative: The Perfect Training for Newbies to Make a Living with your Passion 
What I liked
Legit Opportunity
Valuable Information on the training
You get some good training for $1
Alex Z owner of TimeFreedom.me is very successful and knows what he is talking about
What I did not Like
It literally costs an arm and a leg (

You need to invest thousands of dollars up to 30k- 50k

)
Some fake scarcity tactics on the sales page
Alex Z says TimeFreedom.me doesn't cost a lot of money to start while that's true it will cost you only one dollar but that will only allow you to have a look then you will have to invest real money.
What is TimeFreedom.me?
TimeFreedom.me is an opportunity where you can make big commissions like $500 to $7000 per sale
At first glance, I thought it was the same usual scam with fake income reports
After having a closer look I'm happy to tell you that the TimeFreedom.me is not a scam and the person behind it Alex Z is not a scammer but a real person that is successful and can actually help you make money
But like anything in life, the TimeFreedom.me has it own flaws
I'm not going to analyze the flaws of this system but I think it's worth mentioning some bad things I noticed about this program which may make it not for you especially if you're on a budget.
TimeFreedom.me is Digital Altitude
I have nothing against Digital Altitude and I don't think they are a scam although there are quite a lot of people that think otherwise just because it's an expensive MLM scheme.
I personally prefer Affiliate marketing because you don't have to spend thousands of dollars to start your online business but that does not necessarily mean MLM's are a scam I think it's just a personal taste.
Back to our main subject TimeFreedom.me is essentially a sale funnel to Digital Altitude
What is Digital Altitude?
Digital Altitude is a high ticket opportunity where you have to license high ticket products and resell them for a profit
There are a lot of people that make money with Digital Altitude while there are those that wasted thousands of dollars.
With this opportunity, you have to expect to invest a lot of money in order to start making money.
[thrive_link color='orange' link='https://fulltimehomebusiness.com/is-wealthy-affiliate-worth-it' target='_self' size='big' align='aligncenter']Legit Training to Earn a Consistent Income every Month! [/thrive_link]
How Does TimeFreedom.me Work?
Alex Z in the sales video says you can get started for $1 only or even for free if you say no to that exit intent pop up
When you connect your credit card you will get access to the program you will also have your own personal coach
Remember that you will pay $1 only to have a look at the system
When you finish the few video tutorials at Digital Altitude you will have to upgrade, your personal coach will be encouraging you to upgrade to the higher membership
How Much Does The TimeFreedom.me Really Cost?
Frankly, I don't like how the sales page barely mentions the real cost of this system
With TimeFreedom.me and Digital Altitude, you will need to invest thousands of dollars in order to get started
Below I will break down for you all the prices of the products that your personal coach will encourage you to license so you can resell:
Aspire: $67 per month
Base: $397
Rise: $1,497
Ascend: $6,997
Peak: $11,997

Apex

: $19,997
 You need to invest at least $50 per week on ads and traffic
Can You Make Money Next Week Working 30 min per day?
If you are an experienced internet marketer with an active email list you can definitely make money in the next 7 days by working 30 minutes per day
As a newbie, you will need to spend hours and hours in the training with consistent hard work and invest money in learning web assets
When you put in the hard work and invest in the training and yourself you will have assets and skills to make money later working only 30 minutes per day
Is TimeFreedom.Me a Scam? Is it Worth it?
I know a lot of people that will call it a scam just because it's super expensive and an MLM scheme
In my opinion, a scam is something that will disappear after you pay money or something where you have zero chance of making money
TimeFreedome.me and Digital Altitude are not scam
But is it Worth it?
In my opinion, this system is perfect for people that have some experience in this field and can afford to license Digital Altitude products
For Newbies on a budget that want to start an online business
I highly recommend Wealthy Affiliate it's a great affiliate marketing training that you can try for free, the first month is $19 then $49/month and you get literally everything you need to start making money online.
TimeFreedom.me Final Opinion
This system is legit and it does work if you put in hard work and consistency it will pay off big time for you
However, I don't think it's for everyone because it requires investing quite a lot of money up to 50k to be all in
If you are a newbie and don't have all that money to invest
Check out My #1 Recommended Training for Newbies!
it's perfect for newbies that want to finally start making a living online selling other people products without spending thousands of dollars for training.
---
What do you think about the Time Freedom System? Would join or you think it's a scam?
Please leave your comments below and share with us your thoughts!