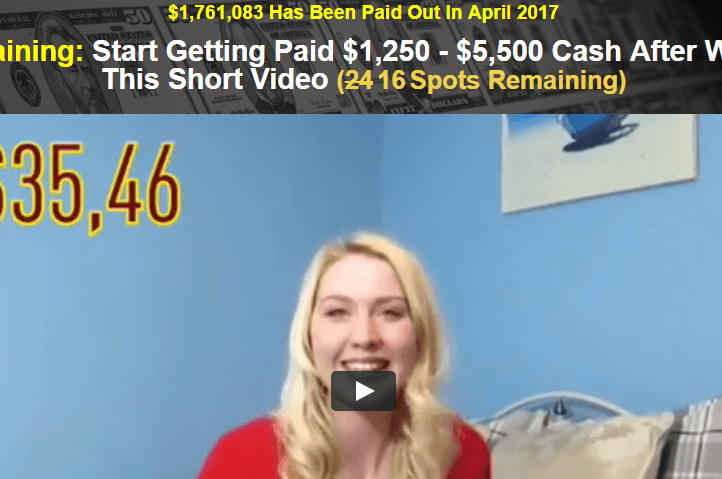 UDC System also known as Ultimate Dot Com Lifestyle is a newly released program where you are promised to make money
I heard about this system when I was checking out some emails
I know what this program is all about and I am going to share with you a VERY honest review today
If you are looking for the UDCsystem.com reviews
Make sure you read this entire review so you make a smart investment without wasting money you probably can't afford to lose!
UDC System Quick Review
Name: UDC System aka Ultimate Dot Com Lifestyle
Official Website: UDCsystem.com
Price: $49 + upsells
Rating: 3/5
Owner: Mark
What is it?
Yet another program created by a MOBE affiliate to increase sales
UDC System is a sales funnel to MOBE.
UPDATE 2018: Mobe has been shut down by the FTC & UDC is gone!
It seems like MOBE affiliates create multiple products to promote their training.
Here are some examples of other programs that promote the same offer
Recommended?
UDC System (Ultimate Dot Com Lifestyle is so unethical and lying
However, MOBE (the program they want to sell you) is not a scam
However, it has a lot of problems that I will go over on the rest of this review.
Before we move forward with this review I invite you to
check out My Recommended Online Business Training for Newbies
What is UDC System Exactly?
Note that there are two different Ultimate Dot Com Lifestyle programs
The first one belongs to a millionaire entrepreneur called John Chow
and the one I'm reviewing today belongs to someone called Mark that is not showing face as a real person
With that said they are literally the same as they both sell you MOBE
The only difference John Chow's program is not promoted in a nasty way like Mark's UDC System.
How Does UDC System Work?
To get started with the Ultimate Dot Com Lifestyle you will have to pay $49
Once you pay $49 you will have instant access to the training called UDC 7 Step program
The UDC 7 step program training is pretty limited
When you complete it you will be immediately forwarded to the MOBE 21 steps training.
In a few words, the UDC 7 step program is just an introduction to selling you MOBE
What is MOBE?
MOBE aka MTTB aka My Online Business Empire is a high ticket online business training created by Matt Lloyd they are based in Malaysia
in MOBE you will learn how to buy and market the MOBE products
In my opinion, MOBE is a legit opportunity but it comes with a few problems
First of all most of their members earn less than $100 per month (but they don't take action) the active ones earn thousands of dollars.
Secondly, it's going to cost you thousands of dollars
Here's a MOBE review if you want to learn more
Or you can read the MOBE reviews and complaints here.
How Much Does the UDC System Cost?

The Ultimate Dot Cot Lifestyle training is called UDC 7 step program will cost you only $49
As I said before it's just an introduction to MOBE.
The MOBE training which is called the 21 steps training will include a personal coach or mentor
The mentor will guide you through the training and will unlock for you the next modules only if you complete the previous ones.
All good
The MOBE 21 Steps training will stay free until the step 6
MOBE training has 21 steps you will have to complete, the first 5 steps are free and those steps are enough so you can fall in love with the training
But here's is the catch
MOBE Licensing Rights
in Step 6 you will be introduced to the MOBE licensing rights training and that's when you won't have the assistance of your coach anymore
The coach will be only upselling you the MOBE products
Remember the Sales Page?
If you still remember what you were promised in the sales page
You probably got excited about earning $15,000 in a single sale
But did you ask yourself where the money comes from?
In order to be eligible for the fat commissions you need to invest like crazy
When I say invest like crazy I mean it literally
$2,000 is the minimum and up to $60,000 to be all in regardless of the add-on products that you are going to be encouraged to buy.
But if you don't want to invest all that money you can simply promote MOBE you will be earning $20 per sale only
Is UDC System Legit or Scam?
UDC System is a scam here's why
They promise you the moon
Fake paid actors
Big claims
They don't mention the real cost involved
As you can see the UDC System or The Ultimate Dot Com lifestyle is full of hype and lies
However, the MOBE training is legit and it does work just remember that you are going to spend a lot of money
In a few words, if you invest join the UDC system you won't be scammed they won't steal your money
Just ignore the hype, you won't earn money in six weeks it's going to take a lot of time as you need to learn and master the skills thought in the training and learn how to recruit people to buy what you promote which isn't easy.
UDC System – What I Liked
High commissions (up to $15,000 per sale)
Great incentives for the top affiliates
They promote MOBE which is legit
What I didn't like
Full of hype and lies
To earn high commission you need to invest a lot of money
Fake testimonials
Not newbie friendly
Unethical marketing tactics
Who is UDC System for?
In my opinion, UDC System is not for everyone
If you are someone that has never made a dollar online
I recommend to check out Wealthy Affiliate instead of Ultimate Dot Com Lifestyle
WA training is newbie friendly and you can try it out for free.
The UDC system is for those who can afford it and ready to invest real money and they are serious about making money online.
Conclusion
UDC System is just a sales funnel to MOBE
UDC System is marketing MOBE in an unethical way
However, if you forget the hype and join you will be making money as they are promoting a legitimate opportunity
With that said with MOBE, you should expect to invest money in order to make money
You can join UDC System from Here through my affiliate link if you found my review useful
If you are a newbie I recommend you to check out Wealthy Affiliate which is free to try and costs way less.
What do you think?
Would you join the Ultimate Dot Com Lifestyle?
Do you have any experiences with it?
I'd love to hear your opinion and thoughts!
Don't forget to leave comments below!