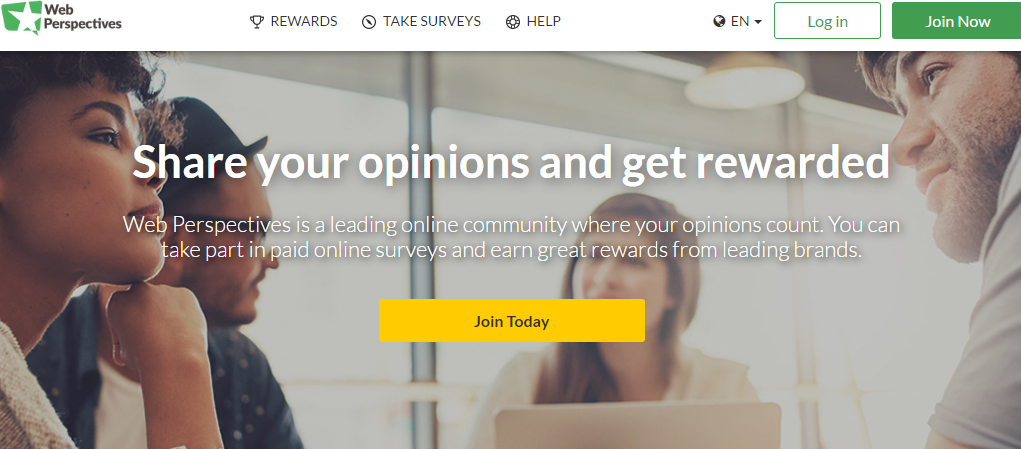 Is Web Perspectives a reliable way to make money or it's a scam? Read this review to find out!
I received an email where someone says they are not sure if Web Perspectives is legit or a scam so I thought I would write a review about it.
Without wasting time let's get into the review.
Quick Review
Name: Web Perspectives
Website: WebPerspectives.ca
Price: Free
Verdict: Legit
Eligible Countries: Canada
Recommended Reward Site: Swagbucks
What is Web Perspectives?
Web Perspectives is a survey program for Canadians (If you're not from Canada check out (Swagbucks or Unique Rewards)
They have changed the colors and the theme of the site they have also changed something in the payments section which I will discuss further down in this review.
Surveys are not the only thing you can do on this site you can also participate in diary studies, focus groups and Product Testing
The best part about Web Perspectives it's also available for teens.
How Much Money Can you Make With Web Perspectives?
Web Perspectives is a great site if you want to earn extra cash you won't get rich doing surveys with this site or any other survey site out there.
I have reviewed many surveys panels before but I think Web Perspectives is one of the best and most ethical ones
Most surveys will give you like $0.20 per a 30 minutes survey I wish I was kidding but there are many that pay like that.
I think Web Perspectives is generous compared to all those sites, you can earn around 100-500 points per survey (1000 points = $10)
The surveys are usually 20 minutes long which is not bad, you may not qualify for every survey but that's a normal thing and it's common and definitely not Web Perspectives fault.
You can expect to receive around 10 to 30 surveys per week.
With this company, I think the one can earn $80-$100 which is some good extra cash.
Related: 10 Best Reward Sites That Actually Work
How Does Web Perspectives Pay You?
The one thing I don't like about Web Perspectives Is the fact they don't pay via Paypal anymore, they used to have PayPal payments but not anymore.
Paypal is my favorite way to get paid online honestly I don't even bother joining a company if they don't support Paypal.
But they have other options to withdraw your money which are Amazon.Ca, Indigo, 50 Air Miles and other gift cards.
You can request a payment when you reach 1000 points which are $10.
You can also donate your earnings if you which and receive a tax receipt.
Web Perspectives What I like & Don't Like
What I like
Legitimate and it does pay
It pays well compared to other surveys
Positive reviews by the members
Research Now company (that owns Web Perspectives) has an A+ BBB rating.
Good extra cash opportunity
What I don't Like
Not a reliable way to earn money
Available only for Canadians
Is Web Perspectives a Scam? Is it Worth your Time?
Web Perspectives is definitely not a scam, it's 100% legitimate if you live in Canada and you are looking for an extra cash site, Web Perspectives is good.
However, I think there are better opportunities out there to earn a better income.
The program I recommend at this moment is Wealthy Affiliate which is an affiliate marketing training.
Affiliate marketing is when you help companies like Amazon sell products, you are given an affiliate link, whenever someone buys through your link you earn a commission.
If you are a newbie and don't know how to get into this profitable business model then you need some good training which is What Wealthy Affiliate is all about.
Wealthy Affiliate is a perfect training for newbies to start a profitable affiliate website.
Affiliate marketing is profitable however it takes hard work and patience, it takes months to see results but it's worth it.
Wealthy Affiliate is free to try (No Credit Card) you will get 10 free lessons, 2 free websites, support, and hosting.
Read my Wealthy Affiliate review to learn more
---
Do you have any experiences with Web Perspectives?
Feel free to share with us your thoughts and experiences!