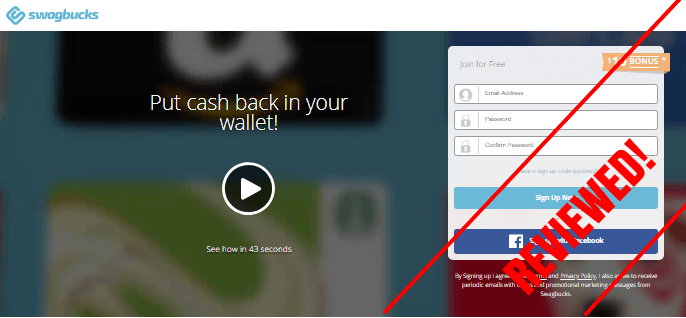 This is going to be a review of Swagbucks, which is a site that is worth your time.
Swagbucks is absolutely the BEST reward site out there
If you are looking for a great site to earn some extra cash online, Swagbucks is what I recommend over every reward site out there
Trust me I don't say that about many programs.
Swagbucks Review
Name: Swagbucks
Join Here: Swagbucks.com (Get Your $5 Bonus!)
Price: 100% Free
Recommended? Yes! Just remember it won't make you rich!

What is Swagbucks?
Swagbucks is a reward website and GPT platform, GPT is the abbreviation of "get paid to".
All the GPT sites allow you to earn in different ways like takings surveys, offers, watching videos and more.
Swagbucks is one of the best and most rewarding GPT sites.
It's completely legit, and it does pay.
Of course, you won't make a lot of money, but it's the best reward site out there.
How can you earn money with this site?
How to Earn Money With Swagbucks
There are many ways to make money with this site I will break them down below.
Special Offers
You can earn up to 1600 SB (Swagbucks) per every special offer you take.
The offers you take are special.
Special offers could be free food or free samples from your favorite brands
Cash back from Shopping
If you shop online regularly, you may want to get some cash back or save significant cash.
Instead of buying directly from your favorite stores just use Swagbucks links and buy as you would normally do.
You can get up to %25 of cash back.
You can install the Swagbutton so you can earn cash back even if you forget to check Swagbucks site.
Just by installing the Swagbutton you will earn 50 SB.
However, Ebates and Ibotta are better as their sites focus on cash back from shopping only.
Surveys
You can take surveys and earn some swag bucks, every survey gives you a different amount of SB, it also depends on your demographics.
Usually, surveys are time-consuming and most of the time are hard to qualify for.
Turn Your Old Stuff into SB
With Swagbucks, you can trade your old stuff for SB.
If you have an old cell phone, for instance, you can get SB for it.
Play Games
You can get SB by simply playing games however most of the games ask for money.
Watch Sponsored and Popular Videos
You get paid to watch videos.
You can earn 2 SB for every sponsored video you watch and around 1 to 3 SB for popular videos.
Search The Web
Instead of using Google you can get paid if you search on Swagbucks.
You get paid for something you would do anyway.
The only difference is you may see some more relevant ads on your search results.
Get Paid to Sign Up
You also get paid to sign up, most GPT sites will pay to sign up on other sites, but most of their third-party sites will send you spam.
With Swagbucks, you get paid to sign up for established and trustworthy sites like Uber and Hulu.
Polls
They have daily polls were you can earn SB by simply answering questions.
Refer your Friends
Their referral program is great and very profitable, you earn a sweet $5 for every person you refer.
If you have a website, you can get lots of referrals and make $5 for each person you refer.
You earn 10% of whatever your referrals earn for life.
How Does Swagbucks Pay You?
You can redeem your SB for Gift cards and Paypal cash.
You can redeem when you reach $3.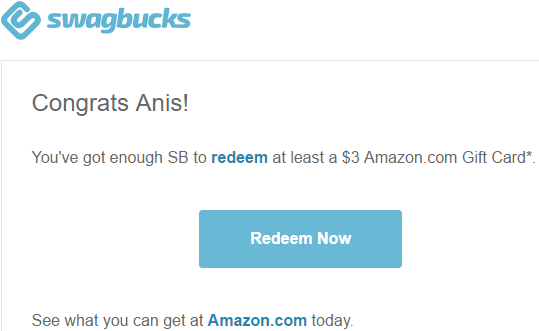 Does Swagbucks have an app?
Swagbucks has two apps.
The first one has all the features of the desktop version.
It allows you to earn SB whenever you are.
The second one is called Swagbucks TV where you get paid to watch videos only.
What is The Best Way to Earn on Swagbucks?
Swagbucks is awesome, but you won't earn more than $50-$100 per month.
You can earn at least $100 per month but only if you spend your time on offers that make the most SB.
You want to mix things up, take offers, refer your friends and take surveys
Please don't waste your time with games (unless you enjoy them) and surfing the web that is only a waste of time.
Swagbucks Pros and Cons
This is what I like and dislike about Swagbucks.
The Good
Legit, one of the best GPT sites out there.
Free to join and you can immediately start using it.
You earn rewards for things you would do for free.
You earn Swagbucks in various ways.
You can earn SB on the go using their smartphone apps.
You get 30 Swagbucks as a sign-up bonus
Easy and user-friendly interface
Great referral program
The Bad
Their search engine is slow compared to Google
You may become addicted to hunting the Swagbucks
If you perform weird searches 😉 on their search engine you will be banned immediately
It's slow to earn usable SB.
Support
If you have any issue with the site or if there is something wrong with your account you can always contact their support team.
They will get back to you quickly and help you fix any issues you may encounter.
If you have any questions.
They have forums where fellow members exchange their ideas and experiences.
They are also willing to help you to get familiar with the website.
Swagbucks Available Countries

Swagbucks is available only in the following countries.
US
Canada
Uk
Australia
Ireland
If you're looking for alternatives, I think this survey is the best Swagbucks Alternative!
Is Swagbucks Legitimate?
Swagbucks is a fun way to earn money, and it's entirely legitimate.
There are many positive reviews about this site as well!
You can read more Swagbucks reviews here.
Is Swagbucks Worth it?
Swagbucks is worth it, it's the best reward site out there, it does really work.
If you are looking for the best extra cash site on the internet, it's called Swagbucks.
Have you ever tried Swagbucks? if yes, what do you think about it? share with us your opinion by dropping a comment below!