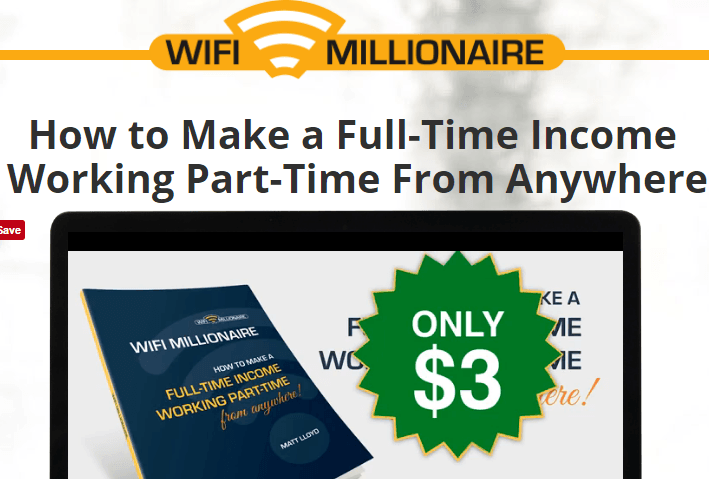 This is going to be a review of Wifi Millionaire by Matt Lloyd, the burning question, is it a scam or a legit opportunity?
Wifi Millionaire is a legit system, however, I hate how they say it costs only $49? If you think $49 will get you covered, you are wrong, because the lowest upsell is $2.997! You will be shocked when you hear the highest upsell.
Wifi Millionaire Short Review
---
Name: Wifi Millionaire
Website: WifiMillionaireebook.com
Price: $3 – $49 – $2997 to $30.000 in upsells
What is it? A way to sell you MOBE aka MTTB
Rating: 3/5
What is Wifi Millionaire?
---
Wifi Millionaire is a $3 ebook that was recently released by Matt Lloyd who is a millionaire and well-known internet marketer.
Matt Lloyd became famous because he made $150 million in sales thanks to his company called MOBE, his affiliates combined earned $75 million in sales promoting the same opportunity.
Matt Lloyd in his Wifi Millionaire ebook claims that he's going to teach you how to start an online business and finally get rid of the 9-5 grind.
After having a closer look, it was clear to me that this ebook is just another way to turn $3 into $2,999-$30000 sales.
In a few words, the Wifi Millionaire ebook was created only to Sell MOBE.
Wifi Millionaire is a Sales Funnel to MOBE
There is absolutely nothing wrong with promoting MOBE but I'm in trouble when the real costs are not mentioned until I spend $49?
MOBE is an online business training where you learn how to start your own online business however 95% of the training focuses on promoting MOBE high ticket products.
Wifi Millionaire's Promise
One thing I like about Wifi Millionaire/MOBE is the high commissions, most affiliate programs pay you less or more than $20 per sale, while MOBE products will give you up to $10,000 per sale.
If you earn $10,000 per sale and you have traffic, heck! You will be a millionaire in no time!
The catch and what most MOBE affiliates fail to mention is the fact you have to buy the products you want to sell.
They promote the opportunity like it's only going to cost you $49 but the prices are a bit shocking.
Is $49 All You Have to Pay?
As I said before $49 is just to get through the door to make money you need to spend much more.
What they don't tell you is in order to make large commissions you need to buy the super expensive MOBE products which are the following:

The Silver Masterclass is the cheapest MOBE product it has a price tag of $2997 plus $27/month while the Diamond Mastermind costs a hefty $30,000.
Wifi Millionaire and MOBE want you to buy those products by paying their respective prices upfront, as a beginner, you will start with the silver masterclass, you will get training and your personal coach that will walk you through the training and also try to sell you the other products one by one.
Another thing that bothers me, for example, to earn $10,000 per sale, you have to buy the diamond mastermind ($30.000) when you sell a diamond mastermind to someone you will earn $10,000 and $20,000 goes to MOBE.
MOBE makes a whopping $30,000 from you when you buy the rights to resell their product when you make a sale they earn the double of your commissions.
[thrive_link color='orange' link='https://fulltimehomebusiness.com/is-wealthy-affiliate-worth-it' target='_self' size='big' align='aligncenter']Legit Training to Earn a Consistent Income every Month! [/thrive_link]
Is Wifi Millionaire a Scam?
---
Wifi Millionaire and MOBE are legitimate, MOBE is a very reputable company, they have real testimonials that make a lot of money.
I don't believe it's a scam, for me a scam is when they use fake testimonials, fake income reports and steal people's money.
However, I'm against the way they hide the real cost involved.
Another point is Wifi Millionaire is selling you MOBE without the hype and the ridiculous earning guarantees
Unlike the  MOBE members that seem to create bogus programs with ridiculous names to sell the system like, 45 minute Paydays, $500 Cash Club and The Automated Daily Income
What I liked
I like the high commissions, earning $10,000 per sale is great, the good news is a lot of the MOBE affiliate do make money.
Wifi Millionaire is legit
They have great incentives for their best affiliates like free fancy cars
What I Didn't Like
You can't try it for free
Not suitable for newbies.
Costs an arm and a leg and there is no guarantee that you will make money
The training is mainly about promoting MOBE.
Is Wifi Millionaire Worth it?
---
No doubts Wifi Millionaire is a good program but if you are a novice to internet marketing, you don't have a large email list and a large budget to invest then I believe it's definitely not worth it.
What is going to happen when you invest in MOBE/Wifi Millionaire and you are a newbie?
The answer is simple you are going to waste thousands of dollars.
This is a mistake some newbies learned the hard way!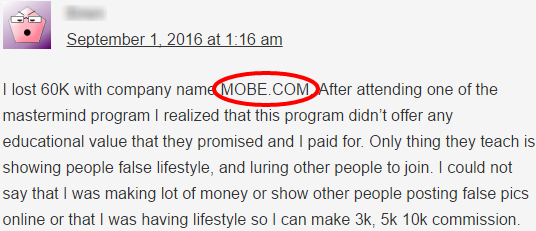 Final Thoughts & Recommendation
---
Wifi Millionaire and MOBE are definitely not scams but remember that you are going to spend 5 figures not $49, I don't like how that is barely mentioned.
MOBE is worth it only when you can afford to spend 5 figures and have an experience in converting traffic into sales, if not I'd stay away.
[thrive_headline_focus title="Recommended Training" orientation="left"]
If you are looking for an alternative to make money I invite you to check out Wealthy Affiliate, it's a training that will teach you how to make money selling other people products.
WA is free to try, if you like it you can upgrade, the first month is $19 then $49/month or ($30/month if paid annually)
Get Your Free 10 Wealthy Affiliate Lessons Now!
Or Learn more about Wealthy Affiliate
---
Any comments or thoughts?
Please drop your comments below!