WinCash247 review: This site claims you can win big cash by playing games, is it for real or it's just another ripoff that you need to avoid? Let's find out.
Playing games is becoming a popular way to earn easy money online nowadays.
Lots of people are looking for legitimate ways to earn some cash by simply playing games.
Recently I have written a post about sites that allow you to make money through games
During my research of different ways get paid to play games I came across a site called WinCash247.
I see a lot of people wondering if it's a legit site so I decided to do my research specifically on that site.
Let's get inside the review and find out.
---
Sick and Tired of Scams and making Pennies?
Want to be your own boss?
Get Trained and Start Making REAL Money! FREE and No Experience Needed!
---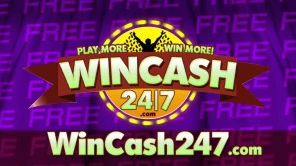 What is WinCash247
WinCash247 is a website where they claim you can be entertained while earning money.
The site doesn't pay you to play games it seems like it's based on luck.
You just play simple games and hope to win big prizes.
The site claims that they give out over $1,000 every day on rewards and cash.
Later you will read what other people say about this company, let's see how it works.
How Does WinCash247 Work?
You need to register on the site, note that they ask for personal information.
Have a look a this.

Of course, you won't read this message on their homepage but honestly who would go dig and search for this information on their website?
I'd have registered and given out my information.
I have seen people complaining about the spammy emails and calls they have received from the third party companies.
To win prizes or cash you will need tokens they say the more tokens you have the bigger the chances you have to win and hit the jackpot.
How do you get tokens?
They don't ask for money, they have a page full of ads that you can click to earn tokens.
The ads are full of spam and you need a good antivirus to be fully protected.
You can also earn tokens by taking offers, most offers ask for your credit card so you want to unlink your credit card or you will be charged every month.
This site similar to CashDazzle.
WinCash247 Complaints
During my research, I have found nothing but complaints.
I did not come across a single positive feedback, everyone is complaining about not receiving the money they have won and stuff.
Here are a few complaints at ComplaintsBoard you will find other negative reviews if you search on Google.
WinCash247 Review: Is it a Scam?
I have never tried them but I have seen many complaints and other signs that prove it's a scam.
Here are some signs that WinCash247 is a scam.
1)Become a Millionaire
Everyone that markets their product like this raises big red flags on my mind.
2) Site is Down
Their Site is down, this is something common between scams.
3) Many complaints
If you search on the Internet you will see many negative reviews.
4) They Sell Your Information
Sites like Swagbucks and InboxDollars also allow you to earn money playing games but they never sell your information like this site.
5) Too much spam
To earn tokens you need to click on ads, the ads contain too much spam and shady programs that keep popping up.
---
With that being said I think WinCash247 is not worth it if you want to earn money playing games check this post of sites where you get paid to play games
If you want to earn some extra cash check out the best reward sites
Extra Cash, not enough?
Then check out my#1 recommendation to earn a full-time income from home
---
Have you ever tried WinCash247? Have you been scammed by them?
Please share with us your experiences.