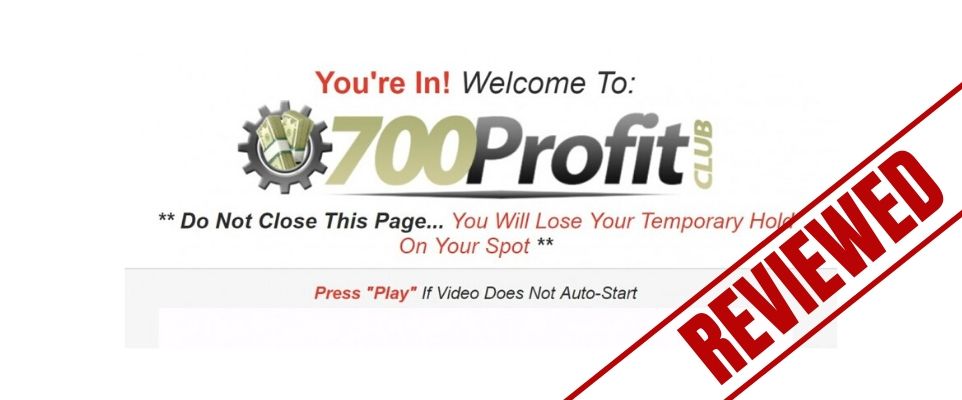 Welcome to my 700 Profit Club Review!
Chances are, you have been on the search for a way to earn money online and encountered an advertisement or a website promoting 700 Profit Club and inviting you to join!
Well, before you make any decision whether you fall for this "Make Money Online Opportunity", you should read this 700 Profit Club Review to get to know it and discover the secrets it is hiding! You will actually be shocked afterwards.
So without any further ado, fasten your seatbelt and let's get started.
700 Profit Club Review Quick Summary
Name: 700 Profit Club
Website: 700profitclub.com (Updated: This website was taken down)
Founder: hidden
Price: Free? Big lie! Around $285 for a 3-year contract, plus upsells
Best for: No one!
Rating: 1/5
Recommended? NO!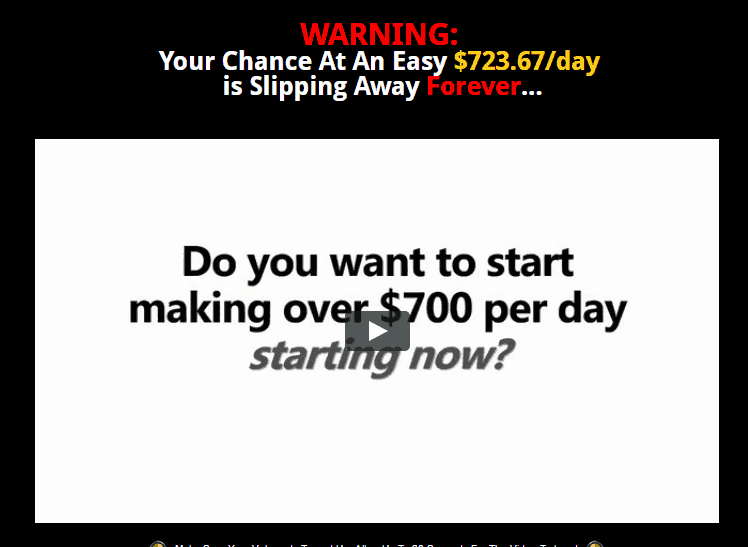 What is 700 Profit Club?

I have watched the whole video at 700profitclub.com and I am sure you did the same. (Update: The website and the video are not available already since it was taken down).
The lady on the video literally said you will be making $700 per day on autopilot with a website that they are going to give you for free (which is lie).
They said everything is done for you, even content will be written by them. So all you have to do is relax and enjoy your money rolling in your bank account.
It would be great if we could make $700 per day on autopilot. Unfortunately, that fairy tale success doesn't exist. This system is too good to be true and it's there only to earn the owner a quick buck.
Similar websites
I have reviewed a lot of scams on this website, they are usually connected with each other, there are link posting scams, email processing scams, binary options scams, each of these type of scams create similar sales pitches with different names.
If you want to read some scam examples just click on some of my review below:
700 Profit Club falls into another category of scams which is called the Hosting scam, I am going to explain what that is so you know how 700 Profit Club scams people.
What is a Hosting Scam?
Hosting scam is another popular method of scammers that they use to rip off people. There are many other scams that used this method to steal people's hard earned money. Here are a few examples.
My Income Team
Profit with Micheal
Free Affiliate System
Quick Earner's Cloud
Stealth Income Machines
What they basically do is promise you fast, easy recurring income on autopilot for free. They will do the hard work and everything while you enjoy your money rolling in.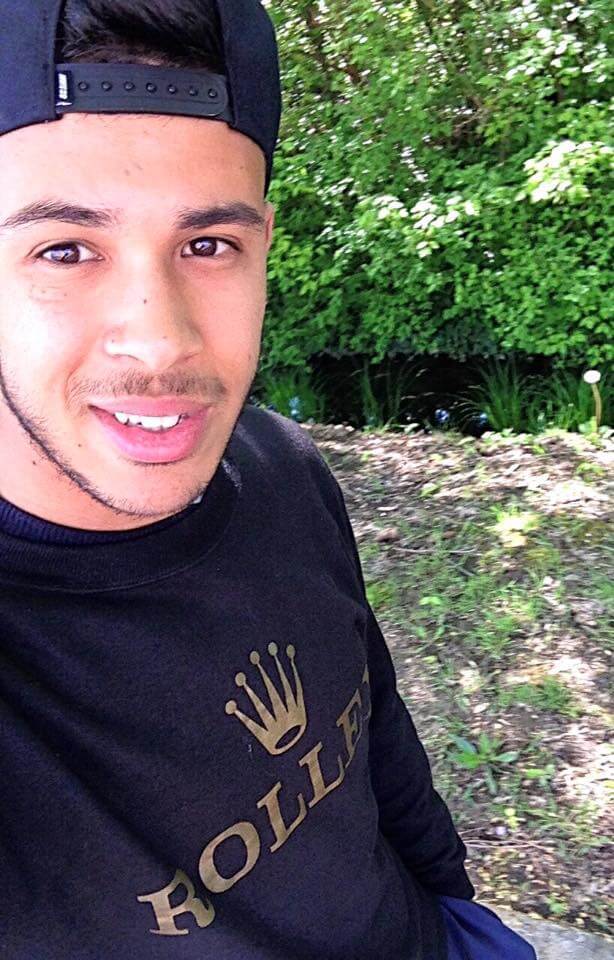 Tired of Scams?
 Check out My Top Recommendation Here!
700 Profit Club Hosting Scam
On their sales video, they barely mention any hosting service or domain name you need to pay. Moreover, they keep saying everything is free.
But when you finish watching the video you will be slapped with a checkout page where you have to pay for three or four years of hosting in advance with extra features and a domain name.
When you pay for the hosting and the domain name the scammers will earn a  fat commission and that's exactly how they take advantage of newbies!
The sad part is you are not going to get your $700 per day with an automated website anymore because the scammer has already stolen your money using the hosting scam technique.
And there is no such thing as automated websites anyway! It takes months if not years to build profitable sites and no one is going to give them away for a cheap price!
700 Profit Club is using this exact hosting scam technique and let's see it in action along with other red flags.
How does 700 Profit Club scam people?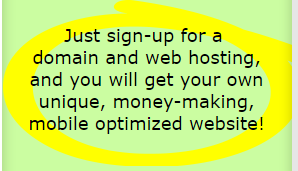 700 Profit Club say that the websites they are going to give you for free are valued around $2000-$5000. That's pure BS because you are not going to get any website.
As I said before, they only want you to pay for the domain name and the overpriced web hosting.
When you finish watching the video and click the continue button, you will be taken to a page where you will have to buy your domain name and web hosting from CoolHandle (I'm going to shed more light on the web hosting provider further down this review).
To make their commissions bigger, they are recommending you to pay three years of hosting in advance which will cost you $249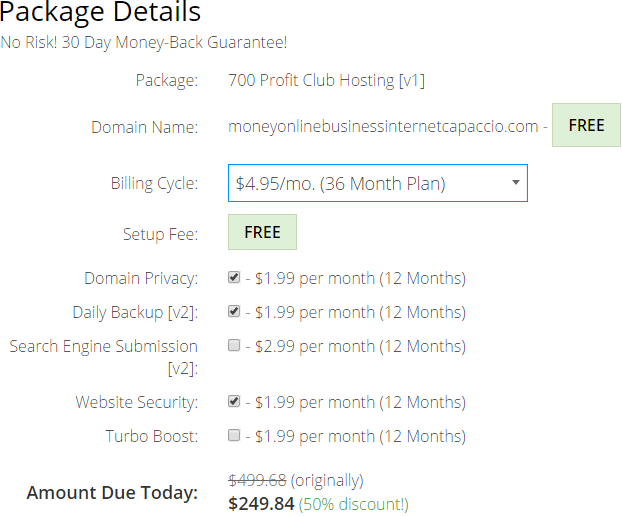 Just imagine how much money they will be making if each one of us spent $249.84 on that BS and that price is way too much for a basic web hosting that is not even reliable. The popular web hosting providers charge less and they are way better than this Cool Handle.
I mentioned Cool Handle web hosting a couple of times since they are partnering with 700 Profit Club in this scam. I think it makes sense to shed more light on Cool Handle hosting and their background.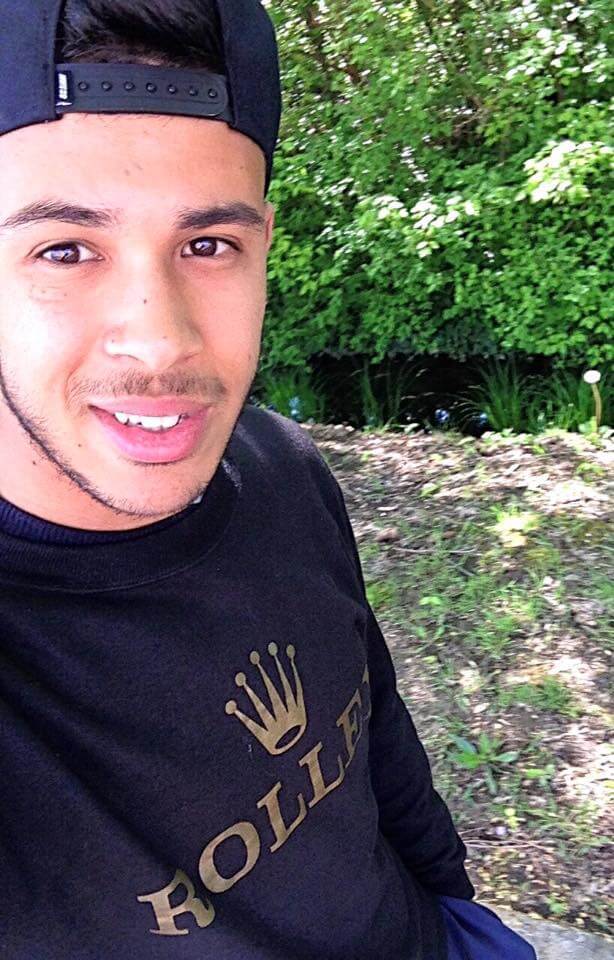 Hello, I am Anis. Although there are a lot of scams out there, you can still actually earn money with your website!
​
With this program, you can have a passive income! Check it out now!
What is Cool Handle Web Hosting?
When you pay for the hosting and the domain name, the money will go to Cool Handle which will send a portion of your money to 700 Profit Club.
Cool Handle is a website hosting company that is infamous for working with unethical companies that use the hosting scam technique, don't take my word for it have a look at these Coolhandle complaints.
They have stolen tons of money from innocent folks looking for online jobs, the claimed losses are $34.3k and an average loss of $1.4K.
Another scam I recently review called Kindle Sniper is also using the hosting scam Coolhandle, here's a screenshot below!+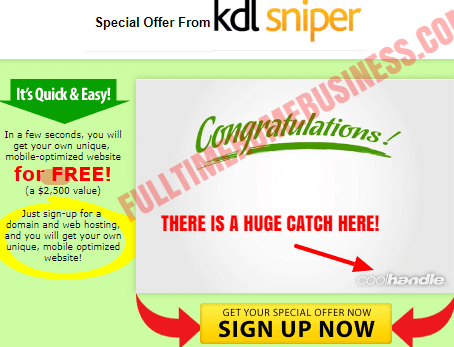 If you DON'T feel like clicking on that Cool Handle complaints link, have a look at this screenshot taken from there.

The Biggest 700 Profit Club Scam Signs
Biggest 700 Profit Club Scam Signs!
Everything is fake about this system and I am going to share with you some red flags of 700 Profit Club.
#1 Fake Students and Testimonies
In the sales video students and testimonies with their earnings are mentioned to prove that this system works and has helped those who were accepted to join the system for free to make $700 per day.
I know that those students are fake because I have reviewed these type of scams a lot and I know how they use actors from Fiverr and stock images as testimonials.
All of those testimonials are 100% fake and here's one of them.

I am not going to go through all their fake students, they are fake as well just like this one and there's no need to fill this review with their screenshots.
#2 The Three Banned Countries
Another scam tactic to make this BS look legitimate are the three banned countries, Albania, Cuba, and Nepal.
With that said you are reading this review and you are not from those countries.
#3 $700 a day guarantee?
I don't know about you but I don't trust any program that guarantees me to earn a specific income, no one can guarantee you a specific income especially $700 per day.
Making money online is NOT easy as it takes hard work and patience, 700 Profit Club is fake and they want to scam you only!
4) Only 15 People per Day for 30 Days are Accepted
This is absolutely not true and something overused by unethical sites like 700 Profit Club, you can join anytime you want and whenever you want, their goal is to make as much money as possible from people and they say they accept 15 people only just to make you act fast and not think twice.
5) This Scam May Disappear Soon
700 Profit Club just like other bogus sites won't stay long, one day you will type 700Profitclub.com on your browser and you will see the site closed.
When many negative reviews are online they will change their name and produce a different scam.
Recently Mobe and Digital Altitude have been taken down for their unethical marketing and BS
There is no reason why this scam will be shut down by the Federal Trade Commission too!
Click here now to start your own online business! No scams!
Is 700 Profit Club A Scam?
Is this even question? Obviously, 700 Profit Club is a scam! You won't make any money with it. Only the owners can benefit when you buy that overpriced CoolHandle hosting.
With that said I would never recommend this program to anyone. You can make money with a website but you got to work hard to make it earn you money.
We have seen this scam over and over so please stop wasting your time with this system or anyone that promises easy riches with little or no hard work.
If you wish to make money online with a website, then check out my top recommendation below!
Thank you so much for reading my 700 Profit Club Review! If you have any questions or comments, please feel free to leave them below in the comments section!
This is How I Make Money from Home!
You can absolutely earn money with a website. However, things like 700 Profit Club are complete BS! It will take you a lot of hard work to monetize your website. With that being said, I highly recommend to do affiliate marketing with your website.
It is how I earn a 4-figure monthly income and a passive income! Basically, you promote products owned by certain businesses or companies, on your website.
When people buy them, you earn commissions! Moreover, doing this is completely free. You don't need to buy the products or pay for any fees! You can learn and start right away by clicking the button below!