Copy Paste Ads claims you will be earning $3,750 per month by posting ads and processing emails, but is it legit or another obvious scam?
---
Name: Copy Paste Ads
Website: CopyPasteAds.com
Owner: Unknown
Price: $25
Rating: 2/5
Recommended Alternative: Wealthy Affiliate
Note that this review is also about the GetPaid247.net site as they are the same as Copy Paste Ads
Copy Paste Ads Short Review
---
Pay $25 so you can promote Copy Paste Ads to other people, you won't be processing emails but posting ads that promote the same opportunity you paid $25 for
Before You Spend $25
---
I know $25 is not much, but bear in mind that these type of websites may disappear anytime, a lot of websites with such ridiculous names and hype usually last less than a couple of months.
There is no information about who is the owner or any contact information.
Recommended?
---
No, Copy Paste Ads says you will be processing emails but that's not true, what you will be doing is recruiting people to join Copy Paste Ads.
You will be spamming on Craiglist and other classified ads.
I don't recommend Copy Paste Ads because these sites don't usually last long, other than that this site is not honest and can not be trusted.
I recommend you to promote trusted products like Amazon's
Get The Proper Training to learn how to do exactly that.
[thrive_headline_focus title="Full Review" orientation="center"]
What is Copy Paste Ads?
---
Copy Paste Ads is another website that promises you to earn $25 per every email you process, they make it seem like you will earn $25 by just processing emails.
What they hide from you is you will not be processing any emails but posting ads on classified ads promoting Copy Paste Ads.
You get $25 for every person you recruit, the person you recruit needs to pay $25 so you get $25.
[responsive_video type='youtube' hide_related='1′ hide_logo='0′ hide_controls='0′ hide_title='0′ hide_fullscreen='0′ autoplay='0′]https://www.youtube.com/watch?v=hXaiN6FzgVc&feature=youtu.be[/responsive_video]
Can You Earn $3750/Month?
---
While you can make $3750 per month you should know that most people are VERY skeptical, since you are reading this review
Chances are you are skeptical about Copy Paste Ads because of their cheesy looking sale page and hype.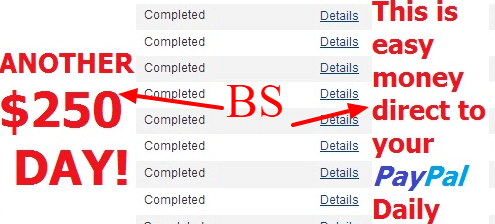 So it will be very hard to make $3750 every month let alone the site cannot be trusted as there is no information about the owner and the reason why you will earn $25 without the owners getting a share from it
Is Copy Paste Ads a Scam?
---
I don't believe it's a scam however it's definitely not recommended as sites like these turn out into scams most of the time.
I say it's not a scam because you will be making money if you invite people to the program
I hate how they lie and don't tell you what the program is all about until you pay $25 and find yourself having to promote exactly what you bought.
Any Alternatives?
---
If you want to live a financially comfortable life I'm pretty sure Copy Paste Ads is not the way to go, is not safe or trustworthy and it only teaches you to spam on social media and classified ads, that adds no value at all.
Instead of having to spam a website that Copy Paste Ads gives you I recommend you to start your own website as you have full control on it.
With your own website, you will be promoting trusted products that sell.
If you are a newbie you can still start a profitable and professional website with the help and guidance of Wealthy Affiliate
Final Review
---
I believe Copy Paste Ads is not a reliable and trusted way to earn money online, it teaches you to do something that adds no value.
If I were you I'd pass on this opportunity it's really not worth it.
With that said I recommend you try this Free to Try Training that will teach you how to start a website that actually makes money.
---
Do you believe Copy Paste Ads a Scam? What do you think?
I'd appreciate your comments below, don't forget to share this review with interested people.