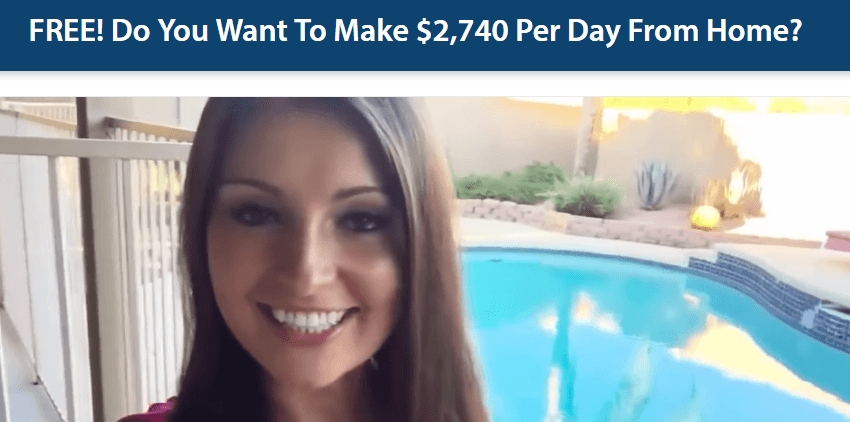 If you are looking for a way to make a full-time income from home you have probably come across this new work from home opportunity called Digital Millionaire Secret
However, you're not quite sure if it's a legitimate business so you have decided to look it up on the internet
That's a wise thing to do! This is a newly released program that might be a huge scam!
If you want to learn more and the truth about this company and you want to find a legit opportunity to finally make money online I promise you this article is what you have been looking for!
Without wasting any time, let's get into it!
Quick Digital Millionaire Secret Review
Name: Digital Millionaire Secret

Website

: DigitalmillionaireSecret.com

Owner

: Unknown but it's a sales funnel to Digital Altitude by Micheal Force

Price

: $37 per month – $56,000
What is Digital Millionaire Secret?
The Digital Millionaire Secret is new online money making system that involves the selling of goods via affiliate websites called funnels.
It is a digital sale funnel designed to lure people into buying a product called Digital attitude.
UPDATE: Digital Altitude is no longer in business as it has been shut down by the FTC
This business is a network marketing opportunity operating in an MLM system.
It involves some payment of cash before joining and also purchases of their products.
With this system, you must buy their product to sell it.
Although the affiliates support other businesses, the Digital millionaire secret emphasizes on selling their products and registering new members.
Their advertisement page claims that the system will make you $2,740 wealthy at the end of a single business day.
The business relies heavily on promoting its opportunity rather than offering meaningful training that can help you to make money.
How does the Digital Millionaire Secret Work?
Digital millionaire secret operates on a 'pay to play' model where you have to purchase their products to earn affiliate commissions or make money.
The introduction page of this system requests you to sign up just like other internet affiliate businesses.
Once you sign up, they assign you a coach to guide and train you until you master the basics.
This coach is one of the salesmen who earn a commission when you buy their product.
Under normal circumstances, funnels help revive sales pages of businesses that fear to get out of business due to reduced traffic to their sites.
These companies launch new sales funnels to bring life to their businesses.
How Much Does it Cost?
You are requested to pay a joining fee of $37 after which you get access to the Digital Attitude platform and not the Digital Millionaire secret.
The more you progress, the more you pay because every step requires you to part with extra cash.
Their products come at different products ranging from $59 to even $200! The system gets expensive with every step you complete.
In fact, for you to own all the products in this system, you will part with fifty-six thousand USD ($56,000)!
So ideally the idea of making $2,740 is quite misleading.
Earning such a huge figure requires working hard, and it takes time.
What You Get Digital Millionaire Secret
Typically when you join this system, you are directed to a dashboard from where you access the products.
They are mostly selling aspire events and products.
The Digital altitude page has many products which supposedly one needs to sell before earning a reasonable commission.
Here are some of the Digital Altitude products
Aspire Walker = $37 per month
Aspire Hiker = $67 per month
Aspire Climber = $127 per month
Remember that in order to buy the products listed above you must be a member of one of these 3 memberships which are the following:
The Base Membership = $595 one time fee
The Rise Membership = $2,000 one time fee
The Ascend = $10,000
The Peak = $17,000
The Apex = $28,000
As said before, they operate on an MLM structure where you have to use the product for you to sell to other people.
In other systems, the digital products you buy are training programs that can teach you affiliate marketing and digital entrepreneurship.
The story is different with the digital Millionaires system.
The more you sell the products, the more you earn.
You also get a commission of one of the people you recruited manages to sell a product.
However, the commission made at Digital millionaires is very small as compared to other systems.
The Digital Millionaire coach reminds me of programs I have reviewed before like
What I liked about the Digital Millionaire Secret
You can make money with this opportunity
There are many successful Digital Altitude members
The coaches are very useful although they try to sell you stuff a lot
What I Didn't Like
Digital Millionaire Secret is full of hype and lies
Many hidden costs that are not told up front
You will be selling the same opportunity you bought
The coaches are basically sales persons
It costs a leg and an arm
Is Digital Millionaire Secret a Scam?
Digital Millionaire secret is not a scam (even though it's full of hype which you need to ignore) because you buy products and earn some money out of it.
It requires enough experience in online marketing and network marketing for you to make considerable money from this platform.
The huge expenses involved in purchasing the products make everything complicated for a newbie.
Recommended?
If you are newbie I would recommend you to stay COMPLETELY away from Digital Millionaire Secret or Digital Altitude
UPDATE: Digital Altitude is no longer in business as it has been shut down by the FTC
They are extremely expensive and require tons of time in order to make money
There are much better and way less expensive way to start making money online and gain experience in the online marketing arena
A Better Opportunity!
If you are just starting out I highly recommend you to check out Wealthy Affiliate it's free to get started and the monthly cost is nothing compared to Digital Millionaire Secret
Wealthy Affiliate will teach you how to start an online business from your passion, it's one of the best training platforms for newbies I have ever seen!
---
I hope you have found my honest digital Millionaire review useful
If you have experiences with them please share with us your views in the comment section below
Don't forget to share this post with people that might find it useful!
Thanks for the support!