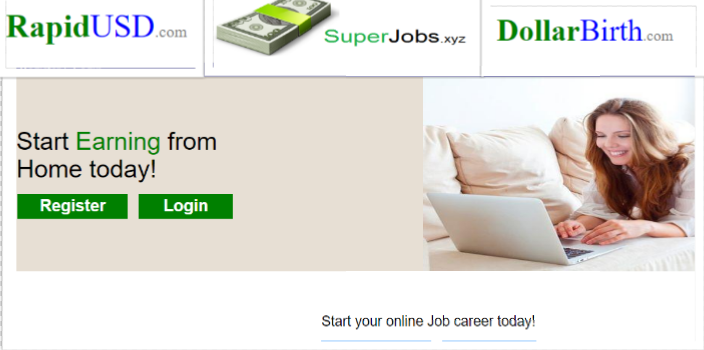 RapidUSD.com, SuperJobs.xyz and DollarBirth.com are literally the same scams that go with different names in this review I would like to show you why they are just scams.
Yesterday I published a review on some dangerous scams called ViralyPay.co DutyScreen, PokeLazy and Dollar growing 
Today I am here to review RapidUSD.com, SuperJobs.xyz and DollarBirth.com
If you wanted to join any of the above sites I recommend you to read this whole review!
Quick Review
Names: RapidUSD. – DollarBirth – SuperJobs
Websites: RapidUSD.com – DollarBirth.com – SuperJobs.xyz
Price: Free to Join
Recommended?: NO
Training to Start an online Business: Wealthy Affiliate (Perfect for Newbies)
What are RapidUSD, DollarBirth & Super Jobs?
These programs claim that will enable you to earn $10 by completing simple tasks that take minutes.
They make some unbelievable claims and promise you to earn thousands in a matter of weeks.
Unfortunately, they are nothing but bogus websites that belong to a network of scams.
Someone is creating multiple sites usually with the same templates but different names
RapidUSD, DollarBirth and Super Jobs are literally the same so please don't be fooled
These guys are creating a lot of similar sites so they make money at the expense of your time and hard work, at the end of the day you would be making nothing but only wasting time and efforts.
With that being said let me show you how these sites are taking advantage of people looking for online jobs.
How RapidUSD, DollarBirth & Super Jobs Scam people?
As soon as you sign up in any of these sites you will be shown an affiliate link, there are no tasks or real jobs the only thing you will find is an affiliate link.
All of them will give you a $25 sign up bonus which you will never be able to withdraw, unfortunately.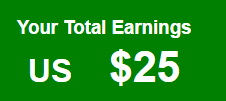 As I said before these sites are the same there is absolutely no difference let's see each one of them.
1) RapidUSD.com
So when you sign up to RapidUSD you will see an affiliate link
You will earn $5- $10 for every click your link gets the minimum threshold is $300 but whatever you earn will stay in your RapidUSD.com bank.

2) DollarBirth.com
Same thing here guys, when you sign up and log in you will see an affiliate link only, the same threshold and your earnings will stay in your DollarBirth.com bank.
3) SuperJobs.xyz
Literally the same thing here there is no difference except the look is slightly different here, but same threshold same scam and the same affiliate link.

4) What Happens When you Reach the $300 Threshold?
Unfortunately, I have seen many people fall for this scam when you reach the $300 threshold and try to withdraw your money you will be asked to complete some surveys
The surveys want money from you and even if you give money you won't get your earnings.
That's exactly how they scam people.
Here's a video that explains what I am talking about here
This video is about the Invite club which is another ridiculously similar site of their network.
With that said I hope you will stay away from these sites because they are only going to waste your time and energy.
Solid & Legit Way to Make Money Online
If you are still struggling to find a website that is legit I recommend you to get into affiliate marketing.
Affiliate marketing is when you help companies like Amazon sell products, you will be given an affiliate link that you promote and whenever someone buys a product via your affiliate link you earn commissions.
If you are a newbie I recommend you a training that will teach you everything at the right time.
The best one I can think of right now is Wealthy Affiliate.
Wealthy Affiliate teaches you how to start a website, Get Google to send you a lot of targeted visitors to your affiliate links.
To succeed with affiliate marketing you need people that are actually interested in your affiliate links and that's exactly what Wealthy Affiliate will teach you, step by step with the support of the community.
This is what Wealthy Affiliate will teach you in a picture.
You can try Wealthy Affiliate for free NO CREDIT CARD you will also get 10 free lessons with 2 websites and web hosting to see if it's for you.
Read my Wealthy Affiliate review for more info.
---
I hope this review was useful to you I know these sites will switch names soon or other ones will be created, please if you hear about a similar scam please drop a comment below to warn people!
I will be updating this post if I catch another similar scam so you guys avoid it!