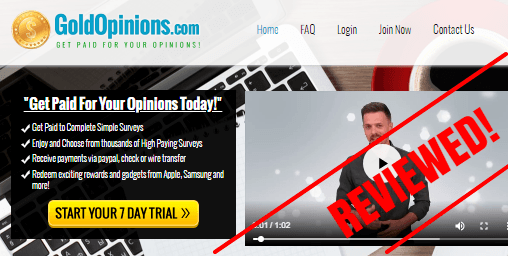 If you know me I like to try and review different sites that pay you to do simple tasks like surveys.
I like surveys because they are an easy way to earn some extra pocket money easily
But a few days ago I came across a site called GoldOpinions which was different from any survey site I reviewed or tried before.
They promised up to $1,000/month by simply sharing your opinion
That's something unheard of when it comes to taking surveys!
My first impression was is Gold Opinions a scam?
After having a closer look I found out what it's all about
In this honest review, I am going to share with you all you need to know along FREE ways to earn extra cash!
Gold Opinions Review
Name: Gold Opinions aka Onlinenetjobs & Opinions that Pay
Website: GoldOpinions.com
Owner: Paul Parker
Price:  $1 = (7 days trial) then ($27/month)
Rating: 1/5
What is Gold Opinions?
Gold Opinions as I said before is a site that I heard about recently it promises you to earn thousands of dollars every month
All you have to do is take short and easy surveys

These are some other big claims made by Gold Opinions
$5 for 10 minutes surveys
Earn $30/hour
Earn $15/$30 minutes surveys
Earn $50 per every premium survey completed
No experience needed
Is Gold Opinions too Good to be True?
I have been taking surveys for at least 3-4 years, so I am pretty familiar with it comes to surveys.
I have never encountered a legit survey that promises easy riches like Gold Opinions.
As far as I am concerned all Legitimate surveys are 100% free!
All legit surveys won't make you rich as they are pretty limited!
How Much Does Gold Opinions Cost?
Surprisingly enough Gold Opinions is a membership survey site where you have to pay in order to have access to a list full of surveys.
You do get a 7 days trial for only $1 but that's only to have a look around
After the 7 days trial is over your credit card will be automatically billed with $27 every month.
So you will need to pay $27 EVERY single month to have access to surveys?
You need to know that surveys that ask for money are usually scams
Gold Opinions charges $27 every month and that's a huge red flag.
I invite you to read this post on Wikihow that talks ways to avoid Survey scams
The first rule is never to pay to play! 😉
Can You Really Make Money with Gold Opinions?
You can make money with Gold Opinions but it's going to be only a few bucks here and there
You will be spending more money than what you will earn
Gold Opinions are very misleading and lying as they promise you big bucks!
From my experience and from everyone that has been involved with legit surveys all you can earn from surveys every month is a sum around $300/$200
$1000's every month is unrealistic and too good to be true!
Don't take my word for it
Here's a 1-year case study of someone that tried taking online surveys for money!
What's Included in Your Gold Opinions Membership?
You will need to pay in order to get Paid to Take Surveys
In your Gold Opinions Membership, you will find a list of surveys that you can easily find with a quick Google search
This list of surveys is separated into two categories
Premium Surveys
Surveys by Country
1) Premium Surveys
This is a section dedicated to the premium surveys, it contains over 100 premium surveys
But after having a closer look, it's still a list of surveys that can be found online
Here are some free premium surveys that you can access without paying $27/month
2) Surveys per Country
It's a hustle to find surveys for Non-US countries, so this section is not so bad but still not worth it as you can find this information on Google if you do proper research.
Gold Opinion Biggest Red Flags & Scam Signs!
1) Gold Opinions is a Clickbank COPIED SCAM!
Gold Opinion is another fake website that is being sold on Clickbank.
Basically Clickbank products are overhyped and low quality.
I have tried many Clickbank products and I have always been disappointed!
Here are some examples below!
These Clickbank Scams are very similar to each other, they are basically cookie cutter sites.
Below you can see how Gold Opinions is pretty the same as another scam called Photography Jobs Online.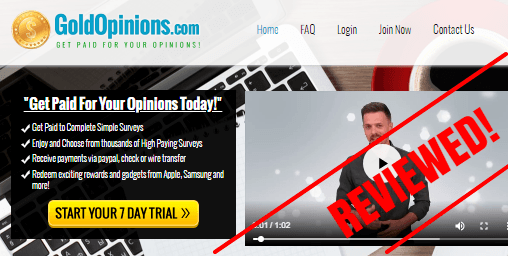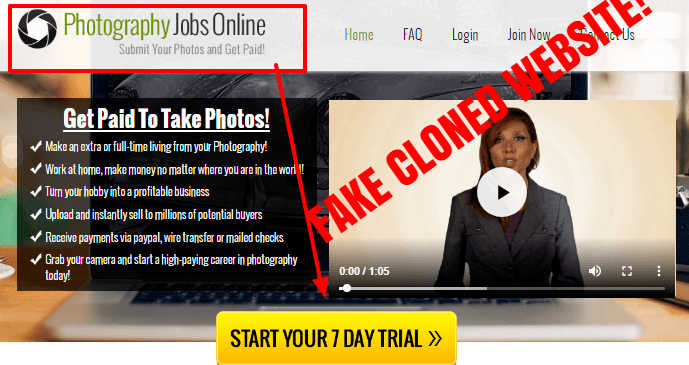 2) Gold Opinions is NOT Even a Real Survey Site!
Gold Opinion is not a survey platform nor a research marketing company!
This is just a fake webpage that has been set up by a scammer trying to scam people online.
Gold Opinions is charging you money for some free surveys that you can easily find for free online!
Here are the three FREE HIGH PAYING SURVEYS that pay!:
3) Fake NEWS LOGOS!
Gold Opinions shows you some big news channel logos if you see those logos your brain thinks this site must be the real deal!

Unfortunately, those logos have been literally just pasted in there.
Gold Opinions did not get a mention from those sites, that's fake endorsement!
Many scams like Rory Ricord, Automated Income Sites, Money Sucking Website System & Amazon Cash Websites
Is Gold Opinions a Scam?
Gold Opinions is a scam just like Paidclub.org, Smart Dollars Club & Surveybucks!
legitimate surveys DON'T ask for money
Gold Opinions makes you pay for a list of surveys that you can get for free
Check out these High Paying FREE legitimate surveys (that you could have paid $27 for at Gold Opinions
Do you have anything to share about Gold Opinions?
Let us know about your experiences by leaving comments below!