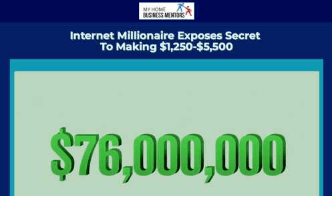 My Home Business Mentors is a program that is new. If you can't tell if it's legit or a scam, don't worry because today you're going to read a brutally honest review which is going to say things EXACTLY How they are.
If you want to finally learn how to work at home and enjoy all the benefits of it without falling for a scam, you want to read this full review.
Home Business Mentors Quick Review
Name: Home Business Mentors
Website: mhbmentors.com
Price: $49 (just a bait) then heavy upsells
Recommended? No
Recommended Training for Newbies (FREE TO JOIN)
What is Home Business Mentors?
This is another system that has been put online a few weeks ago, I'm starting to see quite a lot of people wondering if this really can help you make over $10,000 month like they say in their sales page.
If you have watched the Home Business Mentors video I'm assuming now you know how that guy keeps explaining how you're going to kill it online with a simple system that is guaranteed to work.
This is not the first system I'm going to review, I have reviewed over 400 programs like Home Business Mentors that promise you to earn thousands per month, but unfortunately, the 90% of them is total garbage.
Home Business Mentors are saying you will start banking money even if you have no experience, they are going to give you all the tools, they even say it's all done for you as you just need to introduce new people to earn.
What Are You Actually buying?
The real truth is these are all lies, because you're buying a totally different system that is more popular and has been online for years, this program is called Mobe and it's a high ticket online business opportunity, it means you will need to invest up to $30,000 to get all the benefits of this program.
A lot of fake sites are coming up lately that try to sell you Mobe, these fake sites don't care about you they just want you to buy the most expensive Mobe memberships so they earn the biggest commissions.
I have nothing against Mobe, in my opinion even if it's very expensive for the average joe it's a legitimate place where you can start a profitable business if you follow the training, the problem lies on the fake websites that promote it, they are not going to give you any support after your purchase, they will leave you there wondering how all this works.
You can read these reviews and see with your eyes, how lying these fake Mobe sites, there are a lot of them online, here are some:
These are just to mention a few names, on my blog you will find 100's of them!
How Does Home Business Mentors Exactly Work?
Essentially you're being misled into buying a totally different product, you probably know that you need to pay $49 but what you might not know that sum is going to buy you Mobe aka My Own Business Education LTD.
When you get redirected to the other program, you will find a support coach that is going to assist you with your account set up but most importantly is going to see if you're a good fit or like they say if you qualify.
$49 you have just spent is just to test waters, to qualify for Mobe you will have to convince your support coach that you can afford to invest $2,497 for the first steps of the training.
After you invest that amount and finish your first steps of the training (which consists of 21 steps) you're going to get into more costs, each few steps are going to cost you thousands of dollars, the last phase of the training which is called Diamond Masterclass is going to cost you $30,000, yes you have read that right.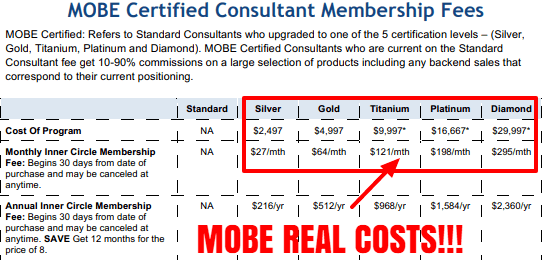 However, you need to know that when you start spending more than $10,000 you will also get a 2 weeks stay in a luxury hotel in the Bahamas with food and a lot of things included like private coaching and meetings with fellow members.
I must say that Mobe is a great place if you can afford it, because it comes with a lot of benefits like sport cars incentives for top affiliates, if you can afford this company, just join them, just go to their site directly without giving credit to fake sites like Home Business Mentors because they just want you to spend money.
Is Home Business Mentors for You?
Home Business Mentors doesn't exist, it's just a fake name and site that wants you to spend as much money as possible on Mobe, if you join the latter through Home Business Mentors you will be lost, but if you do join Mobe directly from their site or from a successful affiliate that is going to guide you then all good.
But is Mobe for you? The answer is yes if you have
Some internet marketing Experience
 A large amount of money to invest upfront (which Home Business Mentors wants you to do)
If you don't have the above requirements and join Mobe I can assure you that you're just going to waste your money for nothing.
If you are a newbie and don't have big money to invest but you want to earn a living online then check out the right training for you which is the same that I use today to earn over $2,000 a month.
Can You Really Make Good Money with Mobe & Home Business Mentors?
Mobe is an opportunity that can make you a lot of money, but it requires massive big investments first and you need to have some experience to get involved with it because it's complicated, it's also VERY risky because there is no guarantee that your big investments will pay off especially when you know that the over 60% of Mobe members earn less than 700 per year!
So Is Home Business Mentors a Scam?
I think this is a scam because they just want to mislead you into buying a totally different system that even if it's legit you won't make money with it because you need a good sponsor/affiliate to give you support.
Home Business Mentors are just selling you hype and a bunch of lies to convince you to buy a different product that costs a leg an arm.
Learn How to Earn Online with a Legit Training
If you are a newbie like I used to be less than 2 years ago and want a training platform where you can learn how to make money by starting a simple online business without risking your hard earned money I invite you to check out My Favourite Training for Newbies that you can try 100% free to see if it's for you.