Is Protypers a Scam? How much money can you make? Is it worth your time and efforts? You MUST read this review before you sign up!
So after trying Kolotibablo, MegaTypers, Captcha Club, and 2Captcha here we go again with another captcha site called ProTypers.
You know what you're awesome!
I have lost count of how many people got scammed simply because they did not do any research before trying a hyped-up make money online program.
So today we look into ProTypers which is another site where you get paid to solve captchas.
Does Protypers really pay? Is it worth it?
Without further ado let's get rolling with this Protypers review.
Protypers Summary Review
Name: ProTypers
Website: protypers.com
Price: Free
Founder: Hidden

Summary: In 2019 Protypers is a scam! In this review, I show you the proof to back up what I am talking about.
If you're in a hurry and you want to see my final opinion just click here!
Rating: 1/5
Recommended? No!
Earn Quick Money With Surveys?
What is ProTypers Exactly?
ProTypers is simply a website that pays you to solve captcha puzzles.
Protypers is exactly the same as Megatypers​, so this review will serve for both.
They have different names but they are the same in the sense that you get paid to solve captchas on both sites.
Don't ask me why they have two websites because this similarity does not make sense to me too.
With that being said Protypers aka Megatypers are legitimate and they actually pay.
This is an 2019 update!
Protypers is NOT legit in 2019!
Jump to the conclusion of the review to learn why!
However, there are two BIG problems (or even more) why you shouldn't bother with this site.
I am going to explain everything as we go forward with this review.
Let's find out and see how it works
How Does ProTypers Work?
It's free to sign up and they don't require any special skills beside being fast at solving captchas.
They don't want you to be just fast, but super fast like a ninja.
This is an example of captchas you will have to solve within Protypers and Megatypers.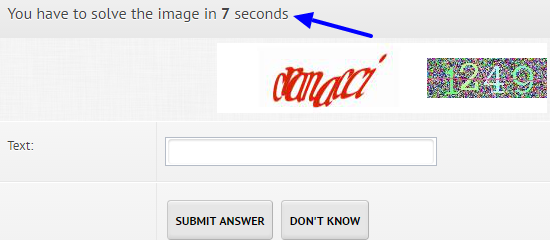 As you can see in the picture there is a little timer.
You have 15 seconds to solve the captcha.
If you fail to solve it within 15 seconds you will get this message.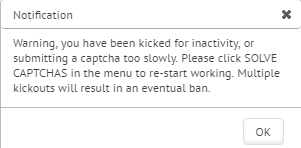 You will get banned if you keep failing to solve them.
The captchas are so hard to read, there will be always letters hard to read and I don't think it's so easy to solve such captchas in 15 seconds.
I wanted to take a screenshot of the captcha (the one above) and the timer was so fast, I had to try multiple times to get the perfect screenshot.
Earn Quick Money With Surveys?
Does Protypers Cost Money?
No Protypers is 100% free, you can sign up and start working without paying anything.
There are some more features that Protypers offers you to boost your income.
Let's check them out below.
Earn Faster with Boostpacks
Protypers offers you a service which is supposed to speed up the captchas so you are able to solve a lot more in a shorter period of time.
Basically, Protypers is flooded by members and lots of people are solving captchas.
Since there are tons of members you will have a little amount of captchas to solve.
That's why if you buy the Protypers boostpack you will guarantee the captchas to come your way instead of your competitors.
A boostpack costs 0.0259 typer credits and lasts for 15 minutes.
To pay for a boostpack you need to use your Protypers balance.
A Quick Note about Boost Packs!
There are only limited amounts of boostpacks because most members buy them to get more captchas done.
If you want to benefit from Boostpacks you need to order them as soon as they are available!
Does Protypers have a Mobile App?
No, Protypers does not have a mobile app.
I have tried accessing their website from my IPhone, it's mobile friendly but it's so slow and hard to browse.
Here's how Protypers looks on my IPhone.
It's more convenient to use Protypers on desktop versus mobile.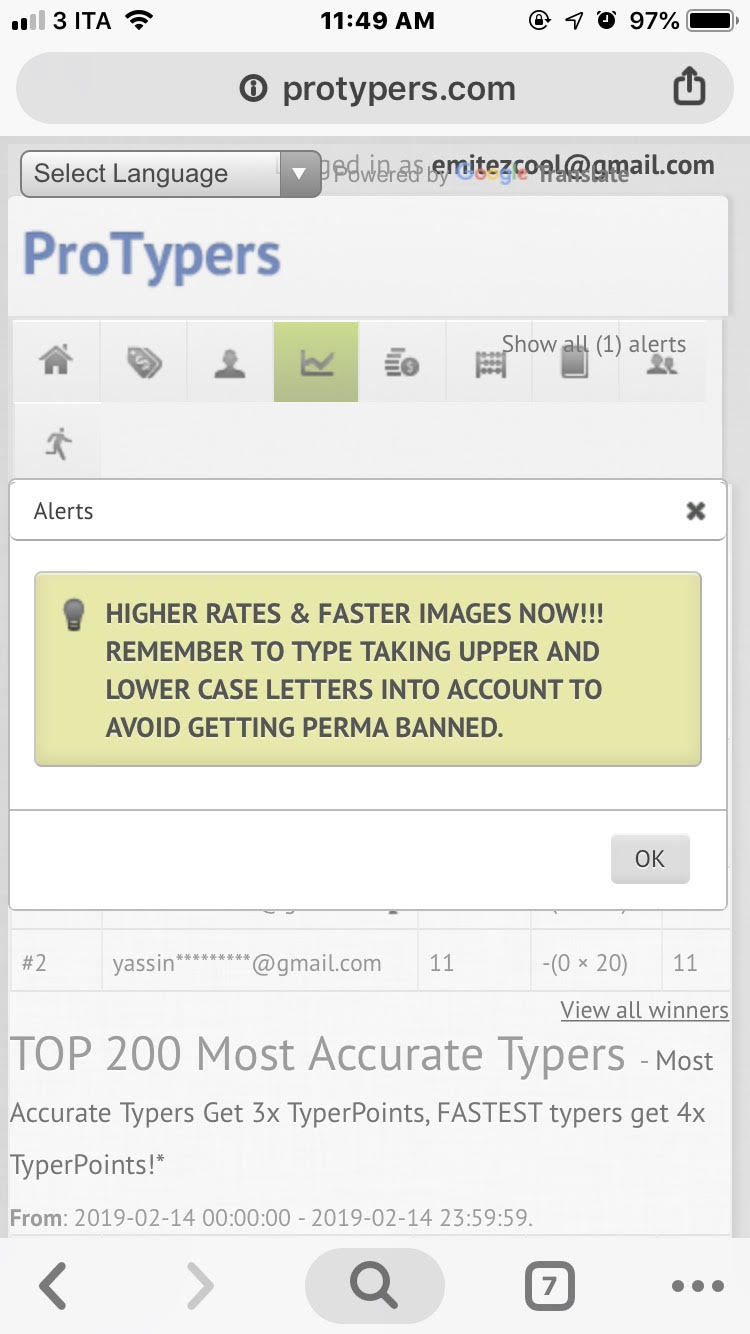 The Protypers "Typer Solver" Software
Typer solver is a software that you can install on your Windows device PC to start doing Captchas more efficiently.
Protypers recommends you to install this Windows app because it's a lot better than the web version and they even give you bonuses for that.

Since I have updated this review and found out that Protypers is a scam I don't recommend you to download their software.
Since they are offering you a bonus to download it there must be a catch so to stay safe & don't install this app on your Windows computer!
Win Prizes with TyperDraw
Protypers runs a contest that they call Typerdraw which rewards the most accurate typers with 4x typerpoints when they solve a specific consecutive number of captchas without doing mistakes.
You will find a list of the winners in their typerdraw (lottery) page.

You can also participate in the Protypers contest by buying tickets which you can pay by using your account balance.
These tickets are like sweeptakes which you can use to increase your chances of winning.
The winner of the Typerdraw lottery contest is picked by using a tool called Random Picker.
Looking for an Honest Income Online? 
Check out My Top Recommendation Here!
Does ProTypers Have an Affiliate Program?
Yes, Protypers does have an affiliate program which you can get access to in the left side of your dashboard.
Just click on the affiliates button and you will be able to find your affiliate code which you can send to your friends & family to earn 10% of whatever they earn.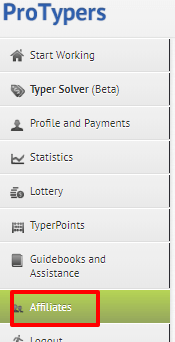 Does Protypers Really Pay? When & How?
Protypers does pay, I don't work on Protypers (and I'll never will) but I have seen many payment proofs during my research.
Quick 2019 Update!
In 2019 tons of people are complaining about Protypers stealing their money and running away.
When I wrote this review back in 2016 the complaints were little and the site looked legitimate.
But today I have decided to update this review for you.
Here's what members are saying about Protypers in 2019!
To get paid you need to be a ninja, on this website it's so hard to even keep your account.
As I said before you have 15 seconds to solve a captcha, if you fail several times then you will be kicked out and lose all your earnings.
Regarding payment methods, they have different options.
Paypal
WebMoney
PerfectMoney
Payza
Western Union
Debit Cards
Bank Checks
You get paid every 2 weeks, the minimum payout requirement is from 50 cents to $3.
It depends on the payment method you use to cash out.
For example, you won't be able to request $3 through the Western Union option.
Each payment method has details that you will find in Protypers payments page.
Every 2 weeks payments will be automatically sent to your chosen payment method when it reaches its respective threshold.
A Quick Note about the Protypers Payments!
Protypers has their own digital currencies called Typercredits & Typerpoints.
To get paid you need to accumulate at least 50 typerpoints.
ProTypers
Concerns

&

Complaints

These are some complaints, problems, and concerns that made me hate Protypers.
1) Easy Job, Easy Money, Seriously?
This is their slogan they also advertise that you can earn $200 per month.
But writing captchas is the most boring and lowest-paying job ever.
You will NEVER reach the advertised $200 per month because it's impossible with this site even if you spend the whole month glued to your laptop.
I don't think this is an easy job, easy money website!
Let us know in the comments section what do you think!
Tired of LOW PAYING SCAMS? 
Check out My Top Recommendation Here!
2) Your Account Can be Suspended Anytime.
Working in Protypers is like working for a boss that keeps screaming all the time.
You have 15 seconds if you do mistakes you are fired and you are not going to get paid.
Gosh.
Protypers is expecting you to become a ninja and complete all the captchas fast without making mistakes like a robot.
And the worst part they don't even pay!
That's why you should avoid Protypers for good!
3) You're Helping  Hackers & Scammers
I'm not going to be surprised if one day all these captcha sites disappear.
By solving captchas you are technically helping spammers and hackers get into other people's accounts and do other illegal stuff.
That's how Protypers, Megatypers, Fast typers, and most captcha sites make money.
They target people from the Philippines, India, and Bangladesh mainly.
NY Times has an article about all this captcha solving and illegal stuff.
Give it a read to see how dangerous this site is!
Earn Quick Money With Surveys?
4) Protypers is a COPY of Megatypers!
If you don't know it yet, Protypers is LITERALLY a copy of Megatypers they are the same in all terms.
Just have a look at how they look!

These websites surely belong to the same owner since they are the same!
5) It's so HARD to read the Captchas!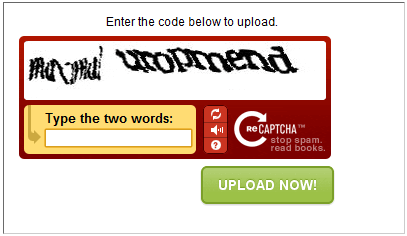 While there are many simple captchas, sometimes I see some really hard and impossible to read captchas!
I don't know why they make them so hard to read!
That's one of the reasons why I will never work as a captcha typer.
6) The Legal Pages are Missing!
This is a solid proof that Protypers is a scam!
The site has absolutely 0 legal pages like a privacy page or an income disclosure.
It simply means you're risking your information to be sold to third party websites and your data and payments details are NOT safe!
If this does not convince you to avoid Protypers I don't know what will.
Quick Heads up!
There are so many Android apps, software, and all that junk from third-party sites that are supposed to make you solve captcha faster and earn more money.
Please never download that stuff.
It will only compromise your computer and cause lots of damage!
Is Protypers a Scam?
2019 Protypers Update!
Protypers is a scam in 2019! Many people have reported that Protypers is stealing their money or not paying them.
On top of that many people report that most captchas jobs are about helping hackers and scammers do illegal stuff!
​
With that said you want to completely avoid Protypers & also Megatypers because they are the same site!
Here's some of the complaints that Protypers have received recently.

Source: sitejabber.com

Click on the picture to zoom it
Earn Quick Money With Surveys?
Protypers will pay you if you are fast at writing captchas without mistakes.
But you are working for hackers and spammers and that's a scam thing.
You have to spend the whole day to earn any decent income.
With that said I think Protypers a great way to waste your time.
A Better Way to Make Money Online!
If you are looking for a legitimate way to make money, then check out Wealthy Affiliate it's a reliable way to a real source of income from home!
But remember it's not a job it's a training where you learn how to build a website that makes money.
It requires hard work and patience, it's not a get rich quick scheme.
But I can guarantee you it's the best way to earn money on the internet without spending the whole life in front of your computer typing captchas!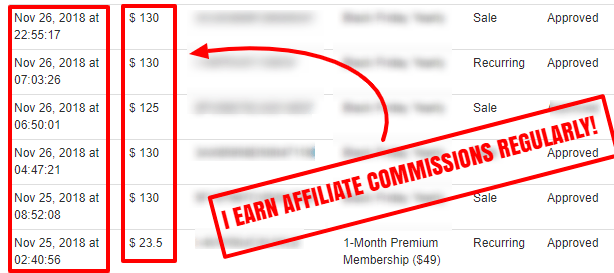 My November affiliate commissions thanks to Wealthy Affiliate!
Here's how it works in a simple picture.
Now It's Your Turn!
Do you have experiences with ProTypers or any other captcha site?
Don't forget to comment below and let us hear your experiences and what you think about this Protypers review!
Don't forget to share this review with your friends you don't want them to work for spammers right?