If you are worried that Survey Say is a scam, It's normal I understand so many scams out there, that's why you need to read this review first.
Everyone is looking for the highest paying surveys that make cash.
I was looking for one too, and I stumbled upon Survey Say which is similar to Survey Compare which disappointed me.
So in this Survey say review, we will talk about this survey panel and see if it's worth our time.
Without wasting any further time let's get rolling.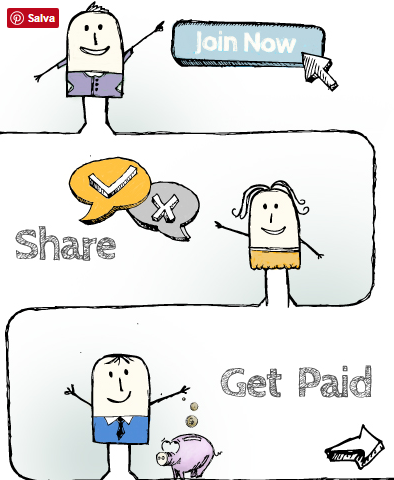 Join over 500,000 members Community to Make Real Money Online (FREE) Click to Learn more

What is Survey Say?
When I first stumbled upon Survey Say, I really thought it was a survey panel, but it's not.
It's just a website that suggests you six survey sites to join using their referral link of course.
It's like when your friend tells you hey! You need to check these surveys programs right now!
With that being said I think Survey say is not worth it and you need to avoid it.
I'm going to address all the concerns but first, let see how Survey works
How Does Survey Say Work?
You just need an email address, and you are ready to go, just fill up the form you see on their homepage.
In the sign-up form, I see that they have a few countries listed and also the other countries option.
But we all know the countries listed (Uk, Us, Canada, Australia, Puerto Rico) are the ones preferred by the people that are going to survey you.
When you sign up and click the join now button you will see the six surveys Survey Say has picked up for you.
The survey programs they show you seem to change, currently, they are showing me these programs, but I'm pretty sure by next week or month they will show me other programs.
Here are the survey panels available now.
They say you have to join all of these to earn the most money but I disagree with that, and I will tell you why.
Survey Say is a Waste of Time, Here's Why
Survey Say is a program I don't recommend, and these are some valid reasons why I don't recommend it.
1) You Will Spread Your Self too Thin
Survey Say recommends you to join six survey programs, that's too much confusion.
Each site you join has a different payout threshold and will pay you individually.
Your inbox will be flooded with surveys from various programs; you need to spend the whole day.
If you really like surveys I can suggest to check out Swagbucks, Cashcrate or Unique rewards.
Those are good websites to earn extra cash. However, I would recommend starting an online business.
Put the hard work you would put on surveys on your home business to create a reliable income stream.
If you have no idea where to start a home business then check out Wealthy Affiliate, it makes the process dead easy.
2) You Don't Qualify for Most Surveys
I know that survey sites have this in common.
Even the highest paying surveys like Swagbucks and InboxDollars sometimes get you to take surveys that you don't qualify for.
But these guys at Survey Say connect you with surveys that seem to be nothing but a waste of time.
It looks like I am not the only one complaining here.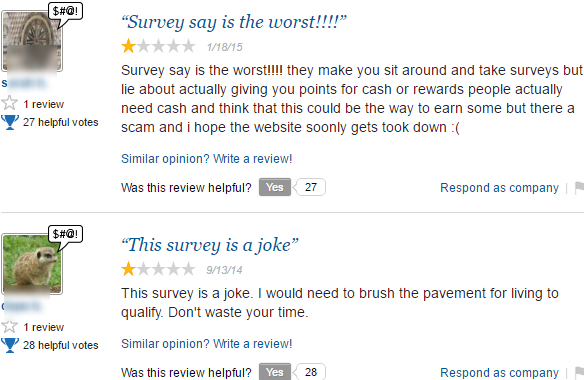 3) Is Survey Say Safe? I don't think so
Before you register they ask for an email address.

Their goal is to collect as many email addresses as they can so they can sell them to third party sites.
These third party sites will send you lots of spam emails.

4) Way too Many People Complaining
I have reviewed many survey panels, and I always saw some people complaining, but this one has way too many complaints just like Survey compare
Wondering where I got those screenshots of people complaining?
Have a look here at the Survey Say reviews.
Some say that FBI is doing an investigation about SurveySay.
Is Survey Say a Scam?
If you want to waste your precious time join Survey Say.
There are better reward sites out there that work.
However, if you want to earn passive income from the same hard work, you would put on surveys.
I recommend you to check out Wealthy Affiliate.
WA teaches you affiliate marketing
This picture explains what Wealthy Affiliate will teach you.
Wealthy Affiliate is 100% free to join (No Credit Card)
Since it's free to join why don't you try it out today and see if it's for you?

Join Wealthy Affiliate Now it's $0 (FREE)

Did you try Survey Say before?
I'd love to hear about your experiences!
Any Questions or comments are welcome.