Lots of folks there asking what are the best and legitimate work from home sites, so I decided to put this post together where I share with you the best sites to earn some extra cash from home.
I have reviewed over 160 work from home online jobs, to be honest, most of them are scams and they are there only to make money for the people behind them, fortunately, there are some legitimate sites too.
I know everyone has different likings and skills so this post will include different work from home sites, whether you are looking for ways to earn extra cash or maybe a full-time income this post got you covered.
This is a SCAM FREE zone and you will surely find at least one site that is for you so enjoy!
Just one thing, make sure you use this table of contents it will help you consume this post in an easier way! 😉
Online Business Opportunities & Training
---
An online business is definitely a reliable and absolutely the best way to work from home, an online business can be an online store (sell your own products) or an affiliate website where you sell other people's products it's called affiliate marketing.
The best part about an online business is you don't need a big capital to run it (there are many scams online that charge thousands of dollars for bogus programs beware) and anyone can do it as long as they have an internet connection and a computer.
The catch is it's not a push of a button, to make an online business profitable you got to work very hard, the first 5-6 months are painful and you need to spend a lot of time in building and growing your business but the results are definitely worth it.
An online business is the fastest way to make money online because in a year you can expect to earn a full-time income (if you do things right), unlike brick and mortar businesses where you have to invest a lot of money and it takes at least a couple of years to see results.
Thanks to the internet with a website you can target any country you want and audience, as you can see the sky is the limit and there is no limit to your earnings, the harder and smarter you work the more money you will make.
This is something that even COMPLETE NEWBIES can do, there are many online business training programs where you can learn and build a profitable online business website.
The best one I can recommend for newbies is Wealthy Affiliate because an ebook or pdf is not enough for newbies to learn how to start a profitable business online
A community with lots of successful members with the same goal that share positive and creative ideas with each other is what is going to be a huge help for newbies and that's exactly what Wealthy Affiliate is all about
Online Business Opportunities Pros & Cons
---
Pros
Big Earning Potential (the sky is the limit)
Can be almost automated (reinvest your earnings to outsource)
Newbies can do it (with the help of a proper training)
Can be started with almost no money
You can take your business wherever you want (any place that has an internet connection)
Cons
It takes a lot of hard work and patience which make people quit especially in the third month (the key is to never give up)
Surveys & Reward Sites
---
To be honest, I'm not a big fan of surveys and reward sites (although I use some) because advertisers hate my country and don't like to advertise on it that's why surveys and reward sites aren't for me.
I think only the US residents can expect to earn an income that is worth their time, since most of my visitors are from the US I am going to include some reputable and legitimate paid surveys.
1) Swagbucks
---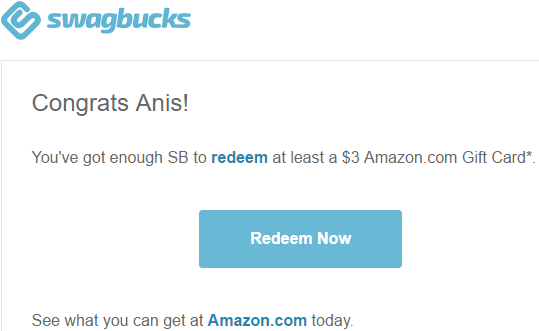 I believe Swagbucks is the best survey site out there, it won't make you rich but if you are looking for a legit, trustworthy paid survey site I think Swagbucks is the best.
There are different ways to earn with Swagbucks like taking offers, playing games and more.
I have already put together and in depth Swagbucks review just have a look to learn more about this reward site.
2) Unique Rewards
---
Unique rewards is another cool reward site where you make money by taking offers and stuff, pretty much like Swagbucks.

It's available only in the US, Canada, and the Uk.
Read my Unique Rewards review to learn more
---
Click here to discover other great reward sites
Surveys & Reward Sites Pros & Cons
---
Pros
An easy way to earn extra cash
Completely free to join (legit survey don't ask for money)
Cons
Low Earning Potential
Time-consuming and the rewards are not always great
Legitimate Data Entry Work from Home Jobs
---
Data entry jobs are something that a lot of people are looking for, there are a lot of scammy data entry jobs out there which makes it very hard to find legitimate ones
But here are some of the few legitimate data entry jobs, they don't pay well in my opinion but since people are looking for them I'm going to share them with you here.
1) Amazon Mechanical Turk
---
Amazon MTurk is a site where you get paid to complete tasks that computers can't do, there are a lot of tasks you can perform including data entry jobs.

The payments are not so great, click here to read my full Amazon Mturk review
I don't like Mturk but it's a legitimate work from home site, just remember it's only available for US members at this moment.
2) ProTypers
---
Protypers aka Megatypers is a website where you get paid to type captcha codes.
It's legitimate because it has paid out their members although there is some unethical stuff on it, read my protypers review to learn more about it.
3) 2Captcha
---

2Captcha is another site where you earn money doing captchas, it's a legitimate site, the earnings are low and not exciting but that's that's what you get doing captchas anywhere.
this site is doing its job as a captcha site and you can learn more about 2Captcha here.
Data Entry Jobs Pros & Cons
---
Pros
Something that anyone can do
100% free no start up fee
Cons
Very low payments
So boring and exhausting
Get Paid to Translate Documents from Home Sites
---
If you are good and fluent at least 2 languages that's good because there are a lot of legitimate work from home websites that pay people that can translate documents from home.
1) One Hour Translation
---
One Hour translation is an excellent website for people that want to make money translating texts or documents, the site is pretty straightforward and it pays very well.

I heard about it from a friend that earns a living from it so it works and I do recommend it to anyone that is fluent at languages.
Read my full review to learn more about One Hour Translation
2) Translate.com
---
Translate is another excellent website where you can find translating jobs, you can translate articles, social media posts and pretty much everything that can be translated.
There are a lot of companies and individuals posting jobs on translate.com so you will definitely get busy with this site.
Check out Translate official site.
Get Paid to Write Articles for Others
---
Although I prefer writing content on my site rather than for someone else I still think that writing content for cash is a good source of income probably one of the fastest ways to earn cash on the internet.
There are many good sites where you get paid to write articles you just need to be able to write without making notable grammar issues, you can definitely write about any topic you like and still get paid.
1) HireWriters
---

I like HireWriters because they don't have crazy guidelines it's pretty straightforward and you get paid for every article you write, the better at writing you are the more you earn.
I'm not going to go into details here because I already have an HireWriters review on my site.
2) The Content Authority
---
The content Authority is another simple and straightforward site where you get paid to write articles.

This site is perfect for new writers that want to get their feet wet into writing.
Learn more about the Content Authority
Become an Online Tutor
---
If you want to teach anything you are knowledgeable about like helping students with their homework or helping someone learn a language, there are some great sites where you paid to become an online tutor.
The most exciting part is you can set your own hours and work whenever you feel like because you're your own boss!
1) StudyPool
---
This is really an amazing site and it's very popular and reputable it was also featured on popular sites like the Huffing post.
Some tutors claim to earn $200 per week tutoring online thanks to Study pool.
Payments are made via Paypal.
2) Italki
---

Italki is another amazing website where you get paid to teach people a language you speak fluently, you can set your own hours and teach people your favorite language whenever you want.
You can also earn an extra cash by referring people to Italki, you will earn $10 per every friend you refer!
If you feel you are so good at a certain language that you can teach it to people then Italki could be a great source of income.
Get Paid to Test Websites
---
I am a blogger and I know if my website is not easy to navigate or poorly designed I will be losing money and that's definitely something I don't want.
How can I make sure my website is user-friendly and easy to navigate? It's simple I just need to ask other people to visit my site and tell me what they like and don't like or pay someone to give me a thorough feedback so I can fix stuff that is annoying my visitors.
There are websites out there that will pay you to test people's websites, they simply give you a website, visit it and record yourself as you express your opinions about it.
It's that simple, I know and I have used two websites to get feedback on my website, my website's menu was acting funny on mobile devices and a tester spotted that issue for me and I fixed it!
Let's have a look at these two great usability testing websites.
1) UserTesting.com
---
You can earn $10 for every 20 minutes video test you do, after you sign up, you need to do a sample test before you get into the business.
Payments are made via Paypal and it's available worldwide!
The catch is there are not a lot of websites to test, there are a lot of members so you need to act fast when you see someone requesting feedback.
With that said it's a great opportunity to earn extra cash!
2) WhatUsersDo.com
---
Another great usability testing website to earn some extra money, it's similar to Usertesting, sign up, complete the sample video test, if you are approved you will start receiving assignments in your email inbox.
Payments are done via Paypal and the site is available worldwide.
Make Money Selling your Study Notes
---
If you are a student, then you surely take notes, did you know that you could make money by simply selling your notes? It's always awesome to get paid for something you would do anyway.
Here are two websites where you can make money selling your study notes.
1) OneClass
---
If you want to improve your note taking skills and get paid along the way, then you can't miss OneClass which is a great site to make money uploading your notes.

Feel free to read my OneClass Review to learn more.
2) NoteSurf.com
---
Another great site to sell your study notes and also your study guides and essays, payments are done via PayPal each Thursday.
Get Paid to Become a Friend with RentaFriend.com
---
This may look crazy but you definitely can make money by simply being a friend, there are some people that will pay you up to $10 an hour by just hanging out with them to drink a coffee.
The site is called Rentafriend and it's not a joke, people really make good money from it.
Read my Rentafriend review for more details on this exciting opportunity.
Earn Cashback from Shopping
---
If you do shopping online or you want to save a lot of money on your weekly shopping trip, then you must check out these awesome rebate websites where you will earn cashback from your shopping!
These rebate sites will pay you because you will be using their affiliate links so they will earn commissions and share a portion of it with you so it's a win-win situation, another great opportunity born thanks to the internet!
Let's discover the best cashback sites.
1) Ibotta
---

If you want to save money on your grocery shopping you really need to check Ibotta out, it's a great app that really works, you will save a lot of money by just using this little app.
If you live in the US, you really need to check Ibotta app, it's a must have app.
2) Ebates
---
Ebates is another great rebate website and it's a great alternative to Ibotta especially for those that still use flip phones.
You can shop from Amazon and many reputable online stores and get cash back, it's a great cashback site.
Read my Ebates review for more info.
Check out my favorite 10 rebate websites!
Final Thoughts & Recommendation
---
Whoah! That's a 2550 words article, my fingers hurt, please use the social buttons to share this post and I hope you have found at least one work from home site that is for you.
These are all legitimate online job opportunities but you need to pick up one, focus and work only on one site, if you keep trying every single site on this list you will be only wasting time.
Pick up one see if it's for you and work on it, if I were you I'd start an affiliate website because it's simply the best and most reliable way to earn money, it doesn't matter if you are a newbie, Wealthy Affiliate got you 100% covered.
---
Do you know any site that should be on this list?
I will update this post with more online jobs opportunities, if you know any site that is good and legit please leave a comment below to let us know so I can add it!
Questions, feedback or suggestions are very welcome!