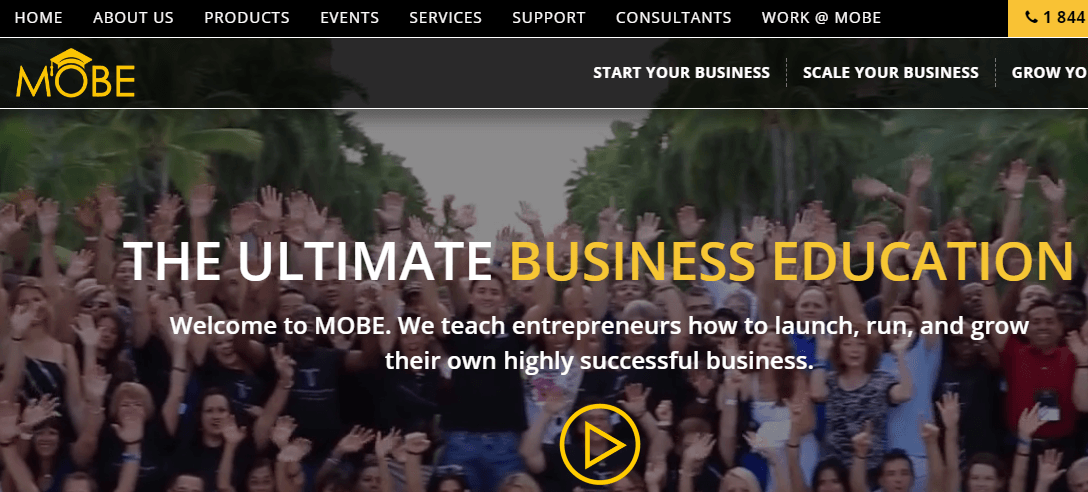 UPDATE June 12th 2018 
MOBE WAS shut down by the FTC!
Is Mobe a Matt Loyd scam? Or a legitimate online business opportunity that will actually make you real money online?
So this is going to be a review of Matt Loyd's system.
MOBE is definitely a system that is making a buzz online
There are lots of people that have been making some crazy money with this.
On the other hand, there are quite a lot of newbies that have lots some huge money without earning a cent.
MOBE is definitely a program that has mixed reviews and there are many people that have no idea whether this is a scam or legit.
That's why here at FullTimeHomeBusiness.com we decided to put together an honest review of Matt Loyd's brainchild!
Without wasting time let's get into the review!
MOBE Review
Name: MOBE Aka My Online Business Education aka MTTB.
Website: MOBE.com
Price: $49- $30,000 + extra training to buy.
Owner: Matt Loyd
Years in Business: Since 2011
[thrive_megabutton mt="Legit Training for Making Money Online" st="Free to Join" color="orange" link="https://fulltimehomebusiness.com/is-wealthy-affiliate-worth-it" target="_self" align="aligncenter"]
What is MOBE?

MOBE is an affiliate marketing training for people that want to start a digital online business and work on their own terms.
This system was created by an Australian entrepreneur called Matt Loyd
Before we get in-depth with MOBE it's worth talking about the background of Matt Loyd
Who is Matt Loyd?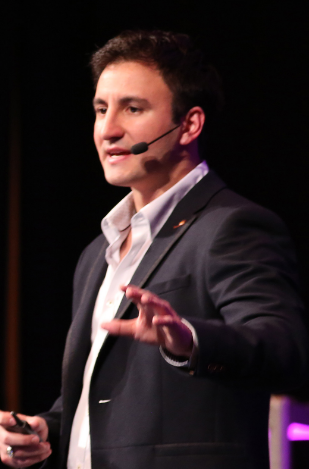 Matt Lloyd is an entrepreneur that has made a big success online thanks to his affiliate marketing businesses.
After getting experience from his businesses he decided to create MOBE a training platform that helps newbies start their online businesses.
Is Matt Lloyd a Scammer?
I don't think Matt is a scam artist but it's worth mentioning that lots of his affiliates are promoting MOBE in a shady way and Matt acts like he doesn't know.
I think he's like who cares they are making me money!
MOBE  is also known as MTTB, My Empire Own Business Education, and My Top Tier Business.
MOBE has received a lot of complaints from their consumers
Some have even called it a pyramid scheme or an MLM.
In fact, MOBE was based in the USA until they were sued and accused of being illegal and shady.
Now it's based somewhere in Asia I think in Taiwan.
MOBE does pay very well, I could join their affiliate program write a bias review where I sugar coat it and promote it to you.
But I don't think MOBE is a program I would be promoting or recommending
If you are interested, this is The Training I actually Recommend for Newbies that want to earn money without investing heavily.
One thing I hate about the MOBE consultants or the affiliates is they promote this system in an unethical way.
There are tons of shady affiliates promoting shady websites that funnel you to MOBE
These are some of them
Trust me there are so much more and they are so misleading and have made many newbies waste their hard earned money!
How Much Does it Cost to Join MOBE?
MOBE is advertised with a $49 price tag
However, the truth is that price tag+ $19,95 per month will only allow you to get some basic and limited training within the platform that is structured in 21 steps.
Once you complete the 21 steps your personal coach will start upselling and convincing you into investing in more expensive products that they sell.
If I remember well, in step 7 or 6 you will be asked to buy the MLR training that will cost you $1997 one time fee plus a monthly fee of $199.
What About the $500 Guarantee?
MOBE guarantees you that if you fail to make money within 30 days of their training they will give you a free $500 which is a way to say sorry for wasting your time.
But in order to qualify for the $500 guarantee, you are required to show proof that you have completed the 21 Steps training! 
We all know if you have completed the 21 steps training you would have spent at least $5,000!
What's the point of getting $500 when you have spent around $5k?
That's the catch of the $500 guarantee.
MOBE Training
MTTB offers you a lot of training on every product they sell
Their official website offers some regularly updated blog posts that are really valuable.
Matt has put together some really good stuff but the downside is his stuff is promoted like it going to earn you commissions within a few days.
Like any business, this requires time, patience and lots of legwork.
They focus on teaching you how to sell their system
The consultants do earn high commissions but it's all about recruiting and that's MLM business, not affiliate marketing.
In my opinion, a real training would teach you to create a business where you can promote any program you want.
What is Matt's program gets shut down?
Imagine what would happen to your business?
It will crash overnight!

What Products Does MOBE Sell?
MOBE has quite a lot of products they want to sell to you
Within the 21 steps training as I said before you have your personal coach
This personal coach tries to sell you all the MOBE products gradually as you go forward with the training.
It's incredible how many upsells and how much money you need to spend to be full in with MTTB.
Here are the top MOBE products
Silver Mastermind
Gold
Titanium
Platinum
Diamond
Online Sales Machine
10k in 10 days
Add the Nitrous 0 to million dollars fast
10,000 leads in 10 days
Facebook Advertising Mastery
10k in 10 Days Shaqir Hussyin
Achieving Life Balance
Instant Online Business resale
The 3- Minute Expert
Traffic Generator pro
6-Figure Business Franchise
Believe it or not, there are more products!
 Of course, you are not forced to buy all of these programs
But this training platform is SO expensive!
They could include all of this in one membership but unfortunately, MOBE is designed to make Matt Lloyd money!
MOBE Compensation Plan
Below you will find a video of Matt Loyd explaining for you the MOBE compensation plan
In this video, you will know everything you need to know about the MOBE affiliate program and the compensation plan for all their major products.
The video and all the MOBE content is removed because they were hammered by the FTC
To summarize the video for you
MOBE is essentially a Plug & Play system
Meaning you need to buy the products you want to promote

Let me explain this with an example
Let's say you want to promote the highest MOBE membership which is Diamond Masterclass
In order to promote this high ticket product you need to buy it's reselling rights
The diamond Masterclass price tag is $30,000
So in order to promote it, you need to invest that sum of cash
Their other products also come with a monthly fee, for example, the Platinum Mastermind costs $17,000 and a monthly fee of $200
If you stop paying the monthly fee you won't be even able to promote this product and you will lose commissions if you earn sales when your membership is canceled.
To get started with their affiliate program you need to pay $20 per month
I don't know why would they charge people for promoting their system
There are millions of affiliate programs out there that you can promote absolutely for free.
So that's how Matt's system works and I think it's made to make the owner very rich.
Can You Make Money with MOBE?
With MOBE you can make money for sure, in fact, there are members that are making some serious money with this
However, it's extremely expensive and full of risks
The problem is this network has a low success rate as most of the members earn less than $100/month!
This is a screenshot from their official website will back up what I am talking about.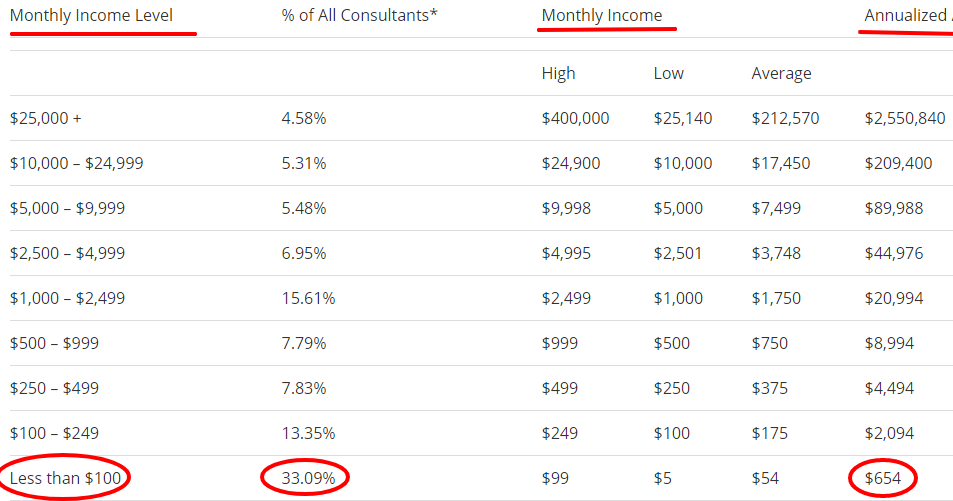 There are lots of members on MOBE but as you can see in the screenshot above most MOBE consultant earn less than $700 per year
With that said you can earn the big bucks with this system just remember you might burn thousands of dollars in case you fail
This is a very risky business opportunity and I hate the fact that it requires so much money to get started
In my opinion, an online business is meant to be way cheaper than that
Matt Lloyd prices are way exaggerated and the training is not worth all that money.
MOBE the Pros & the Cons
Pros
Good training
The basics of affiliate marketing are explained very well.
Some consultants are making good money
Good affiliate incentives and generous commissions.
Cons
It's extremely expensive.
There are uncountable number of products that you are asked to buy
Many negative complaints and reviews
It's an MLM scheme, it's all about recruiting new members.
Not newbies friendly
Shady affiliates
Most consultants earn less than $100 per month which is shocking.
The support team is cheap for such an expensive system.
Is MOBE a Scam?
I don't think MOBE is a scam, if you make any money with them you will get paid
However, it's definitely way overpriced and it's so misleading
They are not honest about their real price, they say it's only $49 when it's clearly not.
I definitely won't recommend this product unless you're an experienced marketer that can afford to invest huge amounts of money upfront.
There are people that make lots of money with this but they are the minority and I showed and proved how most of their members spent lots of money without earnings.
Their $500 guarantee is ridiculous as you need to invest at least $5,000 and if you fail to make money you will get back $500.
Mobe Negative Reviews & Complaints
If you look for online for My Own Business Empire reviews you will notice that most of them are negative
BBB (Better Business Bureau)
My Own Business Empire has an F rating on BBB and 2 out 5 rating
You can read the all the reviews on BBB.
Ripoff Report
On Ripoff Report, there are so many negative reviews claiming that MOBE is a pyramid and Ponzi scheme and complaints also include their refund policy.
Final Words
As I said before Mobe is not a scam but I don't recommend newbies to be involved with it
The risk is real
Let me show you what I mean
Here's someone that learned the lesson the hard way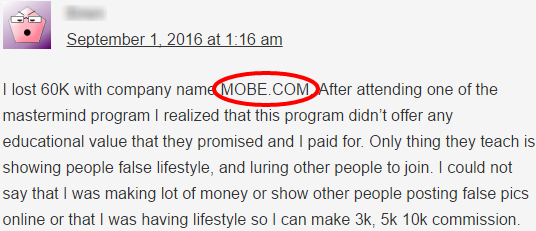 If you are looking to make money online this might be of your interest
[thrive_megabutton mt="Step by Step Training for Making Money Online!" st="Free to Join!" color="orange" link="https://fulltimehomebusiness.com/is-wealthy-affiliate-worth-it" target="_self" align="aligncenter"]