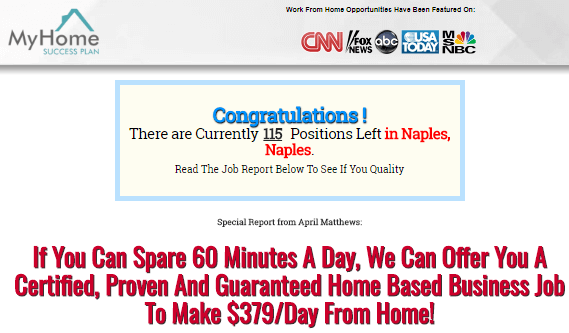 My Home Success Plan is a newly released sham, I have reviewed tons of online scams and this one looks similar to them.
In this review I want to share with you why it's a scam, you need to read this entire review if you want to learn how scams work, how you can avoid them forever and how to start earning money online finally!
My Home Success Plan Review
Name: My Home Success Plan
Website: myhomesuccessplan.com
Price: $97
Owner: April Matthews
Recommended? No
Free to Try Training for Newbies – Learn how to Earn!
What is My Home Success Plan?
My Home Success Plan is a new Work from Home Training where you are told you can start making $379 pretty quickly thanks to the power of link posting.This website is presented by a lady called April Matthews, she explains in the My Home Success Plan how she was a struggling woman with 2 daughters.She was working on McDonald's just to pay the bills and then one day everything has changed as she found this great system called My Home Success plan that changed her life completely.Now she is making good money every month thanks to her new dream work from home job. But how can you believe if April Matthews story is real or fake?Want to find out the EXACT Truth? Just continue reading below!
How Does My Home Success Plan Work?
My Home Success Plan unfortunately, is not what claims to be, it's just another new scam that pretends to be a work from home job opportunity.
These guys create fake rehashed websites to fool people, they are basically after that $97.
Below I'm going to share with you the biggest red flags on why this is a scam, you MUST read this part because it's very important.
If you read the red flags below you will know how to avoid most scams online!
My Home Success Plan
Red Flags!
Who Is April Matthews? A Scam Artist?
The first thing I want to talk about is the person that represents this product, I'm talking about April Matthews.
Does she really make the money she claims to make? Is her story real?
I can assure you that her story is 100% fake, because it's literally copied and used many times by different scams.
And even the persona is fake, scammers use fake personas to represent their products.
They usually buy stock photos of women online, they come up with a name and then they create this fake owner. Then they throw this fake persona into that fake story that has been rehashed for years by multiple scams
I'm going to show you the same scam cookie cutter sites that are just like My Home Success Plan later.
But below you can see that April Matthews is 100% fake. pay attention to how the stories are the same!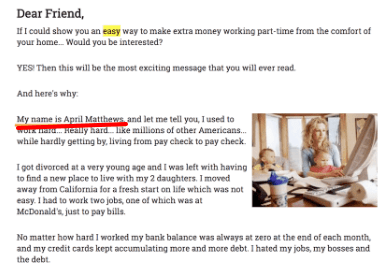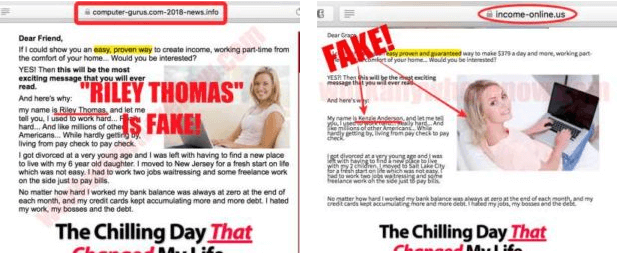 Fake Video & News Logos!
People really trust these scammers when they throw some fake news logos and that fake news video.You need to know that those news logos of CNN or BBC are not real, these big media channels have never talked about My Home Success Plan.If you look closely at the news logos you will read a sentence just above them that say "work from home opportunities have been featured on"

Of course, CNN or any other news channel have talked about working from home opportunities, we all know work from home opportunities exist.But the thing is these news channels did not talk or endorse My Home Success Plan.That's why you shouldn't be fooled by those logos because they are endorsing work from home jobs in general but not this cheesy program!That's just a nasty tactic by the scammers behind My Home Success Plan, unfortunately, it works for them, that's why you see many fake websites have those news logos all over their sites!They do the same thing with the news video, again if you watch the news video you will realize that it also talks about work from home in general, not about My Home Success Plan.So next time you come across a product like this and you see some logos, just remember they may not be real!
Limited Positions? It's Fake!
In the My Home Success Plan website, you will see a countdown which counts the positions left.That's a tactic that works very well for fraudsters, you have to know that they just want to put pressure on you by saying there are limited positions.They even show your country or city in the countdown.

That's fake too because that's just a code they have on their page which is able to show every single user their city or country besides the countdown.As you can see in the screenshot above it shows my city where I live and I'm pretty sure it showed your city when you landed on their page.
Link Posting = Spam!
Link posting is a term that was invented by scammers.It's basically taken from Affiliate marketing which allows you to make money by posting links on your website or social media but only when someone buys something using your links!My Home Success Plan wants to make all the process sound easy when they say all you have to do is post links and you will make $15 for every link you post.That's complete BS!They even give you a fake calculator to estimate your earnings.But unfortunately, it's not that easy to earn, if earning money was that easy then everyone could become rich overnight!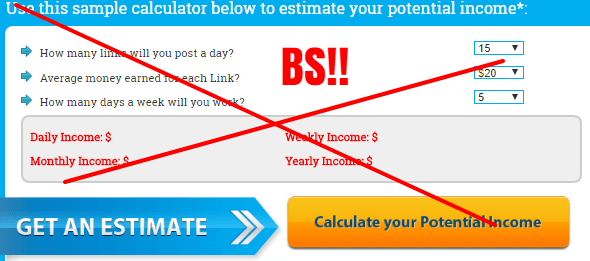 Affiliate marketing is the real thing, link posting is not it's just a scam, at the end of the day they are just trying to make you so excited to earn hoping you will rush on to spend that $97.Affiliate marketing works and it's a legitimate business but it works only after lots of learning, hard work, and patience.Luckily you can follow an Affiliate Marketing Training and learn this the right way so you can start building an income stream online!
Another Cookie Cutter Site!
My Home Success Plan is not a unique site as you have probably assumed, everything about this site has been used many times by other cookie sites!
You can read some of my reviews on these scams like:
My Home Success Plan is not a real website but just an opportunity for the shady people behind it to cash in easy $97's from people looking for work from home jobs.
They like earning easy money buy simply creating multiple variations of their scams and spread it all over the internet for newbies to find!
Below you can see proof that these scammers just rehashed their site to scam more people!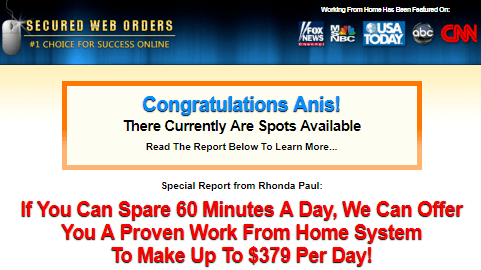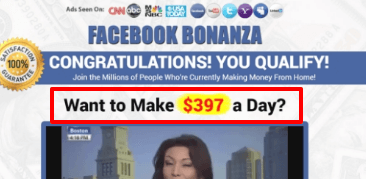 Your Info will be Sold to Thrid Party Sites!
The last red flag I want to talk about which is the biggest and most dangerous one is the fact your personal info that you give to My Home Success Plan will be sold to third-party sites!Before you see the sales page you're required to put in your email address and your phone number (which is optional)Even if you don't spend $97, these guys will still make money off you! Because you gave them your email address and maybe your phone number too.Guess what? Every day lots of people like you will give them their email address and phone number.They will collect as many personal info from different people, put it into a spreadsheet or a notepad then sell it for a high price to other scammy marketers.There are many marketers that will happily spend money on lists with a lot of email addresses and phone numbers because they will use them to promote their products and they will definitely make a lot of money if people buy!You will even start receiving tons of spam into your inbox and annoying calls from different professional salespeople that will try to sell you many expensive products!In the My Home Success Plan privacy page, you will clearly read that they are planning to sell your info!
Is My Home Success Plan a Scam? Yes!
There are no doubts that My Home Success Plan is a scam, I have proved in this review how the owner is not even real, they use fake stock photos to make you think the owner is real.
They use fake news logos and a fake news video just to try to make you think that this scam has been endorsed by those big news channels.
But if you simply scroll to the bottom of their page you will read that they literally say the HAVE not been endorsed by any site.

They are forced to say the truth in the disclosure or privacy page for legal reasons but they are hoping you won't read those pages, in fact who would scroll to the bottom to read a privacy page?
My Home Success Plan needs to be avoided because they just make money by taking advantage of the fact you're desperately looking for an online job.
They will also sell your personal info and you may end up talking with a professional sales person who has the power to sell you anything easily!
Be very careful with this site, and I'd like to say that I don't recommend you to join My Home Success Plan for all the red flags mentioned above!
If you have been scammed you can request a refund by contacting Clickbetter!
If you need help getting refunded just leave a comment below and I'll be happy to help!
Learn from this Legit Training!
If you want to start earning online, there are two things you need to do first:
Realize that easy money does not exist!

You need a real training that works!
If you have these two elements then you will be ready to start an amazing income from the comfort of your home!
I started making money when I realized there is no way to earn easy money, shortcuts to hard work and success are just fantasy!
That's the truth which shouldn't come as a shock because it's simply the simple truth that scammers like My Home Success Plan are trying to take you away from.
Now if you want to start building your own website that makes money from promoting other people products, then you want to check out this link below.
Legit Training for Newbies: Learn How You Can Earn Online!
This training can be joined for free, you don't even need a credit card.
It has a lot of amazing training, you will also get a lot of support and help from thousands of members and even from me.
Did you find my Home Success Plan Review useful and informative?
Did you try it and you want your money back?
Any experiences you want to share with us?
Just leave your comments or questions below in the comments section I reply quickly to all the commenters!
Also make sure you share this review so you help people avoid this scam!