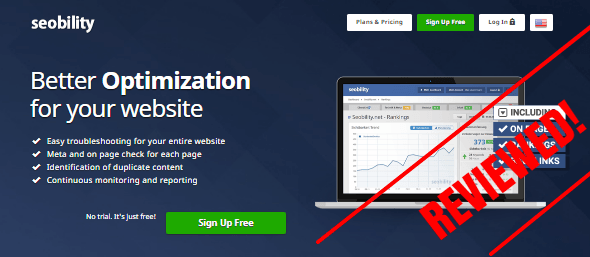 I have written this Seobility review because lots of people want to read a review before trying it out, Seobility is a great SEO audit tool that will improve your site's technical SEO.
Lot's of people only care about optimizing their content and forget the technical SEO part, which is optimizing other areas of your websites that can affect rankings negatively and make all your efforts useless if ignored.
Some of the best Technical SEO practices are; improving the site loading time, checking for grammar issues on your site, fixing all the broken links, etc.
It's not very easy to find all those errors by yourself.
Seobility is one of the best and professional SEO tools that will help you make that process like a walk in the park.
---
Name: Seobility 

Website: Seobility.net
Price: Basic: Free- Premium:$36/month- Agency $148/month
Overall Rank: 9 out of 10
---
1- Seobility Product Overview
Seobility is an SEO audit tool which crawls and analyzes your website to check for errors and problems that might be holding it from getting better positions in the search engines.
This program is based in Germany and quickly became popular in the US and other countries.
What I like about it is the simple interface and the wealth of search engine optimization tips it gives you in addition to all the errors it finds in a short period.
Many tools similar to seobility will just check your website for mistakes, once you want to see the results they would just slap you with an upgrade landing page.
This program has a great free membership that offers a lot of great features that other programs would charge for.
Let's have a look at some of the best features of this SEO tool.
2- Seobility Best Features
Seobility has a lot of great features that are the following:
1- SEO Check
This is a great feature; that will break down for your all the possible errors that may affect your SEO.
If you do an SEO check and fix all the errors you see, you will surely notice more organic traffic and less bounce rate.
This feature is %100 free and yet extremely helpful.
I have found lots of problems in my website with SEO check and fixed them.
It's impossible to detect all the problems this tool will generate for you.
One tip, though, don't get hooked by it, sometimes the tool may overreact and give you useless tips.
It's just a machine 😀 after all.
2- Keyword Check
Another mind-blowing feature, where you can simply put the URL of your post and your target keyword.
The tool will give you tips to optimize your post better for that keyword by giving you a score and actionable tips to increase that score.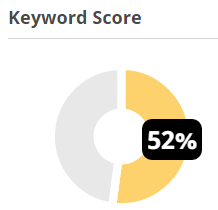 I like to go through my older posts and try to improve my keyword score, but remember that it might give you some senseless recommendations.
Just use your intelligence and don't be a pushover of that tool 😀
3- SEO Compare
You have no idea of how useful this feature is; I love it.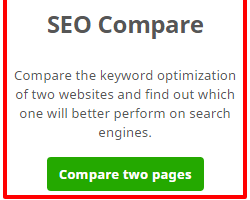 All you need to do is to put the target keyword and the post that talks about it plus your competitor's post URL that targets your same keyword.
It will show you the loser and the winner; the winner obviously is one that that is ranking well for that keyword.
The best part is it will show you why your competitors are beating you and actionable tips to improve your rankings!
4- Ranking Check
Have you ever wished to see what positions your keywords are getting on Google?
I know just typing your keyword on Google is not a reliable way to check rankings.
To check ranking positions simply put your target keyword, and your domain URL then hit check.
You will be able to see the position and the competitors posts.
5- Monitoring Service
If you register and add your website, the tool will crawl all your website links and give you reports of the problems and solutions.
The most exciting part is, it will regularly crawl your site and send you errors reports if they happen in your email inbox!
It's 100% free for small websites with up to 1000 pages! 🙂
3- Pricing and Plans
Seobility has three different membership plans:
1-Basic

 
Free
No more than 1 website to check.
No more than 1000 crawled pages
Only 200 external links can be checked
Waiting time for re-crawls one day
2- Premium 
$36/Month
3 websites to check
25,000 maximum crawled pages
5000 external links that can be checked
No waiting time for recrawls
3-Agency
$148/month
15 websites to check
100,000 maximum crawled pages
20,000 external links to check
Immediate recrawls
4- Support
If you have problems with Seobility you can find their contact page and social links easily, there are numbers and emails you can contact.
You will never have problems with support, they also have an FAQ page.
My Final Opinion of Seobility
I recommend everyone to try this SEO tool, because it's very useful, and I am sure it will help you to improve your website rankings.
I hope you have enjoyed my Seobility review if you want to start an online business, don't forget to check my #1Recommendation to Make a Living from your passion and it's FREE!
If you have any questions just drop a comment, please share this review with your friends if you like it! 🙂
Your friend Anis 😀