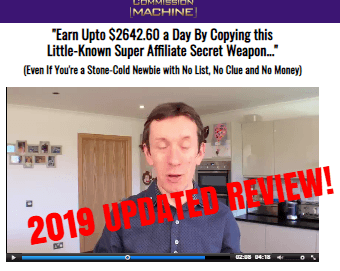 Today I am doing an honest review of The Commission Machine 2019, is it legit or scam? You must read this review before you buy it!
So I was looking for The Commission Machine 2019 reviews but I only found reviews on the 2016 & 2017 version, so I thought I'd do the review of the 2019 version.
The last version of The Commission Machine was pretty bad according to other people.
My question, is The Commission Machine 2019 better?
Well, there's only one way to find out.
I have bought the program so let's see what is all about!
December 2018 UPDATE: The Commission Machine 2019 in 2018 is the same, the only change is the price, last year I bought it for $19.95 now it costs $47!
In a few words, this review is still 100% relevant!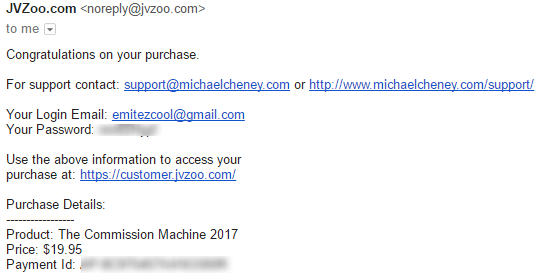 [thrive_text_block color="orange" headline="Quick Review"] [/thrive_text_block]
Name: The Commission Machine 2019
Website: TheCommissionMachine.net
Owner: Micheal Cheney
What is it? Video Training on how to promote Affiliate products (in the Internet marketing niche only) and earn commissions.
Price: $47 + upsells
Recommended? Yes but not for newbies.
Recommended Program for Newbies
Rating: 3/5
[thrive_link color='orange' link='https://jvz1.com/c/741015/142505′ target='_blank' size='big' align='aligncenter']Get The Commission Machine 2019 Here![/thrive_link]
[thrive_text_block color="orange" headline="Full Review"] [/thrive_text_block]
What is The Commission Machine 2019?
---
The Commission Machine is a video training where you learn how to promote affiliate products by creating email marketing campaigns within the internet marketing niche.
To be honest, I had a hard time to even understand what the program is all about, the name is very misleading and doesn't give you a clue what the program is about except the fact you will be earning tons of commissions.
But is it really a commission machine? Or another program full of hype?
There's only one way to find out! Let me show you and walk you through the system hand by hand!
The Commission Machine 2019 Review: Inside the Program
---
So after buying The Commission Machine, I was expecting to see the first lesson or an introduction, but instead I was slapped with another sale page.
Commissionology Upsell ($27/Month)
The sales page is selling me another product called Commissionology, which is a product where you only have to copy and paste the Micheal Cheney's campaigns and replace his affiliate links with yours and make money.
In this Commissionology upsell, you will see other video testimonials and payments proof.
After having a closer look, I realized that Commissionology was an upsell to make things easier and faster, I can skip this upsell if I want so I'm not forced to buy it.
Commissionology costs 27/month.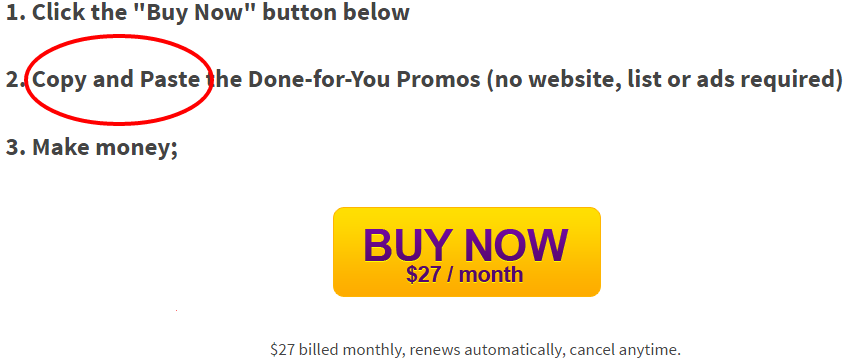 I can't comment on Commissionology as I did not buy it or tried it, I'm going to skip it for now and see what's next.
Another Upsell Done For You Service ($97)
After skipping the Commissionology upsell, I'm now in front of another upsell
After watching the video where Micheal Cheney explains to you how this upsell is going to benefit you, I now understand that it's another system that is going to accelerate success by getting the Done for your service which costs $97 one time fee.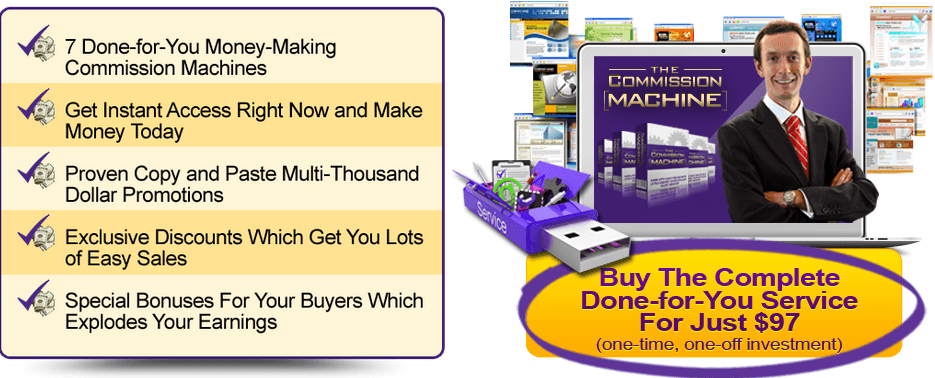 I'm going to skip this upsell as well and see what's next.
Another Upsell 7 Figure Franchise ($1997)
After a VERY long video, where Micheal Cheney explains how you will be making money by following the steps you see below in this screenshot.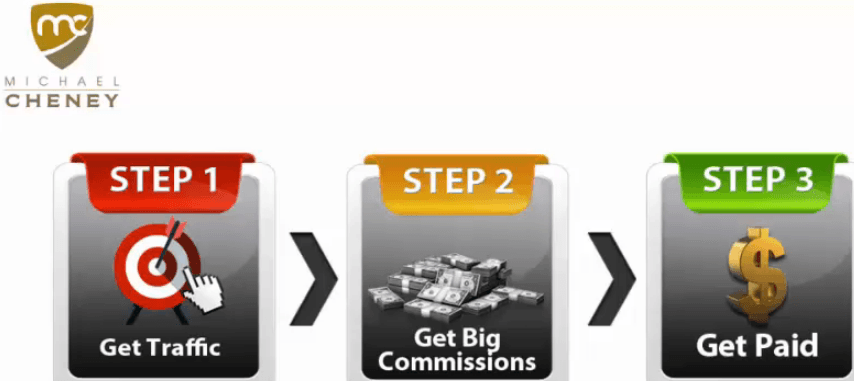 To get traffic he said you won't be relying on SEO, paid advertising or anything like that.
The source of traffic you will be getting traffic from is Facebook.
No Facebook ads
No Facebook groups
I'm like what the hell?
Then I'm surprised when Cheney starts talking about a secret way to get traffic from Facebook without spending money on ads.

He went into details on this but in a few words, he said to get free traffic from Facebook you need to do three things.
Send 50 friend requests to people in the internet marketing niche
Start making Facebook posts where you try to promote products without adding links (try to grab the attention of the people to whom you sent requests)
Get post comments, engagements
Then he started talking about conversions and sales funnels.
He went into super annoying details, the video is so long, it was super clear to me that in this video he was trying to make things way complicated and annoying just to sell you his 7 Figure Franchise that costs $1997 upfront.
These 2 screenshots from the actual video will sum up everything.
After a lot of talking, he starts explaining how hard it is to make money and that you need to be an expert then he tries to sell you his 7 Figure Franchise where you will have access to his sales funnel that includes the Commission Machine 2019, Commissionology and all his products.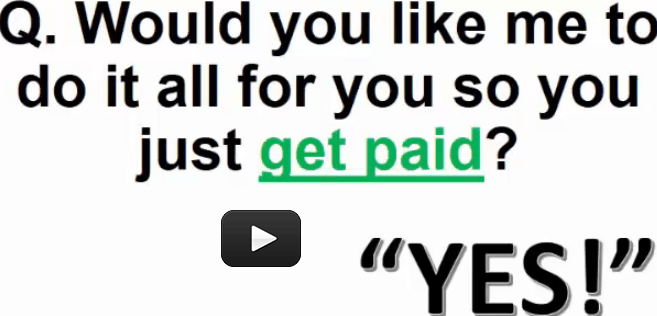 So this is the third upsell so far, I just wanted to have access to the training I bought!
The Actual Training
After passing up the three upsells, I finally can get started with the training.
When you get inside The Commission Machine, you will see a menu on the top that is where you will find everything you need.

There are 7 modules on the core training.
The Orientation session with Micheal Cheney
Getting Started
Research
Angle
Providing Incentives
Messages
Deploy
The No List Method
Let's go on details on each module.
The Orientation Session
Video time: you don't have video control buttons here, the video is so long.
The Orientation session is another attempt of Micheal Cheney to sell you his 7 figure franchise, that same long video again.
1) Getting Started
Video time: 3.11
In the getting started video of the Commission Machine 2017, you will have an overview of the actual formula which he called RAPID (Research, Angle, Provide Incentives, Deploy)
Micheal Cheney keeps saying that it's a little-known secret but in my opinion, everyone researches a product, finds an angle, and provides incentives to make money so to me it's barely little known.
However what he teaches in the videos is really good information.
2) Research
Video Time: 28.11
In this module you will learn how to find highly profitable products to promote, Cheney does a great job here and I like the way he teaches you and explains in details how to find hot products that sell in Jvzoo and Munch eye.
He recommends you to stick with the internet marketing niche because it's very profitable, that's right but I think the one should make money from a niche related to their passion as well.
Anyway, this is a great video, there's lots of value here.
3) Angle
Video time: 24:10
This got to be my favorite module of The Commission Machine 2017 training, I learned a lot of things here.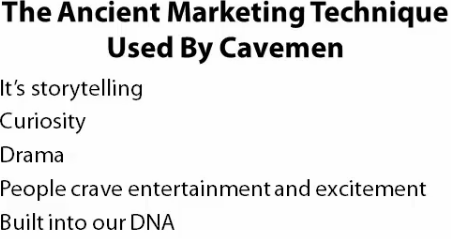 Cheney does not only teach you how to find a good angle but also teach how to hook the buyer into buying your product from you by grabbing their attention.
He also gives you some case study email templates to see what he means in action.
4) Providing Incentives
Video Time: 23:24
As the name suggests here you will learn how to add bonuses that will increase your earnings, he goes on details on what to say and how you can increase your commissions by adding high-value bonuses.
He also links you to some tools like Countdown Monkey and Optimise Press to create bonuses and scarcity.
There is also an upsell to get the done for you commission machine.
5) Messages
Video time: 46:53
Here you will learn how to create follow up messages that increase commissions, he gives you some great resources and examples
The video is too long here and I got a little bored.
6) Deploy
Video Time: 28:43
Here you will do a quick recap and have a refresher on what you learned, then you will have to get an autoresponder from GetResponder free trial and landing page monkey which you will have to buy.
7) The No List Method
Video time: 13:38
In this video, you will learn how to market your products without owning a mailing list, Micheal Cheney talks about setting up a WordPress blog but he mainly focuses on making Facebook posts where you try to sell your products without posting links as Facebook don't want you to do that.
He shares with you an interesting method, however, I don't believe that's a reliable way to get traffic maybe it could be used as a secondary way to generate more traffic.
8) Advanced Ninja Tactics
Video length: 11:08
Another good training from the Commission Machine 2017, in this video you will learn some tactics to earn more sales, by adding bonuses and sending follow up messages at the right time.
He goes on details on this one, really good information.
---
I have completed the training here I feel like something very important is missing here, anyway let me share with you what I liked and did not like about The Commission Machine 2019.
What I liked & Didn't Like
---
What I liked
The Training is good, helpful information
Step by Step, easy to follow training
I like the way, Micheal Cheney teaches
It costs only $19.95, you get a lot of value for that price.
Good support team
What I did not Like
No training on traffic and how to get it, a product without traffic means no revenue.
Not Suitable for newbies since there is no traffic training, maybe Cheney designed the Commission Machine 2019 for advanced internet marketers
Upsells, I think The Commission Machine training is more focused on selling other products than teaching you.
The program is advertised in a deceptive it's full of hype.
The training is pretty basic, not in depth but considering the price it's good.
Is the Commission Machine For You?
---
I feel this program is definitely not for everyone.
I mean it does not show you how to set up a landing page or an autoresponder or how to get traffic.
Which makes me think The Commission Machine is only for internet marketers that already know the basic stuff about the internet marketing.
Pretty sure newbies will feel stuck.
Is The Commission Machine 2019 a Scam?
To be honest, it looks like a scam because of the hype but It's definitely far from that and I believe the training is pretty good and the price is optimal, the upsells are optional, you are not forced to buy them.
You also have a 30 money back guarantee so you can expect to get a refund if you ask for it.
The 2019 version is nothing new though, nothing has changed compared to the 2018, 2016 or 2017 versions.
Final Opinion and Thoughts
---
The Commission Machine is 100% legitimate and I do recommend it
However, if you are a newbie I would stay away.
As I think there is not much info for newbies, this is My Recommended program for Newbies.
[thrive_link color='orange' link='https://jvz1.com/c/741015/142505′ target='_blank' size='big' align='aligncenter']Get The Commission Machine 2019 Here![/thrive_link]
---
Do you have any questions regarding The Commission Machine 2019? Did I miss something on this review?
Please leave your questions and comments below!