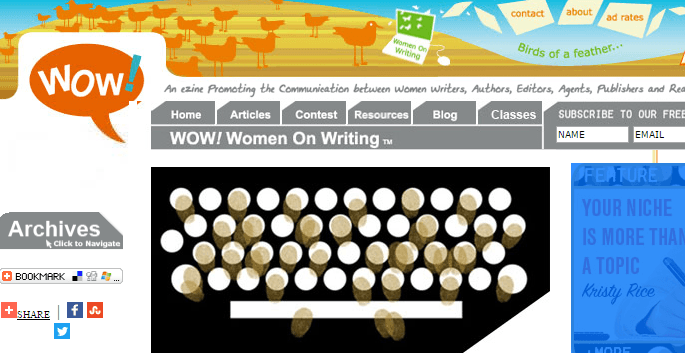 Did you just hear about Wow women on writing and you are not sure if it is worth your time? In this post, I am going to tell you all you need to know about this get paid to write website.
These are the topics for today's post
Name: Wow Women in Writing
Website: Wow-womeninwriting.com
Price: FREE
Overall Rank: 7 out of 10
What is Wow Women On Writing?
WOW is a global magazine and a friendly community dedicated to only women, this community is designed to support women's creativity energy, blood, sweat and tears throughout all the stages of the writing process.
WOW is online since 2006 helping women to promote their work, they are always looking for talented writers to contribute on their website and yes they are willing to pay you for that, the best part is they pay very well.
If you want to submit and article to them make sure it's related to their main topic which is women and writing, your article must be 100% original in order to get paid.
Now that you know a little bit about them let's see how you can make money with Wow Women On Writing.
 

How Can You Make Money with WOW?
-1 Make Money Writing
Writing is one of the fastest ways to make money online, Wow women on writing will pay you if can contribute with high-quality content that their reader love.
This site accepts various types of content and has different payments for each one.
You can submit how to's articles and get $75 for every article you write that is at least 1500-2000 words.
$ 75 for Inspiration posts that are 1000-1500 words
Feature interviews with at least 3000 words for $75
Feature articles with at least 3000 words for $150
-2 Make Money as an Instructor 
If you are an experienced entrepreneur, affiliate marketer or writer, you can make good money on Wow, this site offers high-quality courses for their readers about anything that can help them to become better at writing and making a successful business.
You can create a course and contact Wow women on writing to review it. An average course costs around $80-$130.
If they accept your course, the will list it on their website and anyone interested in it can enroll.
Most of their courses have only 5 to 10 students maximum, that is to keep everything organized and spam free.
You as an instructor must be available for the students and answer every question they have until the course finishes.
This can be a good way for you to earn some extra cash.
Here's an example of an instructor ad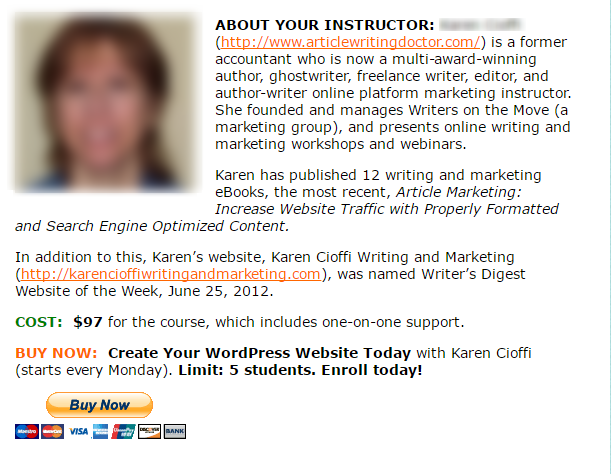 3- Participate in Contests
Wow women on writing host a writing contest every three months, the contest is open to everyone and your entry must be in English.
If you want to participate you can do it here when they start a contest, you can write about any topic you want and your post must be at least 250 words and maximum 750 words long.
To enter you need to pay $10, they allow only the first 300 people to enter the contest and the best 20 articles will be awarded out of the $10 each contestant paid.
This is a fun and good way to earn some cash! 😀
The Good and Bad 
Wow is an awesome website for sure but let's see the good and bad of it! 😉
The Good
Good payments
Easy and fast payments via Paypal
Friendly people
Successful Women to engage with
Active community
Helpful community
They have a blog where they offer tips and useful information regularly
The Bad
Expensive courses

The site looks cheaply made
Wow Women on Writing Support
You can easily contact the site owners for support, in addition, they have a great community where you can ask any type of question you have.
If you enroll in a course you get private one-on-one support by the instructor.
My Final Opinion of Wow
Wow women on writing is 100% legit, as you have read in this article you can make some quick cash with it.
If you want to start your own business instead of writing for other people, you can easily start yours,you just need to be able to read and write to start making a living online 😀
[thrive_link color='orange' link='https://fulltimehomebusiness.com/is-wealthy-affiliate-worth-it' target='_blank' size='big' align="]My # Recommended Work from Home Program (Free to Join)[/thrive_link]
Have you ever heard about Wow women on writing? will you try it out?
Don't forget to share with me all your thoughts, if you have a question, don't be afraid to drop a comment below