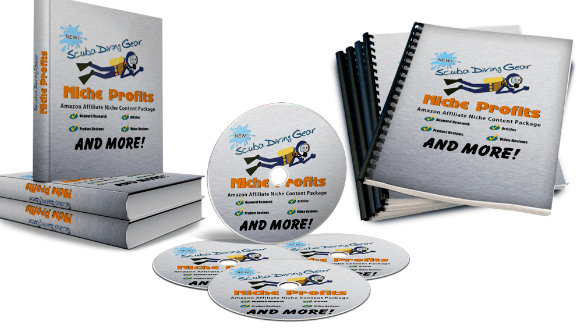 This is an Azon Scuba Diving Gear Niche Profits Review, a product that was recently launched but is it another huge scam? Read my unaffiliate review before you buy!
Azon Scuba Diving Gear Niche Profits is another product that requires little hard work but promises great results.
It was launched 2 or 3 days ago, people are promoting it like crazy, everyone is talking about it.
The owner has some great prizes for the affiliates that refer the most people to his product.
At the time of this writing, there are so many reviews out there that are trying to get you to buy Azon Scuba Diving Gear Niche Profits.
In this review, we will look into this product and see if it's really worth it.
Without wasting time let's see what this product is all about and see if it's worth your money.
What is Azon Scuba Diving Gear Niche Profits?
Azon Scuba Diving Gear Niche Profits is a website that is already set up for you.
This website talks about Scuba Diving Gear which is a topic aka niche that is getting popular in terms of searches on the internet.
Many People are looking online for Scuba diving products reviews so they make sure they buy the right products.
The owner of Azon Scuba Diving Gear Niche Profits (Shane Paxton) just launched this product a few days ago.
If you buy his product you are getting a website (in Scuba diving gear niche) that is ready with the content and everything.
So all you have to do is to buy his product, sign up for Amazon's affiliate program aka Amazon associates.
Add your Amazon affiliate links to your content and you are done.
This product comes with many features that I am going to discuss then I am going to tell you concerns and problems that might come with this product.
How Much Does Azon Scuba Diving Gear Niche Profits Cost?
The advertised price is $13
There are two upsells which are the following:
Completely Done for You Review Site in the Scuba Diving Niche. ($25)
Completely Done for you Scuba diving E-commerce Store ($25)
The first upsell is a review site up and running with 10 professionally written reviews and video reviews.
They claim the reviews you get are SEO optimized (we will talk about this point later).
The second upsell is an e-commerce ready website with great design and professional product reviews.
You also get many free bonuses and PDF's if you buy Shane Paxton's product.
But is all this worth it? Or it's a waste of money and efforts.
Azon Scuba Diving Gear Niche Profits
Problems & Concerns
This product may sound cheap, but usually, programs like this contain hidden prices and come with a catch.
But that's not the case
There are other problems with this program that I am going to share with you here:
1) Spun Content
It's awesome that you can buy a website with the content and everything.
Writing is a fatiguing task especially if you don't enjoy it.
So if you buy Paxton's product you don't have to write the content yourself right?
You won't but there is a big issue here.
They say the articles are professionally written.
This is a screenshot taken from their sales page.
Obviously, They can't write professional content for every customer, so they have 10 Scuba diving articles that are rewritten.
They use a content rewriter.
Google hates spun content and it will never rank it.
Have a look here.

Learn more about Article spinning and how bad for SEO is.
If you have spun content on your website then your website will be penalized and considered spam.
If your site can't rank in Google that means it won't get traffic, without traffic you won't make any sales or commissions.
2) The Owner Has Many Different Products
Shane Paxton has many other products similar to Azon Scuba Diving Gear Niche profits.
Every 1-2 months he launches a new product.
Most of his products are very cheap.
Here are some of his products.
How can he update and improve all these products?
As you can see these products are only made to get people to spend money not to help them make money.
Azon Scuba Diving Gear Niche Profits reminds me of some similar bad products like:
Azon Scuba Diving Gear Niche Profits Review: My Final Opinion
It sounds good to have an "all done for you" website, but a website with spun content is not a reliable way to make an income online.
Google hates that stuff and your site is at a high risk of being hit by Google Panda.
If you want to make money online, you need to start a website from your passion not about something you know nothing about.
If you want to start a successful website that respects Google guidelines and that actually makes Amazon sales.
I recommend you to check out the Wealthy Affiliate Training
Here's what Wealthy Affiliate is willing to teach you.
Unlike Azon Scuba Diving Gear Niche Profits you can get started for free
What do you think about this product?
Don't forget to share with us your thoughts below!