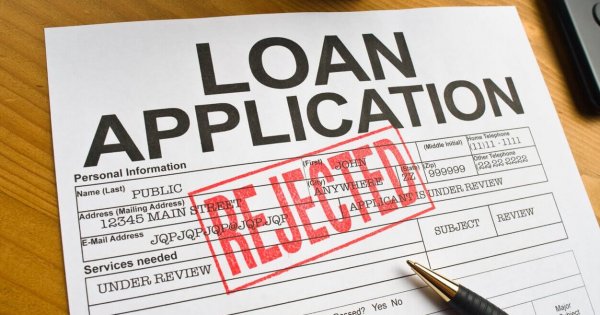 It's indeed a problem if you apply for a loan, and it doesn't get approved. But, like any challenges in life, there's a lesson to be learned from this situation.
Just identify what went wrong in your previous loan application so that you know what to prepare, fix, or avoid for next time. For a little help, here's a list of reasons why lenders reject a loan application.
Secure yourself financially with this top recommended program! No need for you to apply for loans anymore!
Common Reasons Why Your Loan Application Gets Rejected
No Credit History
Having an established credit history is one of the requirements when applying for a loan. It's because your credit history helps a lender determine if you're a trustworthy borrower or not. That's why many lenders have qualms when it comes to lending money to someone who has no track record of borrowing money.
It may seem like a chicken and egg problem. How do you build your credit history when your loan application gets denied in the first place?
Well, there are ways how you can solve this problem. For instance, you can get a credit card that helps boost your credit rating. Use it for small purchases, and make sure that you repay the money you borrow on time. In this way, you can establish your credit record and avoid getting your loan application rejected.
Poor Credit Score
Aside from having no credit history, a poor credit score is also one of the factors why borrowers get rejected for a loan. Obviously, lenders will have doubts if you're capable of repaying the loan when you have a track record of financial blunders in the past.
Not paying your previous loan on time or failing to pay it can tarnish your credit history. So, when you apply for a loan in the future, chances are your loan application won't get approved because your lender might worry if you'll commit the same financial mistake again.
It will also take several years before negative information disappears from your credit file. During this period, you'll really have a hard time getting a loan. However, you can ask a close friend or a family relative to be a guarantor for your loan application. A guarantor is an individual who agrees to repay the money you owed in case you can't repay it yourself.
Earn a 4-figure monthly income with this program! Say goodbye to loans!
You're Financially Unstable
If you have a low monthly income or your employment status is unstable, lenders may reject your loan application. They'll always check if you can repay the money they lend you. So, make sure that you meet the minimum income requirement before you apply for a loan. You can visit sites like Planet Loans if you want to take out an affordable loan.
You've Too Many Financial Commitments
You might wonder why your loan wasn't approved despite having an excellent credit history. Well, the thing is that lenders don't only look at your credit record but also your current finances.
If you're tied to too many loans at the present moment, there's a high chance that lenders will reject your loan application because they may think that you'll find it difficult to repay the loan with them on top of the other loans you've to repay.
Lenders may not take the risk of lending you money when you have too many financial commitments. So, you better pay your current loans before you apply for another one.
Do not worry about loan rejections anymore! You can finally secure yourself with this top program!
Your Personal Details Don't Match
Lenders will look at the details you put on your application against the ones written on your credit history. And they may reject your application if they find that the details mismatch.
Therefore, you should see to it that the details on your application and your credit file match before you submit the application paper. Be extra careful when filling out such a document.
Takeaway
You should know why lenders reject a loan so that you can prepare and avoid any mistakes in your loan application. Make sure that you have an established credit history and a good credit score so that the lender approves your loan application.
Also, avoid applying for a loan if you have too many current loans that you have to repay or if you're financially unstable. Lastly, make sure to write your personal details on your application correctly.
This is how I make money from home!
Personally, I believe that there will always be a time when we are in need of applying for a loan. However, I still prefer to be financially secure. And I do that by earning money online from home! There are a lot of ways for you to do this. But to me, the best one is affiliate marketing.
It is a great source of passive income. And anyone can actually do it! Even you! The concept behind it is that you will promote products and services online. I prefer to do it on my own blog and website since it increases the chances of earning affiliate commissions.
Do not worry if you don't know how to start or how to make your own website! I highly recommend you Wealthy Affiliate, the best training program and platform for affiliate marketing.
It is composed of a community of professional affiliate marketers who are willing to help you out!
Moreover, you can receive a lot of benefits. Some of them are:
Complete and comprehensive step-by-step training
A lot of affiliate marketing tools and materials
Sales funnel page and other pages builder
24/7 support
A live one-on-one chat with professional affiliate marketers
And many more!
Thanks to Wealthy Affiliate, I now earn daily commissions just like the one below.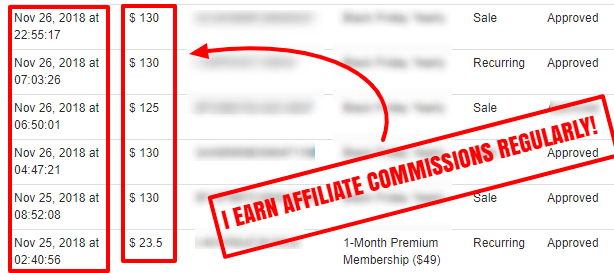 My November affiliate commissions thanks to Wealthy Affiliate!