This is a Fast Cash Blueprint 2.0 Review. Did you hear about this program from Nate's blog source digest? Not sure if it's worth your money? Then you MUST read this review.
On the internet, there are many affiliate marketing training courses.
Some are good; some are bad, outdated, misleading or about to show a secret or a "loophole".
Is this the case with Fast Cash Blueprint 2.0?
This program is owned by someone called Nate.
He runs a blog where he discusses ways to earn money online.
I have noticed that he promotes only one product, he mentions it on every single post.
He promises you to earn $100 per day if you buy it.
Can you make money with that product? How much does it "Exactly" cost?
I want to show you something about the owner that will surprise you.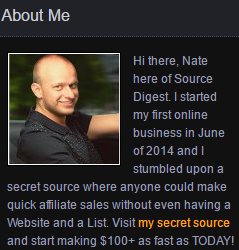 Update!: Fast Cash Blueprint 2.0 is Now called Swift Income Blueprint 2.0!
What is Fast Cash Blueprint 2.0?
Fast Cash Blueprint 2.0 is an 18 page PDF that this guy Nate tries to sell you.
He says if you buy his $14.92 PDF you will earn money with Affiliate Marketing
But without a website, SEO or any hard work.
You just learn his "secret" and you can make instant affiliate sales.
He promises you to earn $100 per day.
In fact, in his sales page, he says that a complete newbie earned $100 in 40 minutes thanks to his secret.
Who is Nate?
During my research on this program, I have noticed some things.
A few months ago Nate was promoting a program that will teach you how to start a website where you pretend to be an expert in your niche.
Then he started promoting another program that teaches you how to promote a landing page that you can send to people.
Now he changed the name of the program to Instant Commission Blueprint 2.0.
This is exactly the program he promotes on his blog posts.
He claims you can earn $100 per day with little hard work, without SEO or any hard work.
But who's Nate? Is Nate a Scam? Should you trust him and buy his PDF?
Alright, people, I'm not going to tell you Nate is a scam.
You be the judge.
Remember the first picture at the beginning of this post? Have a look at it.
That's his little author bio you can find on his blog where he promotes the PDF.
That photo is fake.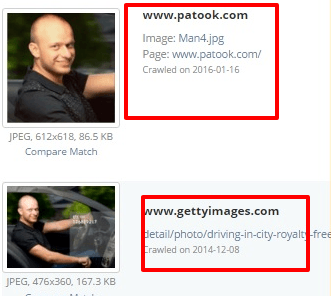 You can buy it from here 
On his website, you will see a bunch of comments thanking him for his service.
I'm sure they are fake comments.
Is Fast Cash Blueprint 2.0 a Scam?
To be honest, I did not buy his PDF, $14.92 does not seem a high price.
I'm sure he will try to sell you a bunch of other products within the PDF.
I'd never buy something from someone that has a fake picture and comments.
I have reviewed a lot of scams like My Millionaire Mentor, the Quick Cash System, The Secret Society of Millionaires, Fast Earners Club and The Money Sucking Website System
They all claim that they have discovered a secret to easy money.
Is There Any Legitimate Alternative to Fast Cash Blueprint 2.0?
Making money on the internet requires hard work and patience.
There is no secret to unlimited wealth.
Everyone that promises you quick money without hard work is a scammer.
Do you want to make money online with a legitimate program?
I recommend you to start a website from your passion.
Promote affiliate programs like Amazon.
People love and trust Amazon, and they shop in it like crazy.
Check out My Favourite work from home program 
It's free to get started; it will teach you how to start a home-based business from your passion.
---
I hope you have found this Fast Cash BluePrint 2.0 review useful.
Do you have experiences With Fast Cash or Instant Commission Blueprint 2.0?
Make sure you share with us your thoughts!