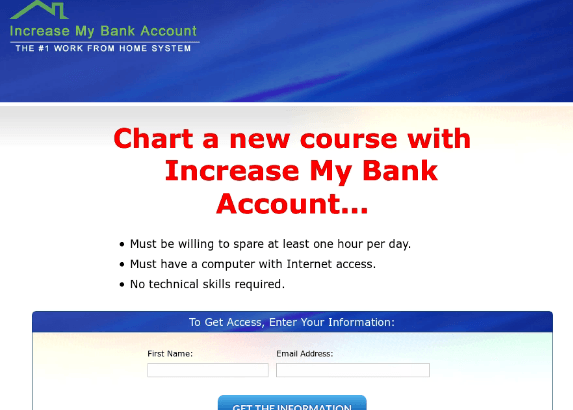 I was reading some emails the other day and one email, in particular, caught my attention
It said that I will be earning thousands of dollars by simply sparing 60 minutes per day
It was called Increase My Bank Account after I had a closer look at this website
It was crystal clear to me what it's all about
I reviewed another product called 37 Clicks you will laugh when you see how similar they are 🙂
Increase My Bank Account – Quick Review
Name: Increase My Bank Account
Website: Increase-my-bank-account.com
Price: $97 + hidden costs
Owner: Unknown (They Usually use Fake Names)
Years in Business: New Product
Verdict: Scam
Before You Spend $97
They claim that Increase My Bank Account is going to cost you only a one time fee $97
What they don't tell you is you will be going through quite a lot of upsells
Where you will have to spend thousands of dollars
The worst part is their training doesn't work and it's completely rehashed.
To learn more info about this scam please read the full review
Or you can jump to check out The Recommend Training to Actually Make Money Online.
What is Increase My Bank Account Exactly?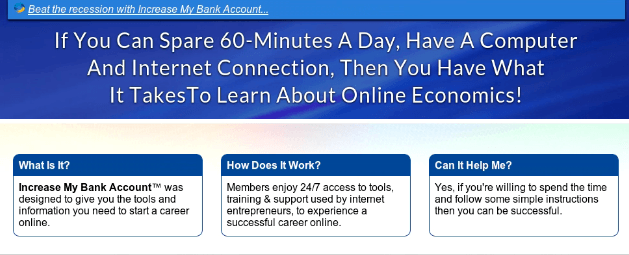 Increase My Bank Account is a scam that is been changing names and websites every time it got exposed as scam
It's a link posting scam where you are promised to make money by posting links on social media
Here are some similar link posting scams I have reviewed before
Feel free to click on them and see how similar they are
They claim they are going to help you make $379 per day by simply posting links
What is Posting Links?
Posting links is when you get your own affiliate link from the company you are promoting and you post it somewhere so people will buy so you earn commissions
Whenever someone buys from your affiliate link you get paid
The real name and legit business is called affiliate marketing which is when you sell other people products through your link
Can You Make Money by Doing Link Posting?
You can make money by posting links as long as people buy from those links
But the problem with this type of link posting that Increase My Bank Account teaches you,
is not going to make you money
Why?
Because Increase My Bank Account teaches you to post links to social media groups and other random places
This strategy used to work and people used to make money doing that
But nowadays it's seen as total spam
Facebook and many other social media sites don't tolerate spam and you will be kicked out as soon as you get caught doing that
People Don't Buy from Spammy Links
To make money posting links you need to own your own website where you help people with useful articles, that's how you start a real online business and make money while you sleep.
Because the articles you write will make you money forever as long as they are regularly updated to stay relevant
If you want to start a real online business that actually makes money
I recommend you to check out Wealthy Affiliate ( FREE TO TRY) they have an amazing training and community
They even Say it's a Rare Opportunity!

Increase My Bank Account says that link posting is a rare opportunity where you will be making thousands of dollars
Affiliate marketing and post linking is something that people have been using to make money since a very long time
Affiliate marketing according to Wikipedia was born in 1989
So it's hardly rare or new
So is Increase My Bank Account going to Make You Money?
I can guarantee you that Increase my Bank Account is not going to Increase Your Bank account
In fact, it's going to actually decrease it
Their training is rehashed and I have seen it in different products
It's so confusing that I can tell the authors have zero intentions in helping their clients make money
They want to make money for themselves only
Increase My Bank Account – What is the Real Price?
I have reviewed this scam over and over and I know how they fool people into believing it's going to cost just a little one time fee.
First of all this scam gets your email address
They get thousands of email addresses then they sell them for a profit to other people
Secondly, since they have access to your email list and other people emails
They will be promoting to you scams left and right hoping you buy them
If you trust Increase My Bank Account and their recommendations you will easily waste thousands of dollars
Without earning a dime!
They Keep Switching to different Websites
If you invest in Increase My Bank Account you will be basically investing in a website that will disappear anytime soon
This happened a lot of times
These sites keep changing their website and design all the time
At the time of this writing
There are three different websites with the same title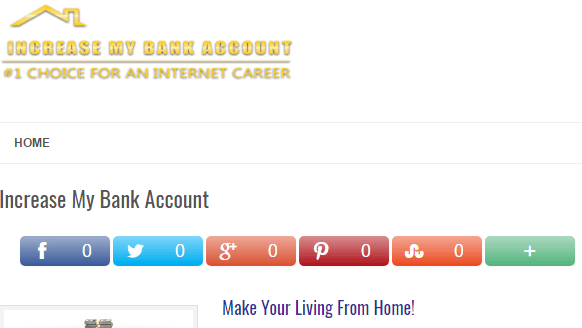 The first one is this one increase-my-bank-account.com
The second one is

increasemybankaccount

.org
The third one is

Increasemybankaccount

.net
With that said I'd not invest in a program that is going to disappear soon or switch names.
Increase My Bank Account is a Scam
Unfortunately, this is NOT a program that I'm going to recommend
It's a fake system with rehashed training
They teach you to post links to random websites which is total spam
Nobody wants spam so there is no money to be made from Increase My Bank Account
If you are looking for a realistic way to make money online
Check out Wealthy Affiliate (FREE TO TRY) training it's an amazing training to learn how to make money selling other people products!
Your Turn!
Would you buy Increase My Bank Account?
Did you get scammed by them?
Make sure you leave comments below about your experiences and thoughts!