Is Cash from Home a Scam or a legit opportunity? Before you swipe your credit card, you may want to read this Cash from Home review first!
Doing research before you sign up for any online work from home program is paramount.
Scammers do their best to earn money quickly by fooling people into buying super hyped up work from programs.
This review is about Cash from Home
Which is nothing but a scam sister of the sites:
The Direct Online Income aka Earn at Home Club
37 Clicks
Let's get rolling with this Cash from Home Review
Quick Review
Name: Cash from Home
Website: SecureBusinesssites.com
Price: $97
Verdict: Scam
See Legit Alternative Below:

Check out My #1 Recommendation to Make Money (Free) No Credit Card

Full Review
What is Cash from Home?
Cash from Home is an internet marketing course owned by an unknown scammer that keeps spitting out different products.
They also change the product "owner" name very often.
Now it's Cynthia Sprinter telling you her story and how she made a great success online.
The other "owners" were Mary Rogers and Emma Stewart.
All these names share the same story which proves that they are nothing but scammers.
How Does Cash from Home Work?
These guys have different domain names, but they have one sales page that they promote.
They promise you that you are going to make money by simply posting links on Google and social media.
Posting links is a scam, and there is no money making in link posting.
They claim that they will train you to make money lots of money.
$359 per day by simply spending 60 minutes per day posting links.
The funny part they said you would earn up to $10 per every single link you post which is a task that takes 1-2 minutes.
With that said, link posting is just spamming; the recommended business model is Affiliate marketing which works like a charm in 2017.
Now, are you ready to see some red flags?
Cash from Home Red Flags
They have so many red flags which are scary, the red flags are so much, but I will shed light on the most dangerous ones.
1) The Owners are Fake
I have already talked about this point, but here I want to show you proof.
Have a look at this photo.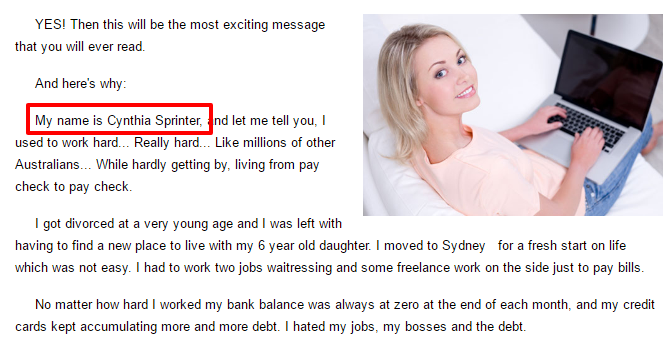 ---
As you can see below, the photo is just a stock image, and did you see that Excel Cash Flow? It's another scammy product they promote(told ya!)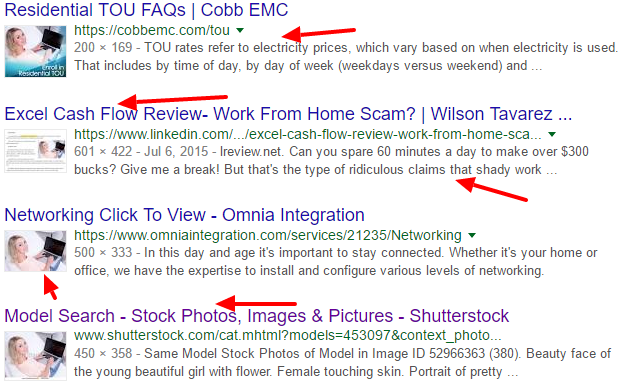 2) The Seen on TV tactic
Every single scam I reviewed uses this tactic when you see these TV logos you think it's a legit opportunity.
However, it's not, and these social media networks will never feature such a scam.
The truth these channels only featured work from home opportunities in general, not this exact product.

3) The Upsells & Downsells
The Upsells
To get started, you must pay $97 immediately
There is no free trial.
Obviously, they can't give you a free trial. Otherwise, they will be exposed without earning a dime.
$97 is too much, but the worst part is when you pay that sum they say it was just for an ebook and some videos about link posting.
To unlock all features, you need to schedule an appointment; they will ask you weird questions.
What they want to know is how much money you have on your credit card.
When they know how much funds you have, they will propose to you some business ideas where you need to invest all your credit card funds.
These guys just want to steal the most money from you.
They also keep sending you recommended products and upsells.
The Downsells
You will love this one
I went to their checkout page where you have to put your credit card info.
I just wanted to have a look but when I wanted to exit the page a little pop up forced me to stay.
When I clicked the stay button, the price went down!
I tried to exist again, and one more time the price went down.
I did the same thing over and over.
The price changed from $97 to $27!
I took screenshots of all the downsells and put them together in one picture here.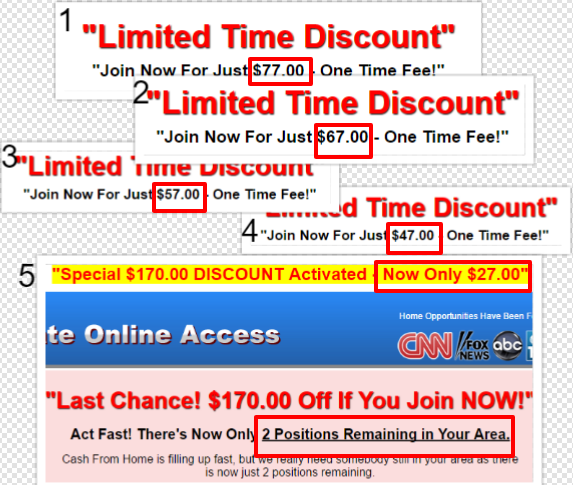 4) Cash from Home is Not BBB Accredited
I honestly don't rely on BBB when I want to make sure if a company is legit.
But for those that do.

5)  The News Video
Many scams use news videos on their offers.
But these news videos only talk about working from home in general.
You will never see the people in the news video pronounce the Cash from Home product.
Here's the video you find on Cash from Home website.
6) The Victims
To conclude the red flags here are some members that unfortunately made a mistake and fell in the trap.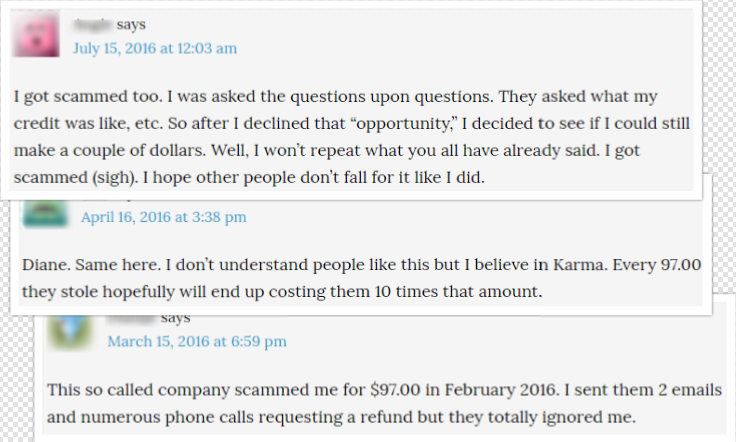 Is Making Money Online Possible?
I know there are so many scams that give the working from home opportunities an ugly picture.
The good news making money online is possible; you just need to find a legit program to work with.
Link posting is total spam
A reliable way to make passive income is affiliate marketing.
If you don't know how affiliate marketing works there are many legitimate affiliate marketing training platforms and communities
Where you learn how to start your online business based on affiliate marketing.
The training platforms I know are Affilorama and Wealthy Affiliate.
But I can confidently recommend the second one because it's the one I use and the reason this website exists.
The best part about Wealthy Affiliate is you can try it out for free.
Click the button below to set up your account on WA and start learning how to build a successful online business.
This is my affiliate link when you join I will always be there to help you with any questions you might have.

Join Wealthy Affiliate Now it's $0 (NO CREDIT CARD REQUIRED)

Don't forget to drop comments if you have questions or feedback!