Not sure if Facebook Bonanza is legit or a scam? Read this Facebook Bonanza review before you make a terrible mistake.
You're awesome!
It's always a  good idea to read a review before you buy anything especially online where scammers are waiting for you.
In this review, I'd like to talk about Facebook Bonanza and also about Explosive Payday, Facebook Cash Code.
They are owned by the same person who is promoting them like there is no tomorrow.
Without wasting time, let's dig in the review.
Quick Review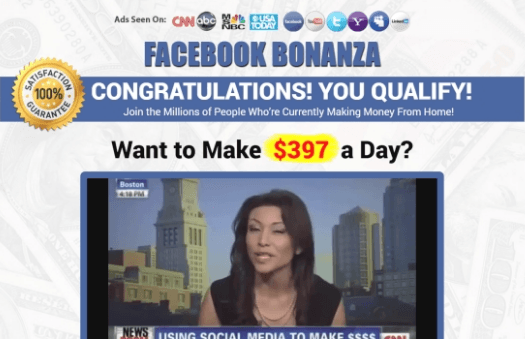 Name: Facebook Bonanza
Website:  Fbbclub.com
Price: $4.97 then $90 per Month
Verdict: Scam
[responsive_video type='youtube' hide_related='1′ hide_logo='0′ hide_controls='0′ hide_title='0′ hide_fullscreen='0′ autoplay='0′]https://www.youtube.com/watch?v=QnIoteLKV2M&feature=youtu.be[/responsive_video]
Find a Legitimate Alternative Below

Join a 500,000 members Community & Learn How to Make Money The Honest Way (FREE to get started) No Credit Card

Facebook Bonanza Full Review
What is Facebook Bonanza?
Facebook Bonanza also The Facebook Cash Code, Direct Online Income aka Earn at Home Club and Explosive Payday
are scammy products made by unknown scammers to earn fast money from people that are desperately looking for online jobs.
These scams promise you loads of money working less than 2 hours per day.
People looking for work from home jobs will find this interesting also because these scammers do their best to make it look real.
They use some scam tactics to make their products look real.
These tactics include fake scarcity tactics (when they say limited spots available)
Show you "edited" CNN videos to make you think their programs have been featured in big TV channels.
How Does Facebook Bonanza Work?
I don't know exactly from what site you heard about Facebook Bonanza.
Because there are like ten sites promoting this garbage.
Some of their sites are dead, and I am sure they will build other sites where they keep promoting FB and other programs.
These guys keep switching to different domain names when we bloggers expose their scams.
No matter from which site you came from, they want to sell you their product which costs $4.97.
It may seem cheap, but after a few days, you will be charged $90 per month along with other upsells and recommended products.
What will you Get if you Buy Facebook Bonanza?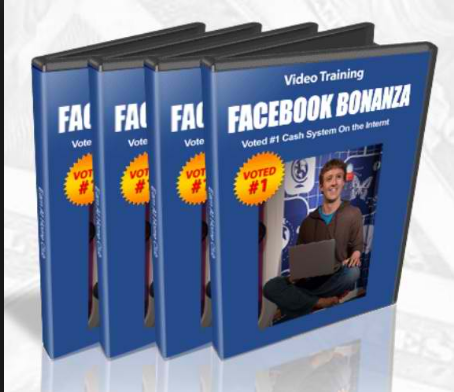 I did not buy this product, so I don't know exactly what they are selling you but based on what many victims said
You get a kit with video tutorials teaching you how to start an online business.
They keep saying that you're going to be rich, but they don't say how you will be making money.
They mention link posting (which is a spam itself), but they don't explain the process.
Facebook Bonanza Red Flags
If you are considering buying Facebook Bonanza, have a look at these red flags.
1) The Success Stories & Testimonies are Fake

You probably had a look at the success stories.
If you don't know they are all fake.
For example, the photo of the person you see in that picture is a stock image that you can buy online and use for your projects.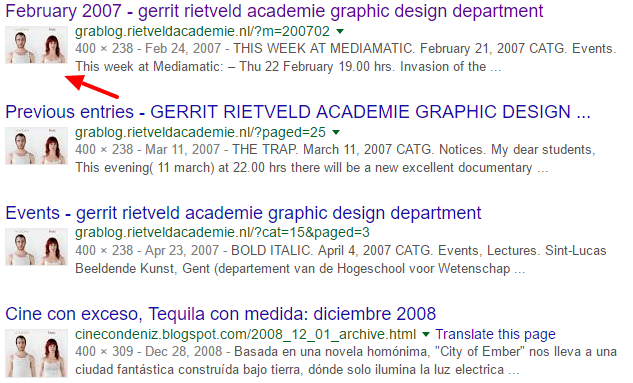 This is no surprise to me because I saw this tactic before in other programs like The Quick Cash System and Millionaire BizPro.
2) The Intro Video is Edited
Remember the CNN video they have on their homepage?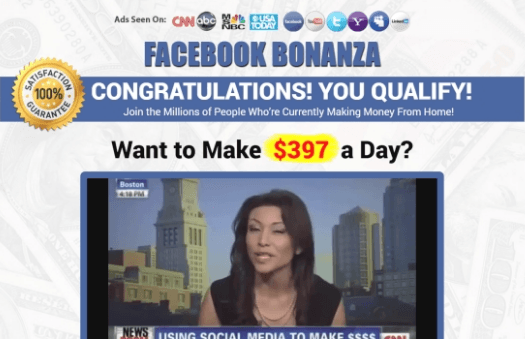 That video is used by many scammers to make their products credible by cutting out scenes from it.
Here's the ORIGINAL and UNEDITED video.
I spent like an hour just to find it.
As you can see Lili Gil (Famous Internet Marketer) is talking about some legitimate ways to earn money which include Affiliate marketing ( that Wealthy Affiliate teaches you) and Swagbucks ( a legit reward site)
3) Seen on TV

This is something many scams do.
They want to fool you into thinking their program was featured on giant media channels like CNN or CBS.
4) Facebook Doesn't have any Work at Home Programs
Many scams say that Facebook has released a work at home program where anyone without experience can earn thousand dollars every month.
That seems to be the case, with Facebook Bonanza.
That's not true.

Read more about all this Facebook work at home scam on Adweek.
Facebook Bonanza Review: My Final Opinion
As you can see Facebook Bonanza is not a legit work from home program.
There are so many other red flags that I did not mention, but the ones I have mentioned are more than enough.
If you are still searching for a way to make income from home
You need a clear and legit work from home program.
The one I recommend is Wealthy Affiliate.
It will teach you this
You can try it out for Free with No Credit Card Required

Join Wealthy Affiliate Now it's $0 & Start Learning!

If you were scammed by Facebook Bonanza please drop comments below to warn other people!