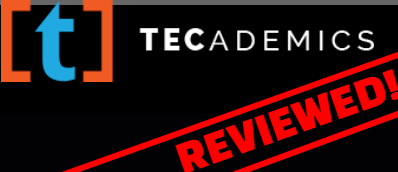 So, are you wondering is Tecademics a scam? (Updated 2022)
Is it really worth it? Or Is Jim Piccolo & Chris Record just scam artists?
Well, welcome to my Tecademics review!
This is the most updated and in-depth Tecademics review you will read in 2022!
Tecademics went through a lot of changes in the recent years. So, there are many outdated Tecademics reviews online that still talk about the old version of the company.
However, this review is going to give you the updated facts and changes that happened to the internet marketing course.
Plus, I'm also going to share with you some alarming red flags you must keep in mind!
So, sounds good? Are you ready? Let's jump right into the review!
Is Tecademics a Scam: Summary Review
Name:  Tecademics
Website: Tecademics.com
Founder: Chris Record (but has sold it to IQup) the current CEO is Jim Piccolo.
Price: The Prices are unknown (more info in the review)
Best for: Everyone that wants to improve their internet marketing skills.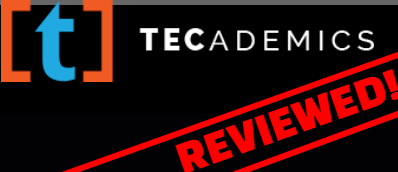 Summary: Tecademics is a legitimate course that is helping a lot of students improve their internet marketing skills and start their own online businesses.
Since the company was sold to IQup, there have been tons of complaints and problems, I have put together a list of the red flags and alarming scam signs inside this review!
Rating: 3/5
Recommended? Yes, if you can afford it and have time to travel to Arizona.
What Is Tecademics?
Tecademics is an online internet marketing college where you have the opportunity to learn different ways to make money online.
So, they basically offer you many courses on different topics related to internet marketing.
If you join Tecademics, then you are forced to choose a specific course like you would do in college and study it.
Below, I'm going to share with you all the courses available at Tecademics.
In case you're curious and wondering what does the word Tecademics mean.
Well, Tecademics is simply a mix of two words (Technology + Academics)
Furthermore, the difference between Tecademics and most online marketing courses is the fact this company has a physical campus in Arizona, USA.
Here's how it looks like:
The goal of Tecademics is to offer you the best courses and knowledge about internet marketing, they have a lot of students on their campus.
Furthermore, here's a video of the founder of Tecademics Chris Record explaining the mission and the vision of Tecademics.
The Story – What Happened to Tecademics?
As noted above Tecademics went through a lot of ups and downs.
The founder of Tecademics is Chris Record. Furthermore, he is a really successful internet marketer. Plus, I also heard about him in a Facebook ad where he raps about Tecademics and Shopify.
Below, you can watch the rap music video:
So, the story is Chris Record and Jim Piccolo own Tecademics. However, Chris wants to provide online courses on Tecademics. On the other hand, Jim wants to focus only on traditional classrooms and live streaming events.
Chris doesn't agree with Jim Piccolo which resulted in him leaving the company; plus, he sold the rest of his stocks to Jim.
Chris Leaves Tecademics & New CEO.
There are many sources that say Chris left Tecademics and sold it to an unknown company. However, other sources confirm that the company that has bought Tecademics is IQup which belongs to Jim.
The current Tecademics CEO is Jim Piccolo
However, there are many complaints online about Jim Piccolo that call him a scam artist that has been sued for over 5 million dollars because of some illegal stuff he did in the past. Jim also owns other companies that include:
Nouveau Riche (now called IQup)
BizziBiz
Global Banking Academy
According to DirtyScam.com, Jim Piccolo has had many lawsuits against him and has filed for bankruptcy.
Plus, all his businesses fell apart; so, many people are concerned about Tecademics ever since Jim Piccolo took over as the chairman.
 Tecademics Has Been Sold Off to IQup
After doing my research, I realized that Chris Record has sold his share of Tecademics and all the curriculums to IQup. Furthermore, the latter belongs to Jim Piccolo.
IQup used to be called Niveau Riche which is one of the many companies of Jim that fell apart.
After Chris Record has sold Tecademics to IQup, he started his own business called Lifepreneur. Plus, he is also going to launch soon a course called Digital Agency Builder.
1) The Tecademics Outdated Reviews (
An Update!

)

Below, I am going to share with you what's going on with Tecademics. Furthermore, their new business model and details about the courses.

Plus, this info I'm about to share with you is what is lacking on most Tecademics reviews you find online.

Below, I'm going to share with you the most important updates and changes that happened recently to Tecademics.
2) The Business Model & Affiliate Program
The old Tecademics business model used to be a multi-tier affiliate program that is more like an MLM/Pyramid.
So, Tecademics used to have 4 main products (which some reviews still talk about)
TEC -The Entrepreneur Club $100/month
Impact – Internet Marketing Principles & Core Training ($2000)
Masters – ($10,000)
Elite – Includes the Masters course and one full year of TEC membership. ($12,000)
Furthermore, you could earn a certain percentage of each sale you make by selling these courses. However, that's not possible anymore since Tecademics have discontinued their affiliate program.
3) No More Online Courses!
As I said above, Tecademics used to offer online courses to their members; now, they don't offer it anymore.
As a Tecademics student, you now have to travel to Arizona and attend classes in order to take their courses.
Plus, all the Tecademics curriculums have been sold to IQup.
To summarize, all the Tecademics members will have to attend the classes in Arizona as there are no courses online on their official website.
However, the students will have the ability to access the online courses and live streamings on the IQup website.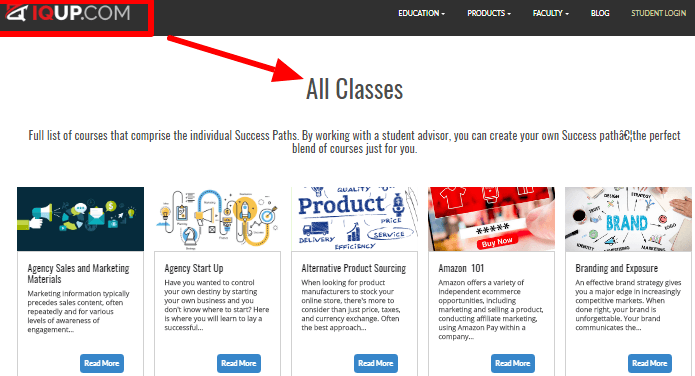 So, below I'm going to share with you the Tecademics courses.
Is Tecademics a Scam: Courses
As said above, the Tecademics courses are available to anyone that can travel to the physical college in Arizona. However, you have the ability to take the courses online but from IQup.
Furthermore, Tecademics does not offer anymore the 4 courses I talked about above.
But they have what they call the 16 individual success paths
There are 16 paths to choose from. So, as a student, you have to pick one path (aka course) and go deep on it.
Furthermore, this is a good idea because in order to be successful you need to choose one path only and focus on it. Instead of spreading your efforts thin trying to do multiple things (which a lot of people do).
These are the 16 paths available at Tecademics
Agency Start-Up
Digital Asset Brokering
Digital Marketing for Entrepreneurs
Drone Pilot
Ecom Foundations
Ecom Management
Email Marketing
Ecom Mastery
Facebook Ad Specialist
Lead Generation Strategist
Online Video Marketing Specialist
Pay Per Click
Print On Demand
SEO Strategist
Social Media Ad Specialist
Social Media Manager
Let's say you decide to go with the email marketing path, this path will allow you to literally learn anything related to email marketing like:
Content creation
How to do A/B testing
Increase open rates & CTR
The best email marketing tools
After you finish the course you will be a master of email marketing which is a VERY profitable asset and skill to master!
And if you choose the Pay per Click path you will learn the ins & outs of pay per click (aka PPC) wish will teach you how to spend money on ads and coming back with great conversions & ROI without breaking the bank.
There are many companies that will pay you big bucks to become their PPC manager.
Is Tecademics a Scam: Compensation Plan
As what is said earlier, Tecademics awards commissions to those who can get other people to sign up into one of their programs.
Overall, you are paid a 40% commission which totals to $40 for the TEC plan, $800 for the impact plan, and $4000 for the MASTERS plan.
However, this is for your first sale. After that, your 40% commission will be split between you and your uplink.
So, you will only get 20% commission for your 2nd and 3rd sale. However, for your next 4 sales you will again get all 40% commissions. Then, it is back to being a 20-20 split between you and your uplink for subsequent sales.
Commission Bonus
Tecademics also offer matching bonuses for people who manage to reach the required sales in 36 months. ​
So, when you earn $100,000 in commissions they will award you with another $100,000 as a bonus.
Then, the next one would be when you earn a $1,000,000 commissions is that they will give you another $1,000,000 as a bonus.
What I like About Tecademics!
#1 Tecademics is a Physical School!
It's very exciting to go to a physical school to learn how to make money online! Isn't? 🙂
Just the fact you will have classmates to talk to about your online business and stuff is very exciting.
You get to meet fellow entrepreneurs and like-minded people that have the same goal.
Think about the kind of friends you will make 🙂
The good thing about Tecademics is they give you 2 FREE days to hang out and get a tour on their college which is amazing 🙂
#2 Difference Courses & Paths
Most internet marketing courses are VERY broad and general, with Tecademics you get to choose a path and focus on it only.
I think having to choose your path and learn it in a physical school is the greatest thing since sliced bread 😀
What I Don't Like About Tecademics!
#1 Tecademics is only Available in Arizona
To enjoy the Tecademics classes you have to travel to Arizona, they don't have any headquarters in other states.
But Tecademics have announced that they will be expanding their colleges worldwide but I don't think this is going to happen soon as it will take a lot of time.
As for now, you have to spend money to fly to Arizona.
#2 Tecademics is Expensive (Expect High Tuition Fees)
There is no information about the current courses pricings, but in their past in-person events they used to charge +$10,000's.
Since these are actual classes and not just in person meetings I assume the prices to be at least the double of the past in-person live events.
Also, you are going to need a lot of expensive tools and extras to buy in order to complete your chosen path.
So yeah, this is an expensive course and remember that you have to book a flight in order to go to Arizona which is another cost.
#4 Is the Tecademics CEO (Jim Piccolo) A Scam Artist?
I have read some VERY concerning and alarming posts online about Jim Piccolo.
There are a lot of posts and negative reviews online about Jim Piccolo that call him a big scammer.
I have read a post on a Facebook page called the Jim Piccolo scam.
In this page I read that Jim Piccolo collects millions of dollars by pre-launching concepts of his businesses when people buy his pre-launched programs he under delivers and never gives the money back when people request refunds.
That's why he has like 5 companies that fell apart and looks like every 1-2 years he rebrands his companies to avoid getting exposed.
Jim was even sued & ordered to pay $5.57 million because of his unethical marketing tactics.
Of course, these are not my own words this is stuff I have read online from multiple sources.
Below I'll leave screenshots of these complaints and their relevant sources for you to check out.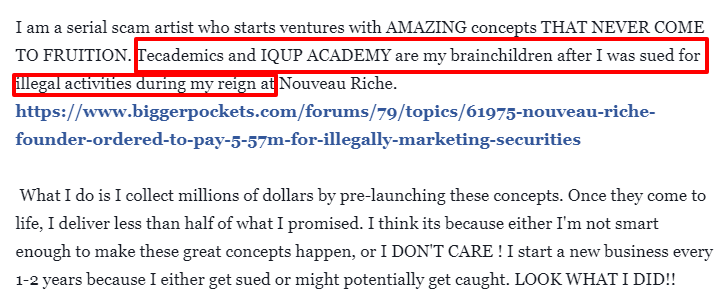 Source: https://www.facebook.com/SnowJobismyMiddleName/?ref=py_c:
Source: ripoffreport.com

Source: https://behindmlm.com/companies/tecademics-screw-affiliate-out-of-20000-iqup-not-interested/
#5 the Tecademics Shopify 90 Days Challenge Scam!
So Tecademics & IQup run a Shopify 90 days challenge which is a contest where the participant that generates the most sales via Shopify dropshipping is going to win some interesting prizes.
There was also a 90 Days Facebook group where the participants & affiliates are trained on how to make sales.
The first prize was $20k.
Colton Fitzgerald is one of the Tecademics affiliates who managed to make the most sales and was presented in front of all the other Tecademics affiliates in the Tec Talk 2017 event as the $20k prize winner.
When Colton tried to call IQup & Tecademics to collect his prize no ones has responded or picked up the phone.
He's been trying to contact them for months but no response, then Conor started to think about getting an attorney to fix this problem.
You can read the full story on the Behindmlm website where they go in more details about this.
Below you can watch the $20k giveaway video.
Well, I have to say that this is a big fat red flag.
#6 Lots of Tecademics Negative Reviews Online
There are tons of complaints about Tecademics online, most of them are related to the prices of the products which are not cheap.
There are some people that are asking the FTC (Federal Trade Commission) to investigate on Tecademics and other similar companies like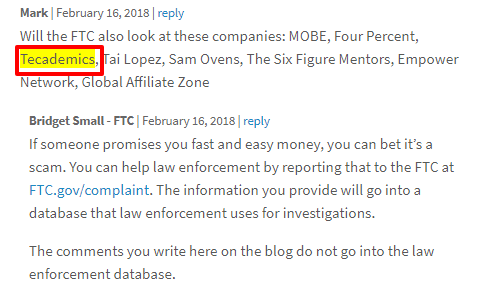 #6 Tecademics has an "F" BBB Rating!
Since Tecademics has many negative reviews, their rating at BBB reflects that.
The Tecademics rating at BBB is F which is the worst rating.
There are also 10 complaints.
Here are some screenshots of them.
source: https://www.bbb.org/us/az/scottsdale/profile/digital-marketing/tecademics-llc-1126-1000044149/complaints

Source: https://www.bbb.org/us/az/scottsdale/profile/digital-marketing/tecademics-llc-1126-1000044149/complaints
Is Tecademics a Scam?
Although there are many scary red flags about the company, Tecademics is NOT a scam they offer some VERY good courses that lots of their students enjoy and find very useful.
Obviously, nothing is perfect and there are many things I did not like about Tecademics which I have talked about in this review.
Other than that Tecademics is a legitimate company that I recommend even though it's very expensive.
Don't forget to tell us your thoughts about this company and your experiences!
Is Tecademics a Scam: Best Alternative!
Tecademics is a good course, but unfortunately, it's very expensive.
Chances are you don't live in Arizona! 😀
Don't worry I have a great training that I recommend if you want to work from the comfort of your house and build a full-time home business.
This training is free to try and only costs $49/month there are absolutely no upsells!
Click the button below to learn more!