Hello! Welcome to my Writer Access review!
The internet is a vast place where we can almost do anything, including earning money online.
Furthermore, there are a lot of ways to do it. Who would've thought that we can actually earn money nowadays by writing?
That's right. You probably know that since you are here. In this review, we will talk about one of the freelance writing websites we have today.
Writer Access has been operating since 2008. What is it? How does it work? Is it a scam? We will find out in this Writer Access review!
Let's get started.
Writer Access Review: Quick Summary
Name:  Writer Access
Website: https://www.writeraccess.com/
Founder: Byron White
Year founded: 2008
Type: Content marketing agency
Rating: 4/5
Recommended: Yes, for some people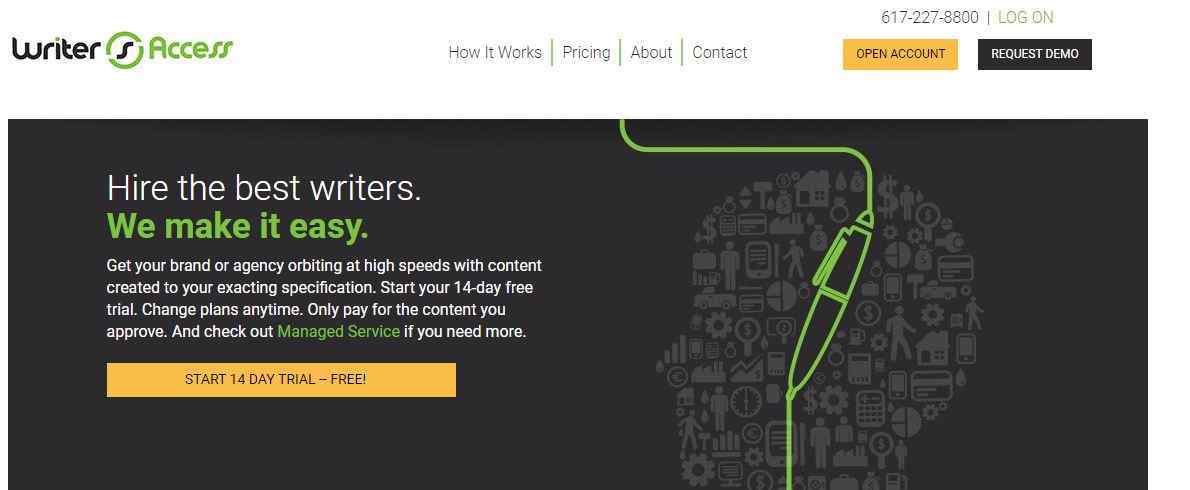 What is Writer Access?

In the world of content marketing, great content is very important. Although anyone can do it, but some people prefer to trust the work to professionals.
That is when Writer Access comes into the picture.
It is an online content marketing agency that provides content to people. Furthermore, it makes sure that the products are tailored according to the needs of the clients.
Writer Access is not only for businesses looking for well-written content. It is also a freelance writing website. That means people have the chance to work with them and earn money.
It is similar to another site called "Textbroker".
It was founded by Byron White in 2008. Furthermore, it is run by a content research and marketing company called ideaLaunch, who was also started by Byron.
What does it offer?
Writer Access makes sure that its contents are well-written. They hire experienced, professional and great writers to ensure that.
The company offers a wide variety products and services. Some of these are:
Articles
Video scripts
Blog posts
Brochures
Banner ads
Newsletters
Presentations
Product descriptions
Writer Access also offers editing and translation services to clients.
Furthermore, for business owners, the company will offer no-cost tools and services once they reach a certain amount of deposit. This is for prepaid content.
This means that the more and large they deposit, the more freebies they can enjoy from.
Here is the reason why affiliate marketing is better than freelance writing
Writer Access Review: How does it work?
Upon creating an account, you will be given two options: to be an employer or to be a writer.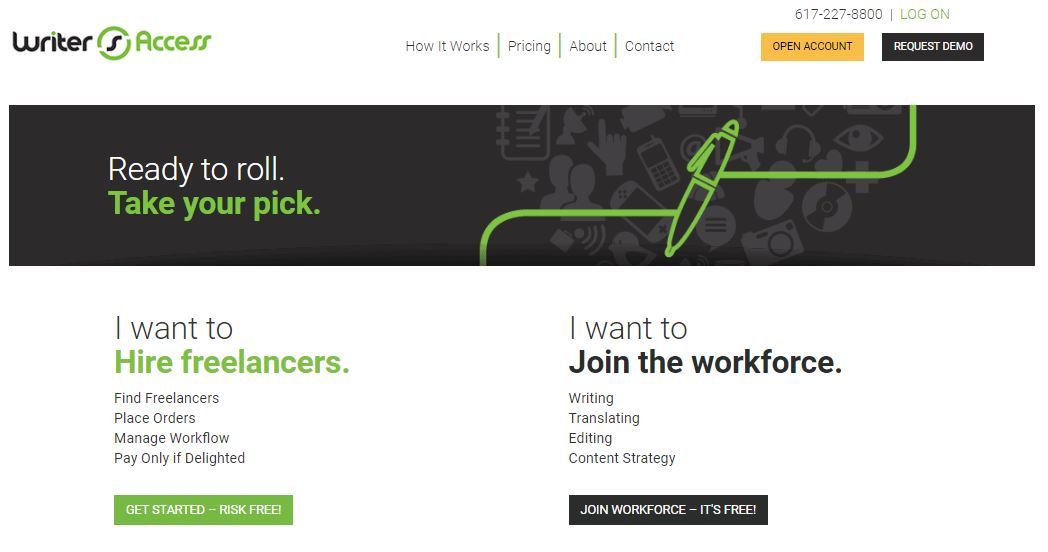 For clients
You can join Writer Access for free. With this membership, you can use the site's services for 2 weeks.
But you can also join the company and make an up-front deposit right away. With this, you can request an order for content immediately.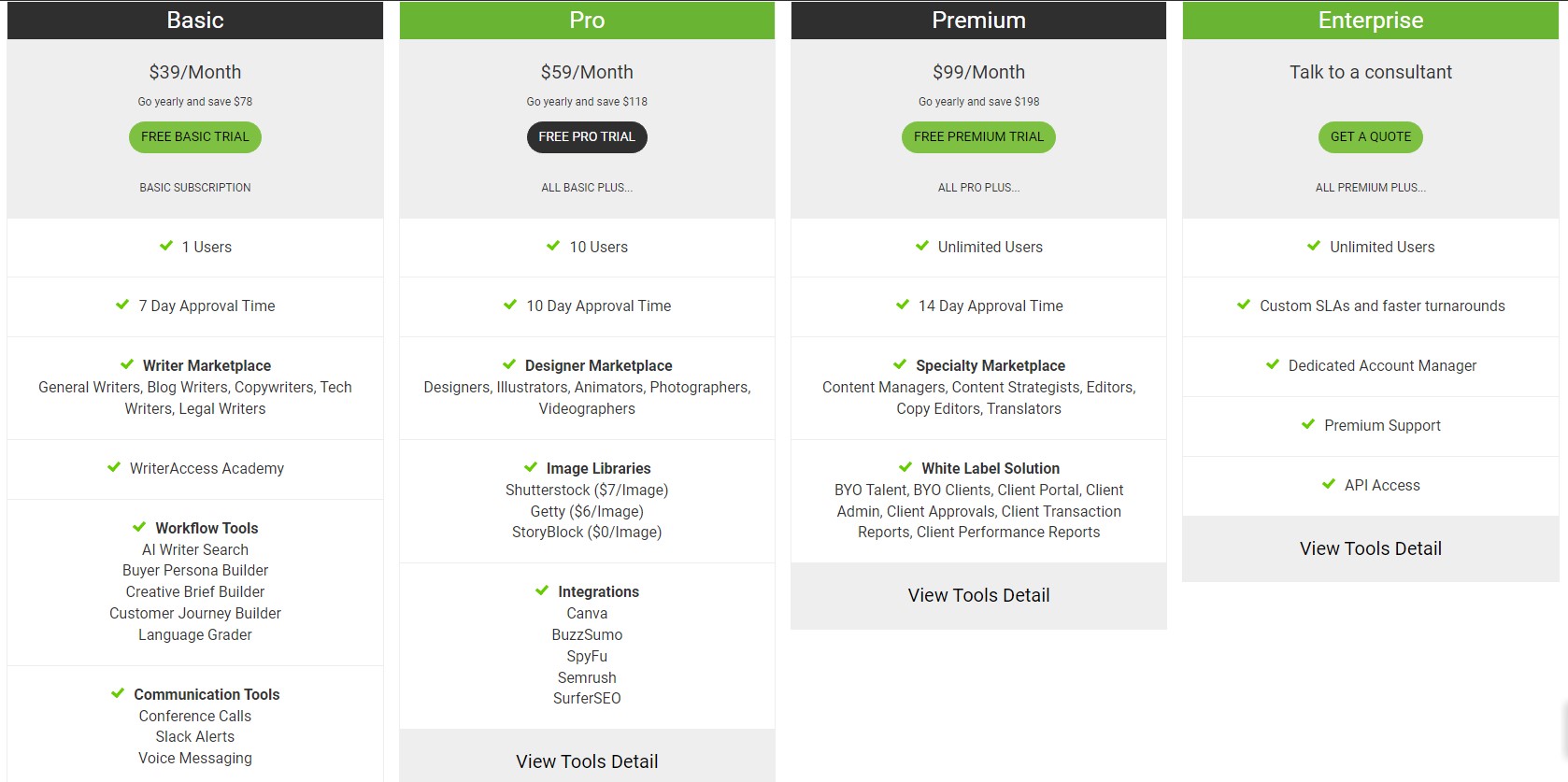 Both option will give you the opportunity to experience Writer Access, including the writers, content types and the flow of the projects.
The moment you have created an account, you are required to verify your email address. Afterwards, you can start searching for writers and posting orders.
Each writer has a rating that you can see in their profiles. It can be between 1 to 6 stars. Furthermore, you can see more information about them in their profiles.
These include their names, skills, experiences, sample works and many more.
Clients can either place an order to a single writer or a team of writers.
Put your writing skills to a better use with this method! It pays better too!
For writers
Again, signing up in Writer Access is completely free. However, in order to keep the website running, they must take a portion of your payment as a fee.
This is also to compensate them for using their services. So, 70% goes to the writers and 30% goes to Writer Access.
One important thing in the application process is the writing test that will be provided. First, you must pass this one in order for you to be accepted as a writer in the website.
Afterwards, Writer Access will ask you to provide resumé. Within it will be a photo of you and some background information.
Then, you will have to wait for 1 to 2 weeks for Writer Access to review your application. Once it is accepted, you are good to go.
One more thing, once you are accepted, you will be given a star rating from 1 to 6. It will depend on your information provided, skills and experiences.
In conclusion, the higher the rating, the higher the chances of you being hired and the larger amount of money you can earn.
Others
Apart from being a writer, Writer Access also hires people for other positions.
These are:
Content strategist
Translator
Editor
Influencer

Writer Access Review: Who can join?
Before, Writer Access only hired U.S.-based writers. However, they expanded at the end of 2018.
Today, it accepts writers from Canada, New Zealand, U.S.,  Australia, U.K., Republic of Ireland and South Africa.
How much does content cost?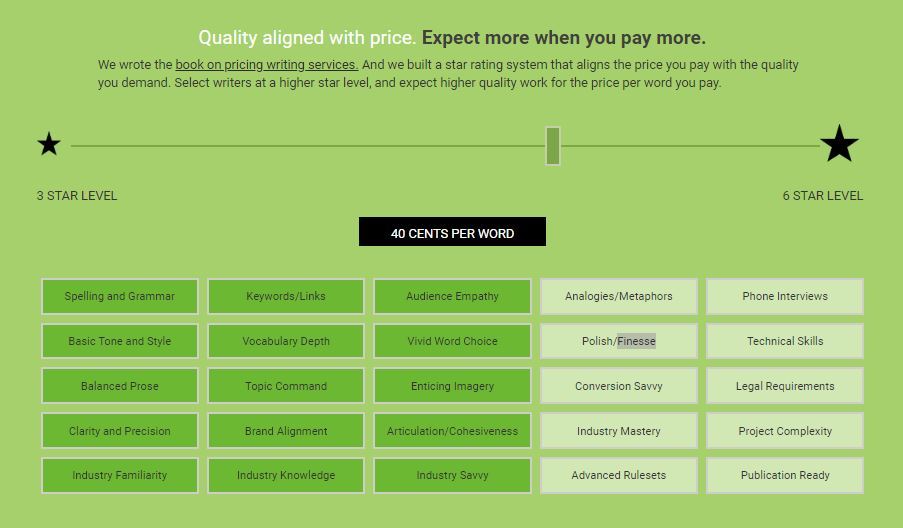 The content pricing in Writer Access entirely depends on the star rating of the writer.The higher the rating, the higher the cost. Furthermore, there are certain services that are only available for a specific star rating.
Two Stars: $0.02 per word
Three Stars: $0.04 per word
Four Stars: $0.06 per word
Five Stars: $0.08 per word
Six Stars: $0.10 to $2 per word
You can learn more about this here.
How much can you earn?
Again, the star rating is really important. Even the amount of that writers earn will depend on it.
According to Writer Access, this is the pay rate of each rating.
1.4 cents per word – Level 2
2.8 cents per word – Level 3
4.2 cents per word – Level 4
5.6 cents per word – Level 5
7.0 cents per word – Level 6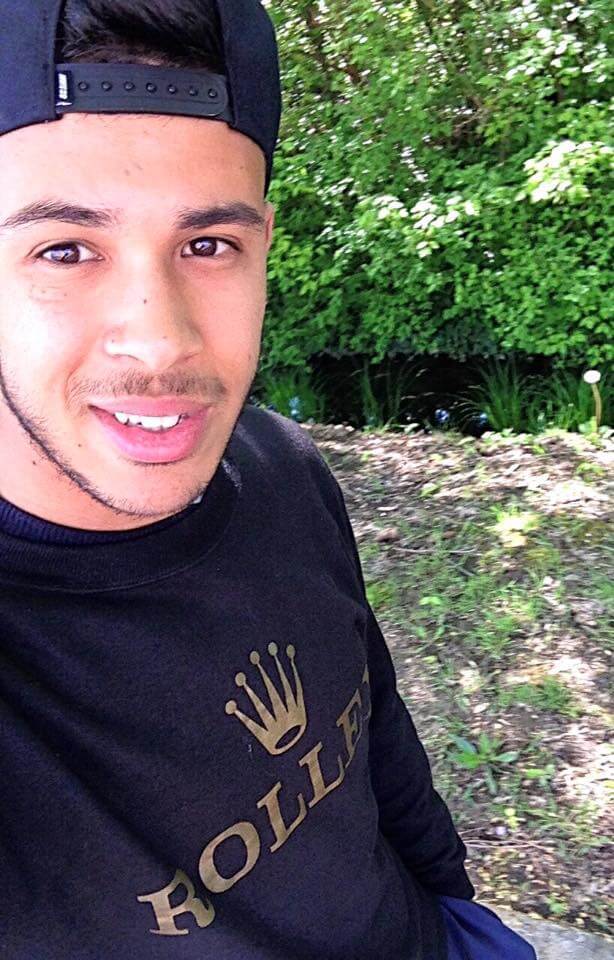 Hello!
Freelance writing is great. However, it is nothing compared to affiliate marketing.
You can earn more and you are free to do what you want!
Click here to learn more abou this.
Writer Access Review: Payment Method
Writer Access sends its payments to freelancers through Paypal for every two weeks.
Furthermore, payments are done on the 9th day for the jobs that are paid at the end of the previous month.
While on the 22th day, for jobs to be paid by the 15th day of every month.
Also, for you to get your money, you must have a balance of at least $10 in your account.
Benefits
Strategic words
Writer at Writer Access are very creative and intelligent. They will make sure that the content they will deliver is great for search engines.
Furthermore, they will guarantee that each word in their content is created to target their clients' customers.
With this, businesses and companies will surely grow.
Reward system
Like I told you above, the more deposit a client does, the more rewards and freebies will be received.
These will include advanced tools, no-cost services and support that will greatly help them.
Tailored content
To the clients who ordered, rest assured that the finished content is tailored according to your expectations.
Writer Access Review: What I like about it
#1 BBB Rating
#2 High pay than other companies
Compared to other freelance writing websites, Writer Access pays more than them.
Other websites can easily hire anyone. However. Writer Access will make sure that they will sort out their applicants.
Furthermore, because of the star rating system, other writers, deserving ones can earn up to $40,000 a year.
#3 Writer Rating System
Clients would want to hire writers which they can trust to write proper content. So, the rating system that Writer Access has for their writers is a very helpful way for clients to gauge potential writers and content quality.
However, as a writer,  this means that you have to do your best and compete with a lot of people to be highly rated.
#4 Good Customer Service
Writer Access has a very good customer service which will help their clients every step of the way. It may sound unusual to point this out, but online services usually have very poor customer service. So, it is only fair to point out when a company stands out in this part.
#5 Pays by Word Count
This is a good thing for the writers because they can earn a good amount of money. However, some clients do not like this feature as they would want to set a specific budget for each project.
Writer Access Review: What I don't like about it
#1 Takes long
As I made my research about Writer Access, most complaints made by writers is how long clients take to approve their work.
Other websites usually take around 2 or 3 days.
Before getting paid, you must send your work and your client will check it. You will only be paid once it is approved.
Clients have a maximum of 14 days to approve it. If not, Writer Access will automatically do it.
But then again, 14 days is a long time. It can be so frustrating for some people.
#2 May not be enough for some people
The moment you are accepted in Writer Access, you will be given an initial rating. If you got around 1 to 4 rating, you might have a hard time earning enough.
That is why this is not recommended to some people. If you got 5 to 6 rating, then lucky you. You have a higher chance of earning more money.
Is Writer Access a scam?
To finish and complete this Writer Access review, it is time to answer, "Is Writer Access a scam?".
The answer is no. Writer Access offers real services and is great for both clients and writers.
Furthermore, it does not have much negative reviews. Except for the ones I pointed out above.
But overall, Writer Access is great. In fact, it pays better than most freelance writing websites.
I recommend it to people who are really great at writing. You might receive a star rating of 5 or 6. But for those who do not, I don't recommend it.
You will not be earning enough.
This is How I Make Money from Home!
Thank you so much for reading my Writer Access review! If you have comments or questions, feel free to leave them on the comment section below!
Unfortunately, Writer Access is not for everyone. That is why I prefer to do affiliate marketing. I basically promote products on my website. When my readers purchase them, I earn commissions.
It is a lot better compared to freelance writing.
Why? First, there won't be any client to tell you what to write. Your boss is basically yourself!
Second, there are no star ratings. Which means you can earn more! Also, on top of that, you will earn a passive income! This makes it more profitable.
Furthermore, at first, I didn't know where to start. Until I came upon Wealthy Affiliates, the best training program.
It gave me all the tools and support I need. This includes 2 websites which you can use. Professional affiliate marketers will help you too!
With this, I earn affiliate commissions on a daily basis just like this.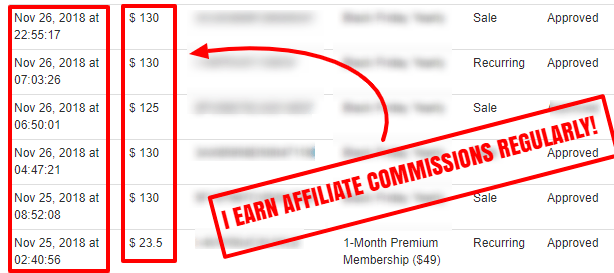 My November affiliate commissions thanks to Wealthy Affiliate!