Did you come across Kanga cash and you are wondering if it's a scam or are you really going to make hundreds online with social media as they promise?
In this quick Kanga Cash review, I'm going to expose the whole truth behind Kanga Cash and I will give you reasons why you should avoid it at all cost!
What is Kanga Cash?
Kanga Cash is a fake website that pretends to be an influencer marketing platform that connects influencers with brands and advertisers.
They claim that they will give you a $25 sign up bonus and $10 for every friend you refer.
So all you need to get hundreds of dollars with Kanga Cash is to share their links everywhere and bring them traffic.
Sounds great right?
But unfortunately none of that is real, Kanga Cash is just another rebranded scam.
What do I mean by "another"?
Well have a look at the screenshot below:
These are the terms of use of Kanga Cash where you can clearly read "kids Get Paid terms of use"
But What is Kids Get Paid?
Kids get paid is the old name of Kanga Cash and when it got exposed by a lot of bloggers they decided to change their name.
I've already reviewed three similar sites called Kidsgetmoney.co, Kidsearncash.com & ViralPay.co
They are literally the same as Kanga Cash!
If you check them out you'll find out that they are the same thing, the same $25 sign up bonus and the same hype!
And the weird thing is that if you check out their terms of use you'll that the name of the sites and the terms of use don't match,  have a look at the screenshot below: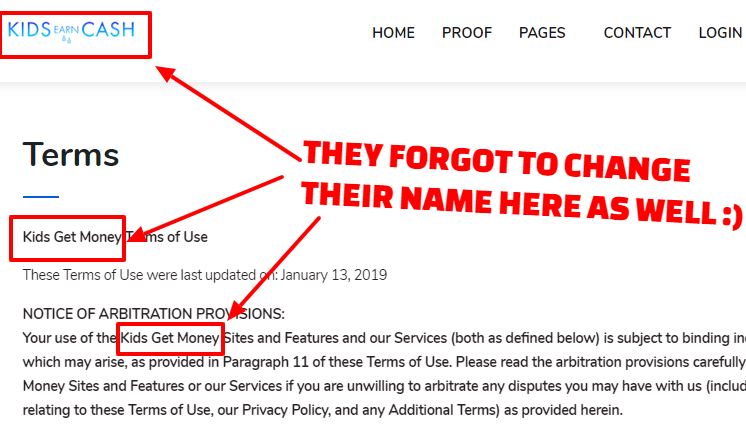 I don't know about you but this is enough to convince me that Kanga-Cash is a scam!
Anyway, so now that we know what is Kanga Cash let's find out how it works and how they are planning to scam you!
And hey, keep reading till the end because I will show you some legit sites where you can earn some bucks no matter where you are in the world 🙂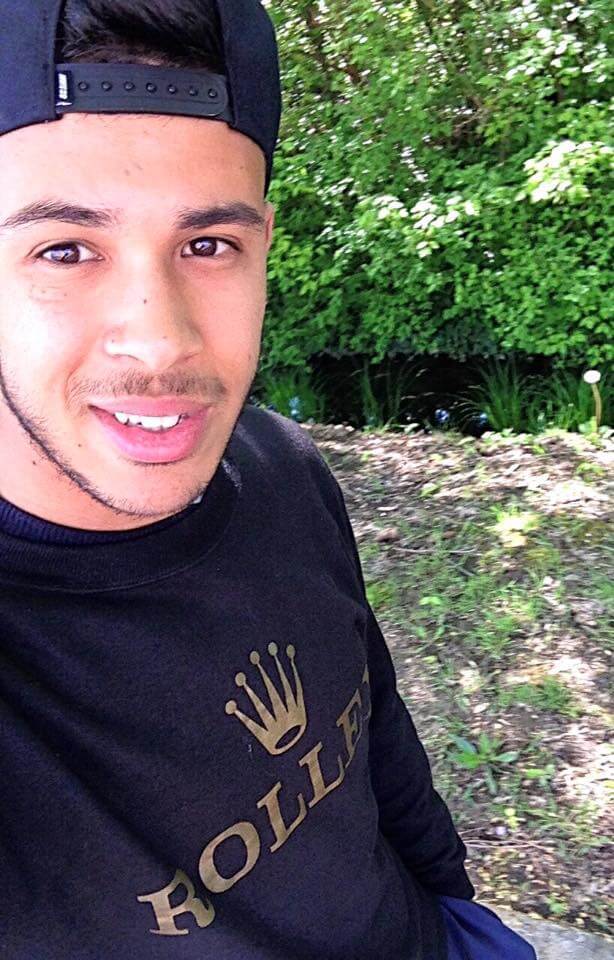 Thanks to this free to Join Program I got step by step training which allowed me to earn over $3,000 a month.
​
Follow the same training & get similar results 🙂
How Does Kanga-Cash Work?
Kanga-Cash doesn't work! They just want you to help them bring traffic and scam as many people as possible by sharing their links everywhere.
The sad part is that you won't realize that you have been scammed until you ask for payment!
If you read my kidsgetmoney.co and kidsgetcash.com reviews you'll read a bunch of complaints from mad members who didn't receive any money!
You can read some complaints below:

This is how Kanga Cash works, they use the same scam and when they'll get exposed they will keep changing their name over and over.
But don't worry because I will keep exposing them whenever they change their name because helping newbies avoiding scams is my job 🙂
And just to give you more proof that Kanga Cash is a scam I will show you other scam signs:
1) The fake $25 sign up bonus!
The first scam sign is the way too good to be true $25 sign up bonus.
The most reputable reward sites like Swagbucks and  Fusion Cash give from $5 to $10 as a welcome bonus and the reason why they give those generous sign up bonuses makes sense because it's a "win-win" situation.
But in Kanga-Cash's case, the $25 sign up bonus is just a hook to scam you!
2) Fake Testimonials!
You probably clicked on the "testimonials" button on the top page of Kanga Cash.
Now, have a look at the screenshot below:

So the testimonials say that they have been members since 2018 and 2017.
But according to ScamAdviser Kanga Cash is only 21 years old and it's not safe to use.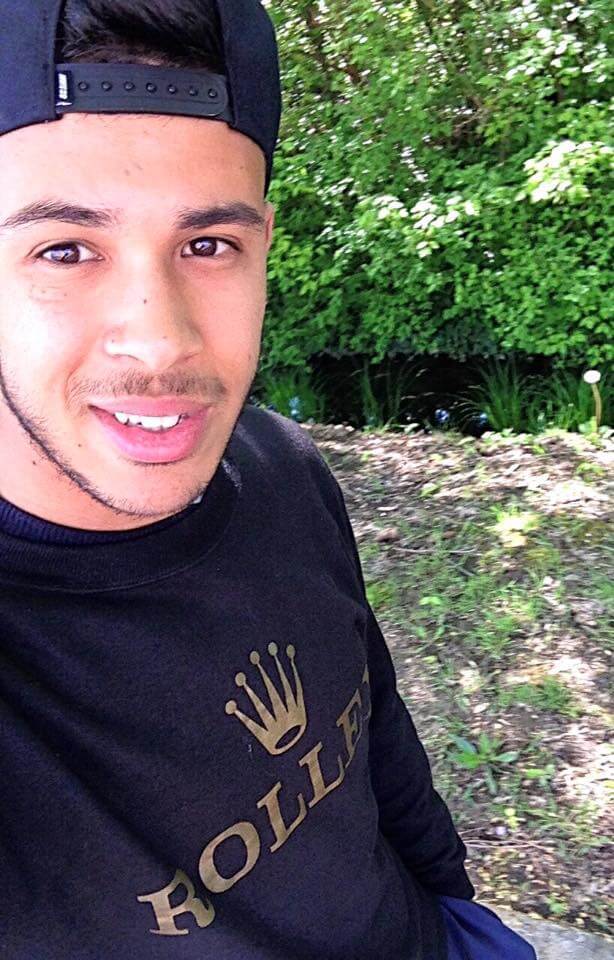 Tired of Scams?
 Check out My Top Recommendation Here!
3) Kanga Cash is Not Safe To Use!
As I mentioned above according to ScamAdviser this website is dangerous to use for different reasons.
The first reason is that Kanga Cash wants you to share their links everywhere to bring them traffic so they can collect as much personal info as possible.
And not only that!
Kanga Cash has some surveys that require you to install unsafe software and they also ask for your phone number!

4) You Will Not Make Any Money!
And here where the scam happens!
You are not going to get paid!
These scammers will make you work for them and waste your time and when you ask for your money they will block you and disappear!
If you read a positive comment about Kanga Cash you better believe it's just a paid member, because the only one who is going to make money are the owners of Kanga Cash!
Below you'll read complaints from members who haven't receive any payment:

As you can see Kanga-Cash is a scam, they are just taking advantage of innocent newbies who're looking for a legit way to make some bucks online.
Below you will find some legitimate famous sites where you can make some extra cash online.
I hope you like them 🙂
Conclusion – Kanga-Cash.com is a Scam!
 Kanga Cash is a big scam, they are a new fake company that comes with so many red flags.
Below you can read some of the reasons why Kanga Cash is a scam!
Hidden owner and hidden business location
Kanga-cash.com is a rebranded scam
Fake testimonials
It's only 21 days old
Not safe to use
YOU WON'T GET PAID!
And more!
I hope my Kanga Cash review was useful, if you want to earn money don't worry I have listed good Kanga Cash alternative for you.
This is How I Make Money from Home!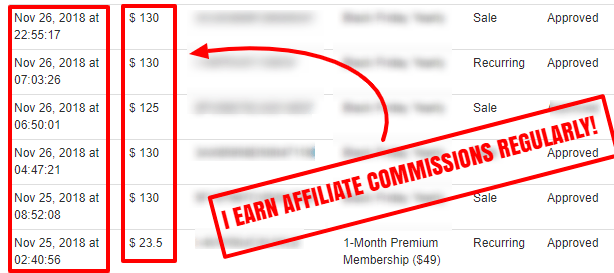 My November affiliate commissions thanks to Wealthy Affiliate!
What Do You think?
I hope this review was helpful, And I hope you share this review with your friends so they don't fall for this scam, let's make the internet a safe place!
What do you think about Kanga Cash? Please share your opinion/ experience  With us in the comments section below 🙂