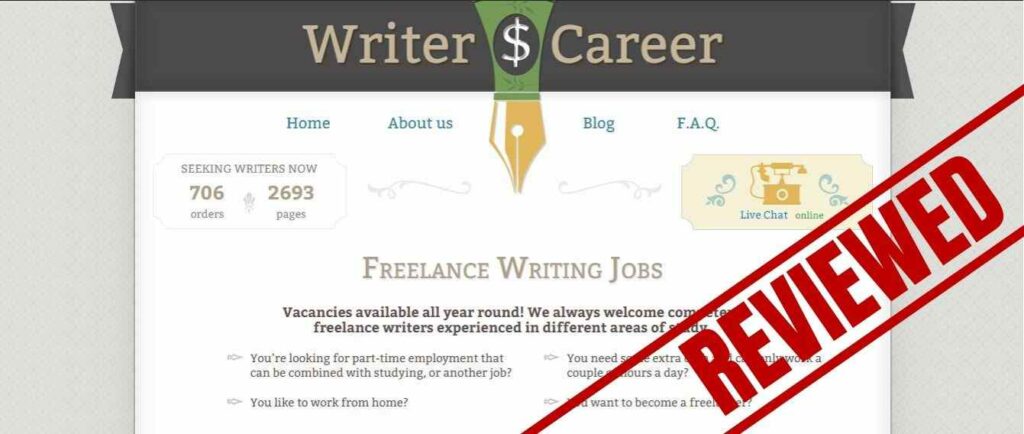 Hello! Welcome to my Writerscareer.com Review!

Freelance writing has always been one of the nicest ways to earn money online. You can earn a decent amount of income, have a flexible working schedule, and for writers, you are following your passion!

Writerscareer.com is one of the freelance writing websites out there. However, is it actually legit? Or is it a scam? In this Writerscareer.com review, you will find out the ugly truth about it.

Without any further ado, let's get started.
Writerscareer.com Review Quick Summary
Name: Writers Career
Website: http://writerscareer.com/
Owner: Hidden
Type: Freelance Writing Website
Rating: 3/5
Recommended? No. There are a lot of better ways to earn money online
This is the top recommended way to earn money online!
What is Writerscareer.com?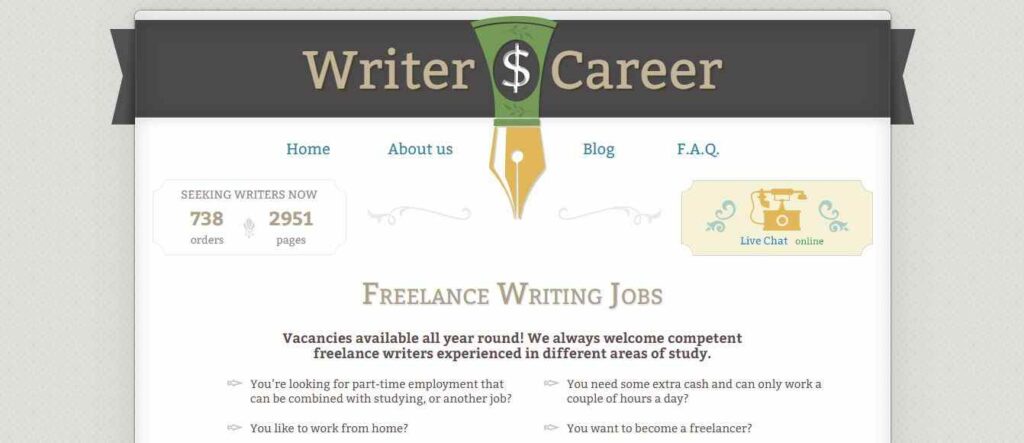 To begin this Writerscareer.com Review, let's get to know it. What is it? Writerscareer.com is an online writing platform and website that provides writing services. Moreover, it gives the opportunity to work as a freelance writer for them and be compensated.

When I conducted my research, I could not find much about this website. It's as if Writerscareer.com is a complete mystery. Reviews that I found are from the website itself.

Although, this doesn't apply always, I do not trust reviews or testimonies that I can see directly from the website that I am reviewing. Most scams make their own testimonies and post them on their websites. Fortunately, I was able to utilize my inner "Sherlock Holmes" skills to find out the truth. And here it is…
The truth…

And here is the truth! Ok. So let me explain. I was going through the website, Writerscareer.com. I read everything. But the moment I clicked the button to create an account, I was brought to this website, EssayShark!

With this, I conclude that they are being owned by the same owner. Apart from that, these two websites work together. EssayShark is the main website wherein people can avail their writing services. While Writerscareer.com is the website that poses as the place where freelance writers can apply.
How to join?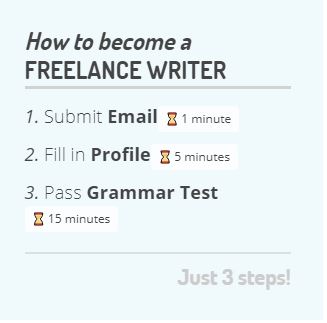 Earn a 4-figure monthly income with this excellent program!
As EssayShark put it, you can become a freelance writer for them in 3 easy steps. First, is of course, provide your email address. Afterwards, you will be prompted to complete your profile. This means that you will have to provide some personal information.

EssayShark also indicated that writers should have a college or university degree.

The last step is to pass the grammar test. This is to ensure that writers that EssayShark will hire are competent enough to work for them and deliver articles and write ups to their clients with quality.

You will be able to know if you are accepted and hired via email. Be sure to check for it day by day.
How does it work?
The process that freelance writers undergo in EssayShark is pretty much the same as other freelance writing websites out there.

When you have been accepted, you will have access to EssayShark's job board. This is the place where you will see the available projects and orders from clients. As a writer, you can simply choose any project you want that fits your skills, knowledge and interests.

Since EssayShark has this bidding system, writers can send a bid, wherein they notify a client that they are interested to take on his/her order. Apart from that, writers can send their preferred amount of payment to be compensated for, after completing the work.

If you are accepted, you can immediately start working. You will only be compensated once you have submitted your own and the client approves of it.

Also, at the end, you and your client, can rate each other based on the project you worked on.
How much can you earn?
EssayShark has not disclosed any exact information about how much writers can earn. This is because it differs in each project. According to its terms and conditions, here are the factors that can affect the amount of your compensation.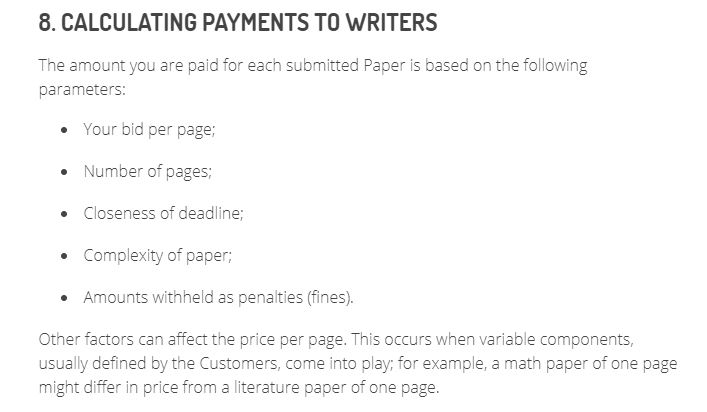 Another thing is that writers can earn bonuses if ever they have a high and excellent performance level and a good rating.
How does it pay you?
There are three payment methods accepted in EssayShark: Paypal, Payoneer and Wire Transfer. Here are the instructions that EssayShark provided regarding each payment method.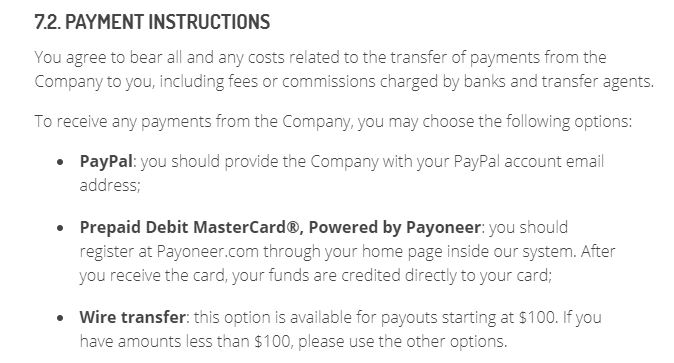 Apart from that, there are a few things that you need to complete these payments. These are the following:
The name of the recipient
SWIFT code
Beneficiary address
Bank account or IBAN No.
Here are other information that you need to take note of regarding your payment. You can also learn more about this in EssayShark's Terms and Conditions page.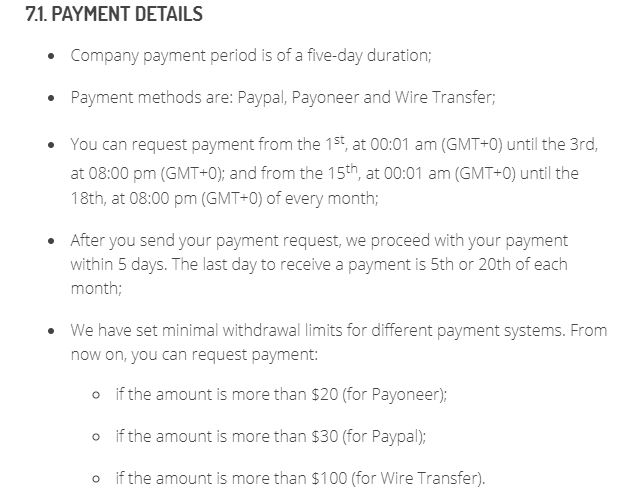 To all writers out there, with this program, you can have your own source of passive income without working for freelance writing websites! Click here!
What others think about it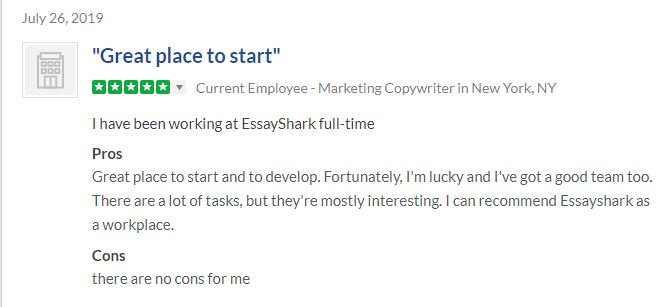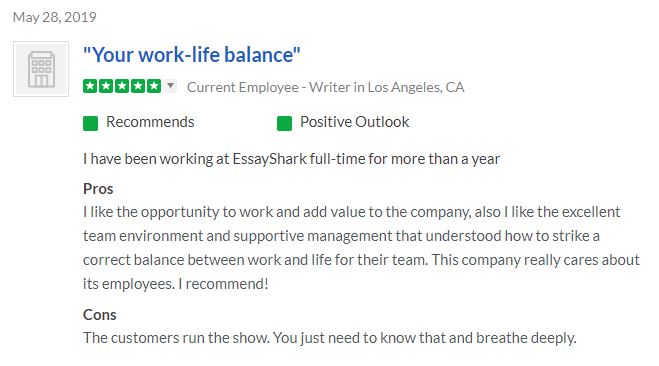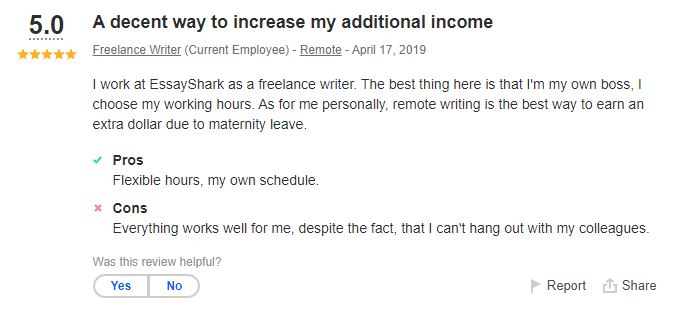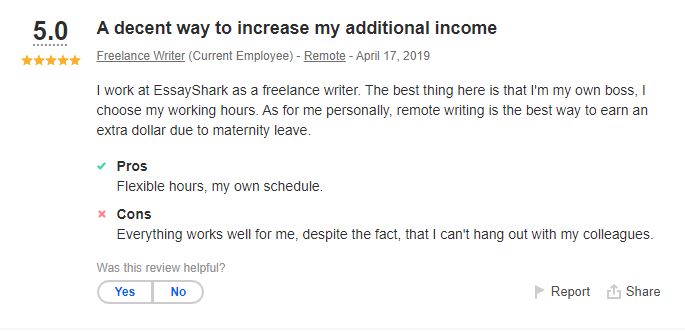 Pros and Cons
Pros
Free to join
Has multiple payment methods
Pays cash
Simple sign up process
You can work at your own pace
You can choose the project you want
Bidding system
Cons
Low income potential
Has a ranking system
Low rank means low income
There are times that you may not be compensated if the client does not like your work
Finally earn more than you can from these freelance writing websites using this program! Check it out!
Is Writerscareer.com a scam?
This Writerscareer.com review was indeed a roller coaster ride. My research led to another website called EssayShark. Because of this, I am implying that both websites are under the same owner. So is Writerscareer.com a scam?

Even though this website is only the hub where EssayShark can get freelance writers, it is still connected to EssayShark. With that being said, my final verdict is highly influenced by the services and opportunity that EssayShark provides.

That means that Writerscareeer.com is not a scam. It is part of EssayShark, which is a legit website for writing services and freelance writing. However, even though you can earn money from it, I still not recommend you to replace your main job with it or even depend on it for a full-time income.

Frankly, there is just a low income potential with EssayShark or Writerscareer.com. If you truly want to know the best way to earn money online, read the next section.

Thank you so much for reading my Writerscareer.com review! If you have any comments or questions, feel free to leave them below in the comments section.
This is how I make money online!
The internet is full of opportunities to earn money online. Personally, I have tried a couple of them. However, I can say that the best way to earn money from home and online is affiliate marketing. It is a great source of full-time and passive income. Apart from that, anyone can join!

Basically, you just need to promote products and services online. I prefer to do it on my own website or blog since it is easier earn commissions through it. When people buy these products, I earn money.

You can do this method easily. It does not need any initial investment too. Do not worry about building your own website or starting out. I totally recommend you Wealthy Affiliate, the best one out there that can help you achieve access and financial freedom with affiliate marketing.
It is composed of a community of professional affiliate marketers who are willing to help you out!
Moreover, you can receive a lot of benefits. Some of them are:
Complete and comprehensive step-by-step training
A lot of affiliate marketing tools and materials
Sales funnel page and other pages builder
24/7 support
A live one-on-one chat with professional affiliate marketers
And many more!
Thanks to Wealthy Affiliate, I now earn daily commissions just like the one below.