Welcome to my "Is Writers.Work A Scam?" review! (Updated 2022)
For people who are looking for ways to earn money online, you will probably stumbled upon countless freelance writing work opportunity. I am going to be honest as soon as right now.
Freelance writing is great. However, there are chances that you won't even be making enough. Especially if you are working through certain writing platforms.
There are a lot of them out there that are scams! Well, in this review, we are going to examine and discuss one of the writing platforms that claims to give you the tools and opportunities you need to succeed as a freelance writer.
That is Writers.work. Is it legit? Or is Writers.work a scam? We are about to find out right here!
This is a BRUTALLY honest & NOT affiliated review.
I'm not promoting Writers.work (later you will know why) so you can expect to learn all the good and the ugly reality about this program…
Without wasting time, let's get into it!
Writers.Work Summary Review
Name:  Writers Work
Website: Writers.work
Founder: Unknown
Price: $47 for a lifetime membership or $15/month
Summary: Writers.work does offer many good tools and training for writers. But it's not as trustworthy as there are so many complaints and tons of alarming red flags.
Rating: 2/5
Recommended? No!
What is Writers.Work?
Writers.work is a website that offers you an all-in-one suite where you can find everything you need to become a freelance writer.
If you're a person who wants to start a freelaance writing career and work from home, Writers.work claims to give you all the tools that will both make you a more efficient freelance writer and also help you promote your work and find clients.
Here are some of the writing jobs you can get at Writers.work:
Blogging
Copywriting
Social Media Content
Writing Content
In addition, they also offer their subscribers web-based text editor, online portfolio area, Writers.Work "University", and publications seeking pitches.
Writers.work has in-house features that are going to make any writer's life easier. I'm going to talk about all the features available later in this review.
To be honest, I came across the Writers.work affiliate program and I was planning to write a review about this program with the intent to promote it. Furthermore, I was hoping to earn some affiliate commissions by recommending it to people.
But I quickly changed my mind because I personally only promote stuff that won't rip off people. I'm not saying now that Writers.work is a rip off but I have found SO many red flags that are just too much for my likings.
So, below I am going to explain everything in details and give you the truth exactly like it is. I'm not promoting this, so you're probably reading the only honest review about Writers.work available online.
How Does Writers.Work work?
Update December 2019!
I'm getting more emails and comments on my Writers.work review from people who are thanking me because this website was shady. Also, people are happy that they did not waste their money.
You can learn more by reading the comments at the end of this article.
Writers.work looks like a professional and very legit site, at least that's what I have assumed first. But now, I'm very suspicious about it after what I have found.
To get started, you need to buy a membership (more details about the prices in a second). There is no way you can get a sneak peek, a trial or something like that.
After you pay, you will get access to a lot of tools, like their own distraction free editor, their online portfolio feature and more.
They also offer training for new writers. Once you finish the training and feel like you can start writing for other people, Writers.work will give you lists of websites and writing jobs that are ready to hire you.
So in a few words, Writers.work is not just a jobs board site but it also offers you the tools and the training to become a better and more efficient writer.
How to Start Working with Writers.Work?
The signing up process of Writers.work is fairly simple. First, you need to fill in your email address. Then, they will also ask for your credit card details and zip code. After that, you are all set and you will be guided to setting up your profile.
You will be then given access to the dashboard when you finish setting up your profile.
However, why would Writers.Work ask for your credit card details? Well, read more to find out.
Does Writers.Work Cost Money?
Writers.work is not free which means yes it does cost money.
A lot of people are shocked when they hear this because they assume a website that offers you a job cannot charge you money.
Have you ever encountered a website wherein you can find online freelance jobs, that will ask you to pay for something such as a membership fee? I don't think so.
How Much Does it Cost?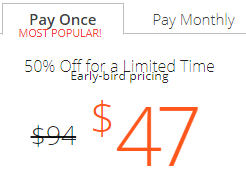 Source: https://writers.work/pricing
There are two membership options for you to gain access to Writers.work. Here are they.
#1 The Lifetime Membership
The lifetime membership costs $47. This will give you access to the platform forever without paying anything in the future.
In their checkout page, they say that $47 is the early bird price and soon it may change to $94. This is a scarcity tactic to put you into pressure and make you hurry up to make a decision.
#2 The Monthly Membership
The monthly membership costs $15/month and it will give you access to everything as well.
In my opinion, it's pretty strange that they have a lifetime membership for $47 and a monthly membership with the exact same features.
Writers.work does offer refunds on both memberships within 30 days but if you buy any add-ons like:
The coaching add-on
The tool kit bundle
The premium video courses
Or the other freelancers' toolkit
You're NOT going to get refunds on these upsells because they are not refundable. But you get to keep them as they are separated from the Writers.work membership. Furthermore, there have been complaints from people who have trouble with their refunds.
You can find more about these complaints in their BBB page where they have an F rating and a 1.44 out of 5 star rating.
How to Apply for a Job?
Before applying for a job, you must first find one. Writers.Work lists job for you from different websites.
Here is where you can find job listings:
Craigslist
Freelancewritinggigs
JournalismJobs
Indeed
Mediabistro
Problogger
Telecommunity
Writers.Work
However, you must be careful with jobs that you apply to since some of them are old listings. Furthermore, there is also an issue where Writers.Work might not have a complete list of all job listings from the other websites.
If you found a job that you want to work with, then you can click it. You will be then taken into the original site that the job posting is listed.
This means that Writers.Work is not the one listing the jobs but they are only displaying the jobs listed on other sites. So, if you click on a job listing in Writers.Work you would have to apply again in the website that it will take you before you can start working.
To summarize, working with Writers.Work is not as easy as it seems since you have to jump from website to website to start a job. Furthermore, you would also have to pay for this service when you can just go to the job websites yourself for free.
Does Writers.Work Work? How Much Money Can You Make?
Writers.work claims that you can sign up and start earning right away.
They even claim that you can start earning up to $60 per hour which sounds very unrealistic.
To get paid around $60 per hour writing you need a lot of experience which you probably don't have.
Claims like this make Writers.work very questionable but in this review we continue investigating this program so keep reading.
Features
So Writers.work is a paid program, but with it there are lots of tools and services that are supposed to make your writing life easier.
I'll go through the best tools that Writers.work offers after that I'm going to share with you things I liked and things that did not.
1- Writers.work's Magical Job Finder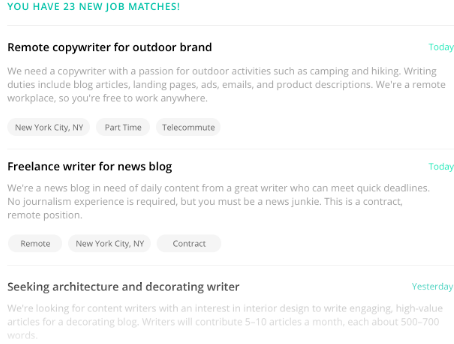 Source: https://writers.work/
Looking for writing jobs online is definitely not a walk in the park. It takes hours of research and lots of energy to find a handful of jobs with reasonable pay rates.
The Writers.work writing gigs scout or as they call it "Magical Job Finder" is a tool that will show you all the job listings available online in one dashboard.
Nothing exclusive here though. Most, if not all, the writing jobs that Writers.work shows you can be found on most free job boards available online like Problogger, Craiglist & Indeed.
However, this tool will undoubtedly save you a lot of time as there are filters that allow you to find freelance writing jobs based on rates, type of job and other things.
Another benefit is you can be notified whenever the magical job finder finds jobs that meet your own criteria.
Again nothing groundbreaking here. Not that magical I think. But it's a good tool that saves time and you can find it in one dashboard along with other tools which I will list below.
2- Instant Submission Finder

There are many websites out there that are looking for writers. But some of them are either so picky or they don't want writers temporarily.
Normally you have to send your pitch to as many websites as possible to increase your chances of being hired by many companies.
But what if you could avoid all the sites where your pitch will be 100% ignored? Why waste time and energy and not focus on the sites that pay well and are not picky about writers?
That's where the Writers.work Instant submission finder comes in. This tool gives you a list of websites that will give you higher chances of getting hired.
I don't know if the Instant Submission Finder database will be updated but I think this feature is really good.
3- Deep Focus Text Editor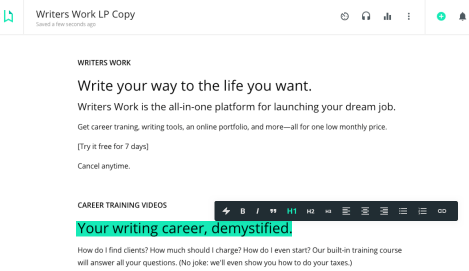 Source: https://writers.work/
Writers.work also offers you a text editor where you can write all your articles. But this is not a basic editor that counts your words. It's better than that.
This text editor comes with many great features. Besides your article, it will show the live word count that gets updated as you type, a readability score and the grade reading level.
There is also a spell & grammar checker to make your writing even better. You can even listen to some calm audio files that will make you focus more and stay free from any external noises.
Once you finish your post on the text editor, you will be able to export it as a PDF or even publish it on your WordPress blog or medium.
4- Project Organization System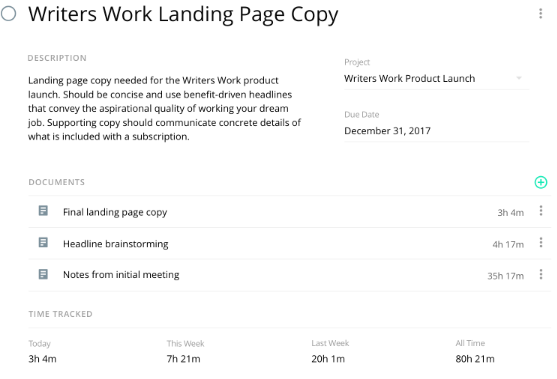 Source: https://writers.work/
This Writers.work feature allows you to organize all your work in one place. It is really useful for writers because you will see each project deadline from a bird's view and be able to be more creative and organized with your work.
This tool is helpful for writers who are starting to get more work and they want to organize it so they don't get confused.
I think this tool is very important, because as a writer if you don't get organized, you will just spread your efforts thin!
5- Online Portfolio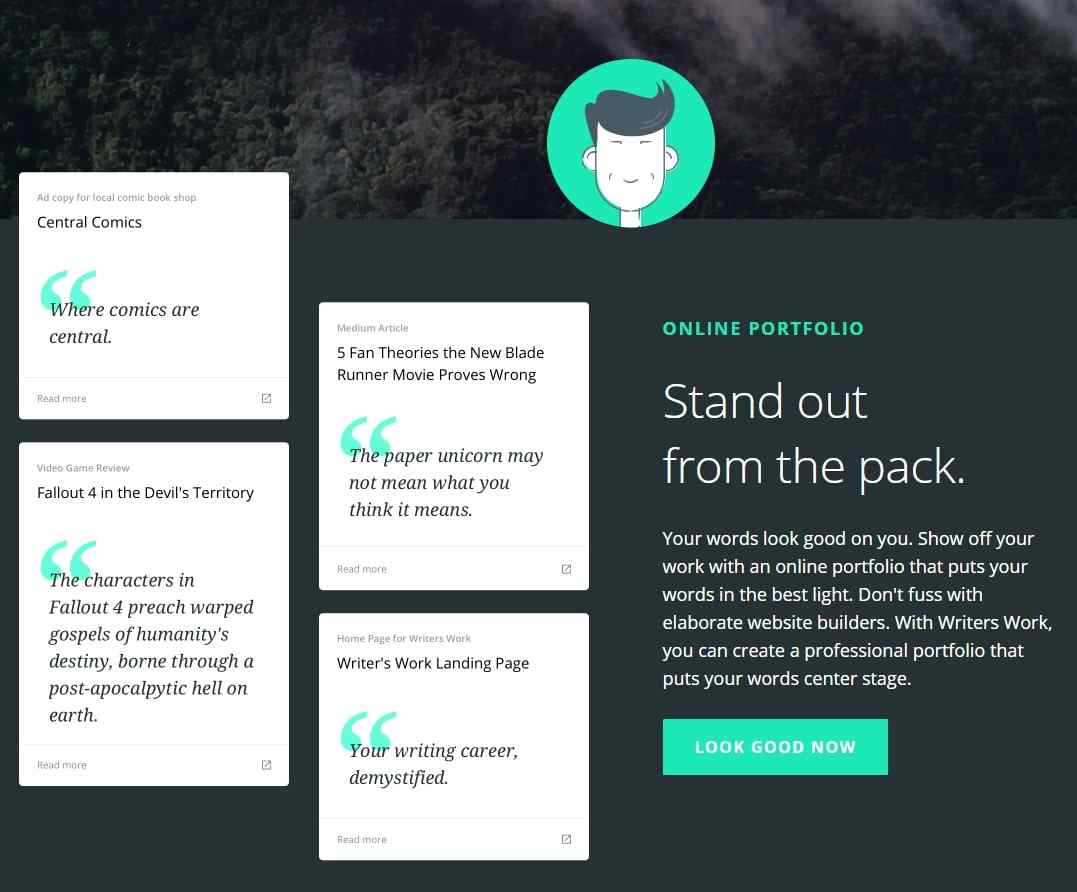 A writing portfolio allows you to showcase your writing skills and your development over the years.
Having a killer portfolio helps you market yourself better and make you stand out from other freelance writers with basic portfolios.
Writers.work allows you to create your own writer portfolio within the platform. However, this portfolio is pretty basic and you can build a better looking one by using Canva which is 100% free.
6- The Writers.work – Career Training Videos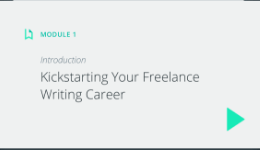 Source: https://writers.work/
These are lessons that focus on new writers. You will get training here that will cover the important things and skills any writer should possess.
Furthermore, you will learn about the basics of writing, copywriting, how to market yourself and more.
Within this course you will find text based training but a lot of videos.
7- Writers.work Habit Builder Tool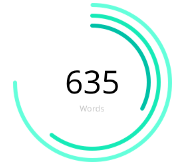 Source: https://writers.work/
The last feature but not the least is the habit builder tool which is a word counter tool which will count the words of all your articles and show your words record and motivates you to beat it.
This tool can help you build up the habit of writing longer posts which are going to make you more money for sure.
Honestly, I was expecting more from this feature and as for now, it's pretty limited to words counting.
Pros
1- Writers.work is an all-in-one stop for writers
I like the idea of having "LITERALLY" everything you will ever need in one place. You can learn how to write, you're given a text editor where you can do all your work, you can even find jobs within the platform.
That's very good and obviously better than splitting your mind into many tabs and confusing dashboards. This will surely increase your creativity and reduce the stress of writing!
2- They welcome all writers – newbies and experienced
Another good thing about Writers.work is it's good for both newbies and experienced writers.
The experienced writers will benefit from all the good tools available in the platform. While newbies will find very useful the career training because there they will learn everything even how to do the taxes or how much to charge the clients.
Cons
1- There are so many negative reviews
I have read so many negative reviews about Writers.work. Most complaints are about refunds and about the upsells. But in their help page they clearly say that the add-ons are not refundable.
There are also complaints about the training and the tools. Some say that the training is weak and there is no guidance. While others say that the jobs are expired and hard as they require journalism degree to get accepted.
I have found some reviews on Reddit that assume Writers.work is a scam just because they charge money without a free trial.
However, at Trustpilot all the reviews are positive but I am a bit skeptical because it's easy to fake reviews there and to me, the commenters photos look fake.
Source: https://www.bbb.org/us/tx/austin/profile/technical-writing/writers-work-llc-0825-1000145719/complaints

Source: https://www.bbb.org/us/tx/austin/profile/technical-writing/writers-work-llc-0825-1000145719/complaints
2- There is NO free trial!
This is a red flag to me because usually products especially work from home products that are scams can't afford to give out free trials. This is because if they did people will run away immediately.
What they do instead, is they let you in for a fee, promise you a refund and then you're locked in. Or they pretend to give you a refund but they keep charging your credit card without your consent.
I'm not saying that this is the case with Writers.work but the chances of being so are high.
3- No About Page! Who is behind Writers.work?
Didn't you notice that in the Writers.work website there is ABSOLUTELY no about page! Who created this website? Who is behind it? Where is it's physical address?
On their BBB page, they say they are based in Austin, Texas. But a complaint from a user said that they were actually based in Arizona.
There is something wrong with this website for sure. this is a HUGE red flag in my eyes. It's VERY uncommon for a website to not have an about page or no info about the founders unless it's a big scam.
I review scams regularly on my site and guess what's common between the scam websites? The founder is always hidden or it's a fake one.
4- Writers.Work owners are behind another scam!
After doing some intense research I found out something very worrying. The owners of Writers.work are the same people behind a confirmed scam called Writing Master Jobs.
Here's a video of Master Writing Jobs I did a long time ago when I was just starting out with my Youtube channel.
Please excuse my English as I am not a native English speaker and this video was literally the second video I uploaded on Youtube.
Coming back to our topic, Writers.work and Master Writing Jobs share the same owner and I have read other reviews and complaints that confirm this.
If you want to learn more about Master Writing Jobs just watch the video above or click on the orange link above which will take you to the full review where you can read the comments left by the scammed members.
5- Very misleading advertising!
Writers.work advertising is very misleading. On their Facebook page, they usually market themselves as an easy way for writers to make money. They even promise newbies to start making money fast which is nothing but hype.
Even the negative reviews I shared with you above confirm this misleading advertising because most complaints say that it's hard to land a job with Writers.work.
This is another red flag in my book because it's obvious that a legit company would NOT need to mislead members to get them in.
If you have anything to add, maybe your experiences with Writers.work, don't be shy to drop your comments in the comments section.
6- The have an "F" rating at BBB.
BBB (Better Business Bureau) is a company that reviews businesses and work at home websites. Many people use BBB to check the ratings of a company they are interested in. Watch this video below to learn more about BBB.
As I am writing this, Writers.work has an F Rating at BBB and that's the worst rating you can get. There are also 4 complaints and 0 positive reviews that you can check out by clicking the orange link above.
Is Writers.work worth the money?
$47 for a lifetime membership does not sound like a lot of money, and they offer good tools. At this point, I think it's worth it.
But after reading the negative reviews and the people complaining about not getting refunds then I would not invest in it.
That's my personal opinion only.
I'm curious to know your opinion about this especially if you have bought the Writers.work membership. Your opinion will definitely help other people make a better decision.
Alternatives
To me Writers.work does not look like a safe opportunity especially after learning about all those red flags!
Don't worry though as there are so many legit and 100% safe alternatives which I am going to share with you below.
Is Writers.Work A Scam?
Writers.work is not a scam but it's borderline, to be honest. There many good things about Writers.work but there are WAY too many complaints and alarming red flags to be considered a legit opportunity..
At this point, it's up to you to decide. I have shared with you my honest take on this and you be the judge. Again I will really appreciate it if you add your feedback below. It will be VERY useful for anyone who wants to buy Writers.work.
As I said earlier in this review, I was planning to promote this as they have an affiliate program. But because of the red flags I shared with you, I stepped back and decided not to promote it. Instead I wrote this HONEST Writers.work review for anyone without being bias.
With that said, if you want to join it and give it a try I do have My Writers.work affiliate link. But just remember I don't recommend it 🙂 I only recommend stuff I like and blindly trust.
Below you will learn more about what I actually recommend for newbies. Thank you so much for reading my "Is Writers.work A Scam?" review!
This is the best way to earn from writing!
There are different ways to make money writing. But in my opinion, the most profitable and reliable way to earn from your writing is to write for yourself and your own website or business!
People pay you to write because they are making you build their websites and get them more profitable. The articles you write for others are going to make them money FOREVER.
Why not make your writing make you money forever by starting your own money making site instead of working for other people?
I used to be interested in writing for other people but I have decided to start my own website because it's a lot more profitable.
Now I write articles or reviews and make money when people check out my recommendations.
I've been doing this for more than 2 years and I am already making a full-time income and I even pay writers to write for me!
You can start your own online business right away! No worries if you are a newbie. Just click on the button to learn everything about it!