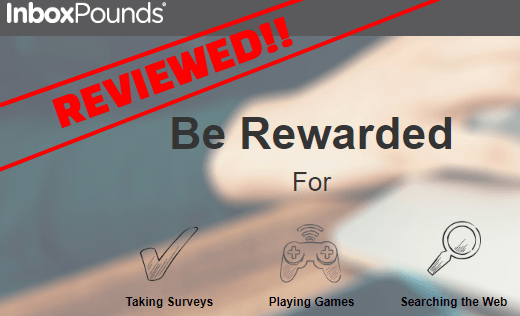 Is InboxPounds a Scam? If you sign up for InboxPounds will you earn some extra cash? Or it's a scam?
Before you sign up you MUST read this detailed InboxPounds review!
You can expect to read about all the features of this program including the payment methods pros & cons, alternatives and most importantly if it's worth your time!
Ready?
Let's get into this review!
Name:  Inboxpounds
Website: inboxpounds.co.uk
Type: get paid to site.
Price: free
Recommended? Yes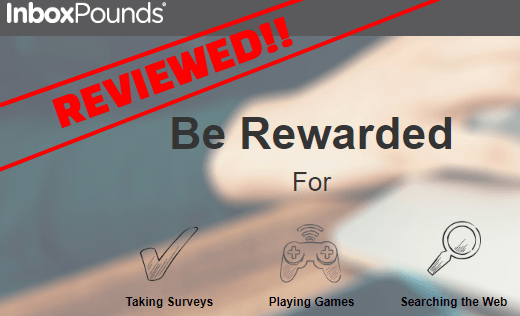 Here's My Top Recommended Program!
What is InboxPounds?
InboxPounds is a Uk focused online reward site owned by CotterWeb Enterprises. Inc.
They also own:
InboxDollars (US & Worldwide)
Daily Rewards (Canada)
 Send Earnings (CA, Uk, and the USA)
Quick facts about inboxpounds:
Inboxpounds has millions of active members.
+200,000 Facebook followers.
InboxPounds created in 2012 is the UK version of Inboxdollars.
Inboxpounds has paid out more than $50 million to their members.
Inboxpounds has recently partnered with some very trustworthy brands in retail, market research, and technology which are:
Ladbrokes Bingo
Audible.co.uk
With InboxPounds you earn money doing different activities such as:
Taking surveys
Keep reading to learn about more ways to earn with Inboxpounds
If you use InboxDollars already then you don't need to try this one it's simply the Uk version of InboxDollars.
Quick Note!
Reward sites can be a good way to earn an extra $50 to $150 every month.
However, most reward sites make it very hard for you to even earn $20 every month.
These are certainly the type of GPT (Get paid to) sites you want to avoid.
Before I get into this full InboxPounds review, I'd like to tell you that even the legit GPT sites sometimes are not worth it.
They can turn out to be a big waste of time and efforts.
Is this the case with InboxPounds?
Let's see how it works to find out…
How Does InboxPounds Work?
Inboxpounds is pretty simple and straightforward to use.
All you have to do is:
Join Inboxpounds 
 Start taking surveys or any earning opportunity they offer (currently 8)
Try to reach the gold membership (I'll explain that later)
Cash out your earnings (I'll explain that too)
Below I'll explain in details how Inboxpounds works.
How to Join Inboxpounds
Visit the Inboxpounds sign up & 1£ sign up bonus.
Add your email & password
Accept the terms & privacy
Receive the verification email & confirm your email address
Complete your demographic profile (age, education, work…)
Add your phone number & verify it
Quick Note!
After you complete your demographics profile you will earn £0.40.
Regarding the phone number verification your number must be:
A UK based phone number
You need to own a mobile phone
Google Voice, VOIP or Skype phone numbers are not accepted.
Another thing you need to keep in mind is that you are not allowed to create more than one account with the same email address or computer from the same household.
​
This if not respected will result in an instant permanent ban.
How to Make Money with InboxPounds?
As noted above when you sign up and confirm your email address you get a £1 sign-up bonus.
Here's how the bonus will look like in your account.

You can complete a general profile survey which will earn you £0.40, there is also an interests survey that you can fill out and earn £0.20.
These two surveys help InboxPounds bring to you surveys and offers that you will genuinely want to take.
There are other different activities you can do to earn more cash.
1) Cash Offers
Offers are more rewarding than any other activity and that's the case with all reward sites.
You will find:
The paid offers
The trial offers
The free offers
1.The paid offers
The paid offers ask for money.
For instance, InboxPounds will show you an offer that costs £5 this offer could be anything.
If you buy that offer you earn £6 or £8.
Most paid offers work like this, you pay £10 but you earn £11 or £12 after you complete the offer.
In a few words, you will get a free & quick $1 or $2.
Some paid offers can be subscription offers with a monthly fee.
It's your responsibility to ALWAYS unlink your credit card after you spend money on a paid offer.
If you forget to remove your credit card from the paid offer they will keep charging you money EVERY single month without notice.
You have been warned 😉
2. The Trial Offers
Trial offers are usually free but they may ask for a credit card as I said above don't forget to unlink your card before the trial would expire or your card will be charged every month automatically.
3. The Free Offers
Free offers as you would expect are free, however, they are usually a waste of time as you earn a few cents for a 10 to 15 minutes task.
A Quick Note about the Cash Offers!
While cash offers sound like a good way to earn some extra cash there are many things I did not like about them!
You need to be aware that some offers will require you to download some suspicious software or apps that might hard your device.
Some third-party companies will even send you lots of spam that's why you need to always read the terms & conditions!
2) Surveys
One thing I hate about surveys is when you keep answering questions and when you are about to finish the survey and finally want to see that cash you get slapped with a " You Don't Qualify! "
This is something very usual with the GPT and survey sites and InboxPounds is no exception.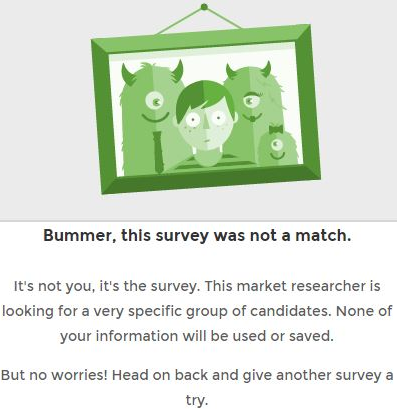 I always avoid surveys now and focus on doing other things that I am sure they would at least recompense me for my time.
Another reason why you should also try to ignore surveys is you have to take a 5 minutes qualification survey before you start receiving other paid surveys.

Even after you take that survey it doesn't mean you will qualify for every survey, you will still encounter those long time-wasting surveys.
Most of the time out of 5 surveys you will surely do at least 2 long surveys for free.
Even the paid surveys that you get recompensed for aren't worth your time.
Would you take a 15 minutes survey to earn $0.28 £?
Or even worse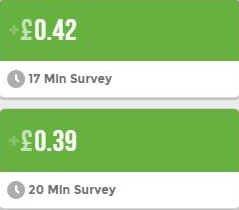 Well, that's why I hate surveys.
By the way, the surveys that Inboxpounds gives you are from a third party market research company called Peanut Labs.
If you click the Peanuts Labs orange link above you will read SO many negative reviews.
This explains why the Inboxpounds surveys are so bad.
3) Get Paid to Search The Web
This is not a task that will waste your time but you only earn 1 cent for every four searches you do through their search engine.

Their search engine is similar to the Swagbucks & Qmee search engine.
You can set InboxPounds search engine as a homepage if you wish, what I like about is you get the same results you would get from Google.
So I wouldn't mind earning cents for doing something I'd do for free.
Keep in mind that!
Remember that the maximum you can earn from their search engine is no more than £0.15 per day.
And you need to make searches that make sense.
Any strange searches that are made only to earn will result in a ban.
4) Perform Simple Tasks
That's another area I would ignore, the tasks are as simple as giving a title to a picture or choosing the best title for a certain product.
But I see many 60 minutes tasks that will earn you £0.2.
These tasks are hosted on a third party website called Crowdflower which is a crowdsourcing company.
If you are familiar with Amazon Mechanical turk, these simple tasks are the same you find on Amazon Mturk.
Inboxpounds 2019 Review Update!
Crowdflower is has changed their domain name and branding now they call themselves Figure Eight
5) Play Online Games
I don't play online games because I don't like them.
But if you like playing web-based games, you can play a game and get good at it.
You will find contests where you can participate and earn prizes if you win.
There are over 30 games you can play for free.
This is how the games look like: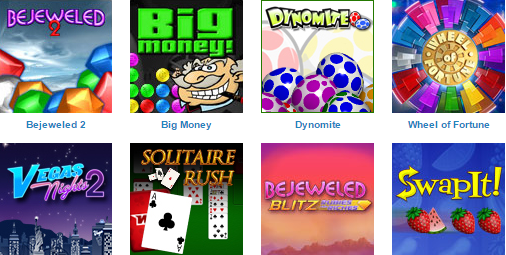 6) Paid Emails
Members that are active on the site can receive up to 3 emails per day each email contains an offer or a survey, each paid email will earn you £0.1.
Inactive members don't receive any paid emails.
7) InboxPounds App.
InboxPounds does not have an app, but their site is mobile friendly so you can use it and earn cash in the go.
2019 Update!
Looks like Inboxpounds have released mobile apps for their site, you can learn more about that on their official site.
8) Increase Your Earnings with The golden membership

After you request your payment you will become a golden member, gold members earn more and get paid quicker.
9) Earn Cashback from your Online Shopping
You can also earn rebates from your online shopping thanks to Inboxpounds.
But when it comes to cashback I prefer sites like:
Because they simply offer the highest rebates.
10) Refer Your Friends
This is my favorite part of InboxPounds, whenever I sign up for any reward site I quickly look for the referral program.
With InboxPounds Referral Program you earn 10% of what people you refer earn.
How to get LOTS of Inboxpounds referrals!
If you want to earn significant cash with the Inboxpounds referral or any referral program, I recommend you to check out Wealthy Affiliate.
Wealthy Affiliate will teach how to create an affiliate website which is the best way to get referrals!
Inboxpounds – Spin & Win Wheel (
2019 Update

)

Spin & Win wheel is a new feature at Inboxpounds and it has been released after so many complaints from the inboxpounds members about the high disqualification rate from the surveys.

Thanks to the spin & Win wheel feature members that get disqualified from a survey will get a chance for a spin in the spin & wheel.

Spin & Win wheel is a sort of sweepstakes where you earn spin (aka tokens) that will give you a chance to win an Inboxpounds prize.

If you get disqualified from a survey you will receive a spin in your account here is how it looks like.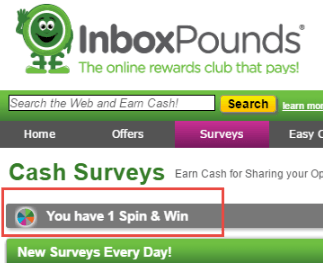 Each spin gives will give you a chance to try your luck with the spin & Win wheel game which looks like this.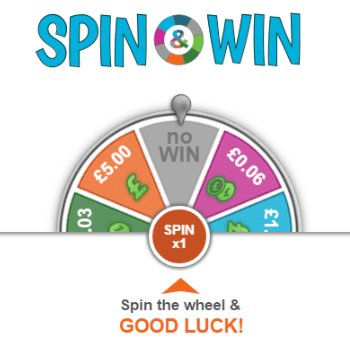 As you can see in the screenshot above if you're lucky you can win an easy £5.00 or nothing if you're unlucky.
Does it Cost Money to Join Inboxpounds?
No, Inboxpounds is 100% free but as I explained earlier in this review there are some paid cash offers that require money in order to be completed.
But as soon as you complete the offer you will get your money back plus your earnings.
How Does InboxPounds Pay You?
You can request payment only when you reach £20.
I think it's not very easy to reach the minimum payout threshold.
I'll share with you some hacks and tricks to reach it much quicker later on this review.
They have three payment options.
Amazon, Nike. Itunes.. Gift Cards
Prepaid Mastercard
Cheque.
Gift cards and Mastercard payments don't take much time to arrive while a cheque may take up to two weeks to arrive.
I don't like the high payout limit and I love getting paid with Paypal which they don't support.
Does InboxPounds Pay?
Yes, Inboxpounds does pay, it has already paid out $50 million to their members and there are many payments proof online from members receiving their gift cards and cheques.
Here's a video I found on Youtube of an Inboxpounds member with his cheque.
Does InboxPounds Accept International Members?
Although Inboxpounds is a UK based site you can sign up from some other countries.
However, non-Uk members can only earn money doing cash games (playing games) and can only get paid via cheque that will be sent via Royal mail.
InboxPounds Hack & Tips
If you want to reach £20 much quicker every month you want to do these things:
Don't waste your time with surveys, searching the web, and the "simple" tasks.
Focus on the Inboxpounds referral program 
Take paid offers (ex: spend $10 earn $12)
If I were you I'd focus 80% on referring people and 20% taking paid offers.
Referring people is not simple, you can refer your friends and family but I recommend you to start a website.
Google and other search engines will send you tons of free traffic.
It's not easy to create a website that gets traffic and revenue but Wealthy Affiliate makes the process easier.
My blog posts rank well on Google and bring in TONS of visitors.
I learned that from the Wealthy Affiliate training.
How Much Money Can I Make?
The money you earn on InboxPounds is minimal, a matter of fact, the program was mentioned in BBC and the author mentioned InboxPounds and other ways to earn and the final result was a waste of time.
Read the BBC article here it's a bit old, some features like watching videos aren't available anymore in InboxPounds but the earning potential is still low.
In a few words, Inboxpounds is not a website that is going to replace your job but just a pocket money opportunity.
Looking for a BETTER WAY to Make Money? 
Check out My Top Recommendation Here!
InboxPounds Reviews from Members
There are many Inboxpounds review posted online and below I'd like to share with you some of the reviews that have been posted on these review platforms:



InboxPounds The Pros & Cons
Pros
Inboxpounds is legit & Free to Join
Different Ways to Earn
Nice looking site & easy to navigate
Good Referral program
The golden membership is free & it Increases Your Earnings
The Support team is good they have 24 hours live chat.
After you request your payment you earn £1.
Cons
Low payments
Minimum Payout is hard to reach for the average user.
Taking offers can send tons of spam to your email inbox since you take offers from third party websites.
Most of the time you take surveys and earn nothing.
No Paypal Payments
InboxPounds Alternatives
You can read about the best reward sites here.
If you want to earn a full-time income from home, then you want to check out Wealthy Affiliate
Is InboxPounds a Scam? Is it Worth Your Time?
InboxPounds is legitimate it's NOT a scam, however, the earning potential is low although they offer different ways to earn!
In a few words, there are better sites to make money online that are worth your time more than Inboxpounds.
This is How I Make Money from Home!
If you want to make some real money online, I recommend you to check out my:
FREE & FAVORITE WORK AT HOME PROGRAM where you can earn a full-time Income from home.
As you can see it's the same reason why I earn these great affiliate commissions!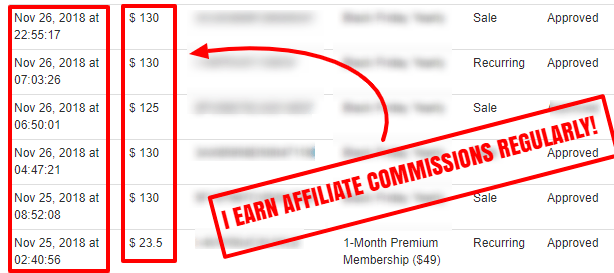 My November affiliate commissions thanks to Wealthy Affiliate!
Learn How to Earn Affiliate Commissions Like Me!
If you have tried InboxPounds before or have any questions or feedback feel free to drop comments below!