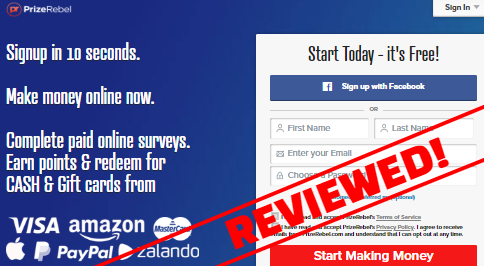 Is PrizeRebel a scam? Can you really earn money with this survey site?
This is a 2020 full PrizeRebel review before you sign up you must read all of it!
Let's get inside the review without wasting time!
PrizeRebel
2020 Updated Review

!

Name:  PrizRebel

Website: prizerebel.com

Price: Free

Type: GPT site

Recommended? Yes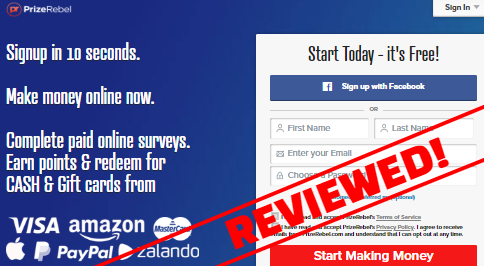 What is PrizeRebel?
PrizeRebel is a GPT (get paid to) where you earn money doing various tasks like taking surveys and completing offers.
It's been around since 2007.
If you are aware of Swagbucks, Prizerebel is similar to it.
If you don't know what Swagbucks is it's a legit reward site where you also get paid to take surveys and complete tasks
So is PrizeRebel legitimate? is it safe?
In this PrizeRebel review, I will cover everything you need to know, how to earn, the pros and cons and more.
But before we get into this review, PrizeRebel won't make you rich it's just a site to make a few extra bucks.
If you want to make a full-time income from the comfort of your house here's a better alternative.
How Does PrizeRebel Work?
The first thing you need to do is to sign up you can do it with your email address or just sign up with your Facebook account.
Then you will have access to your account and start earning points that you can redeem for cash later.
If you are wondering how can you earn points just keep reading.
How Can I Make Money with PrizeRebel?
You can earn points doing various tasks which are the following:
1)Surveys
PrizeRebel allows you to earn some points by taking surveys, surveys are available worldwide.
However, it seems like users from the US and Canada earn the most points while worldwide members most of the time don't qualify for most of the surveys.
Looks like Prizerebel has partnered up with Peanut Labs and now you can complete the Peanut Labs surveys right from your Prizerebel dashboard!
2) Watch Videos
Watching videos is another way to earn points, unfortunately, you have to watch many videos to earn a few pennies.
3) Paid Offers
You can complete paid and free offers, the paid offers ask for money and are more rewarding than free offers.
Most paid offers come from partner sites like:
Adgate
Adscend
 Persona.ly
OfferToro
TrialPay
Superrewards
RadiumOne
PeanutLabs
Warning!
Some offers may ask for your credit card so always make sure you unlink your credit cards after you complete an offer to avoid being charged.
4) Tasks
Complete simple tasks like adding a description to a picture or choosing the best title for a product and earn a few cents.
These tasks should be done through another PrizeRebel partner site called Figure Eight (used to be Crowdflower)
If you are aware of Amazon MTurk the tasks are pretty much the same of Figure Eight
5) Get Paid to Play Games on Your Phone
Thanks to Offertoro (Prizerebel partner) you can get paid to play games on your phone.
Most games require you to play the game for 10 minutes or require you to reach a certain level to earn points.
For example, if you play this game called Final Fantasy XV and you reach the citadel level 10 you will earn 300 points ($3).

Each game has its own rules and requirements so make sure you always read the app or games description.
7) Raffles
If you feel lucky you can use some of your Prizerebels points to enter raffles and get a chance to triple your earnings easily.
But as I said you need to be lucky that's why you need to keep in mind that you might lose all your points as you keep buying raffles without winning.
At Prizerebel there are new raffles available every week.
To enter a raffle you need to spend 10 cents which will give you a chance to win a $5-10 gift card.
8) Lucky Numbers
This is another opportunity that requires luck.
Here's how it works.
You need to buy a lottery ticket and choose 4 numbers of your choice then you should wait for the draw to be made.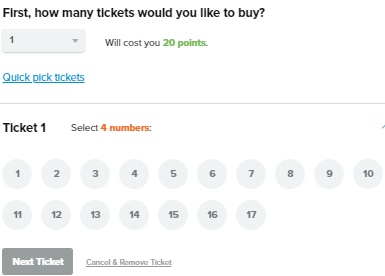 If your chosen numbers match the 4 numbers you see in the draw results that means you have hit the jackpot.
Each lottery ticket will cost you 20 points.
9) Contests & Daily Bonus Points
There are other different contests where you can participate and try your luck and see if you can win something.
There are 4 contests that you can participate in:
Task contest
Offer Wall contest
Surveys contest
Referral Contest
These contests basically will reward the most active Prizerebel members.
For example, if you know a lot of friends and you have a good referral base you can participate in the referral contest make it first in the leadership and you will win a prize.
If you love taking surveys then participate in the surveys contest, if you rank #1 you will earn a prize.
The Prizes you earn from these contests are points.
If you rank number 1 in the referral contest you will earn 500 points ($5)
There is also a daily bonus that you can get if you earn a specific amount of points every day.
10) Referral Program
Like any other reward site, the referral program is the most profitable part and I always recommend people to focus on it.
With PrizeRebel you earn 20% of whatever your referrals earn for life.
Quick Note!
Your referral earnings depend on the membership level you're currently at.
Below I explain to you how the Prizerebel memberships work.
The PrizeRebel Membership Levels
If you're a Prizerebel member or planning to be then you need to understand very well the membership levels because they are important for your earnings.
Currently, there are 5 Prizerebel membership levels:
Bronze membership level
Silver 
Gold
Platinum
Diamond
Obviously, you want to be on the diamond membership because it's the highest membership where you will earn the most money.
As a new Prizerebel member, you will be sitting at the lowest level (bronze) but as you earn more points and spend more time on the site your membership level will improve.
Ok, but How Can I Upgrade to the Diamond Level?
Well, your Prizerebel membership level depends on how many points you have earned.
For example if you have less than 1000 points in your account then you're at the bronze level.
Once you reach 1000 points you will be positioned at the silver level.
To upgrade to the higher level you need to earn more points
Less than 1000 points = Bronze level
1000 points = silver level
3000 points = gold level
7000 points = Platinum level
12,000 points = Diamond level
Note that advancing in levels will give you more bonuses like better payment options and more earnings when you refer your friends.
Is PrizeRebel 100% Free?
Yes, Prizerebl is 100% free but sometimes you will find offers that require you to add your credit card details and pay a small fee.
But these paid offers are always optional so you're never required to pay.
Sometimes completing paid offers will make you some quick easy cash but they are not always worth it.
That's why you need to always read the description of the paid offer you want to take and take your time to figure out if it's worth it or not.
How Long Does it Take to Earn?
How long it takes to earn greatly depends on how much time you will be willing to invest.
If you spend the whole day answering surveys and completing tasks you will earn faster.
But always keep in mind that the earnings are NOT high even if you spend the whole day working on PrizeRebel that's the case with any survey site.
Another thing you need to keep in mind that members from the US & Canada are going to earn money from Prizerebel faster because advertisers love advertising in these two countries because they get better results.
I have found this video on Youtube and it does a good job explaining how to earn and how long it takes to earn from Prizerebel.
How Will PrizeRebel Pay Me?
The minimum payout requirement is 100 points ($1).
You can redeem your points for Paypal cash also but only when you have 500 points ($5).
There are also Other Payment Methods.
Dwolla (direct bank deposit only available in a few countries)
Different types of digital and physical gift cards from companies like Skype, Amazon, Forever 21…
Or you can use your points towards online games like League of Legends or Minecraft.
PrizeRebel also allows you to donate what you earn to different charity organizations.
Quick Note!
Prizerebel has recently added a new reward which is Bitcoins so you can redeem your points in Bitcoins too.
There is a program online called Gift Card Rebel I had a quick look at it but I don't think it's legit.
It claims that you can get free gift cards online.
Tips & Hacks to Earn more Money with PrizeRebel!
There are some tricks or what I like to call hacks to earn the most money with PrizeRebel or any other reward site.
Here are some things you can do to earn the most with Prizerebel.
1- Join PrizeRebel Reddit subreddit.
There is a subreddit on Reddit about PrizeRebel where they share the best hacks and promo codes to earn the most out this reward site.
You definitely want to join it if you want to learn the latest techniques to increase your Prizerebel earnings!
2- Sign up for More than one Survey Site
Using PrizeRebel only is not enough to earn significant cash, always use at least three GPT programs.
Don't know where to find other GPT programs?
Try these:
3- Refer People to Your PrizeRebel
If you want to kill it refer as many people as you can, I know it's easier said than done.
But instead of trying to get your family and friends to join under you there is an optimal solution.
By the way, getting your family to sign up under you will result in a ban as only one account is allowed per household.
Build a website and get as many referrals as you want.
A website will easily make you a decent income but it requires hard work.
If you want to build a website that doesn't suck and that actually gets you traffic and referrals from Google, check out the Wealthy Affiliate training.
4) PrizeRebel Promo Codes (Free Points)
One thing that it's good to keep in mind is you can earn free points with PrizeRebel.
All you have to do is to find promo codes which you can add to this box that you can find on your Prizerebel dashboard.
Hey Anis! Where the Hell Can I Find Promo Codes?
You need to like and follow Prizerebel on Facebook because they regularly share with all members promo codes that will give you free points.
Here's an example of a promote code.
5) Install the PrizeRebel Browser Add-on
If you don't have time to log in every time to Prizerebel but you still don't want to miss out on earning opportunities then you need to install the Prize Rebel browser extension.
This browser add on will notify you whenever:
There are new PrizeRebel promo codes
When there are new surveys available
When you get a new referral
You can even cashout from the Prizerebel add-on!
So yeah if you want to make your life easier you definitely want to download this handy browser add-on.
The Prizerebel add on is only available in two web browsers.
6) The Best Times to Earn with PrizeRebel
There are some certain times where you won't find a lot of earning opportunities at Prizerebel.
For example, at the weekends people don't work that's why Prizerebel becomes very busy which results in finding a lot fewer opportunities versus the weekdays.
Another time where Prizerebel becomes busy is in the holidays.
So in a few words, you want to be working on Prizerebel from Monday to Friday if you want to earn the most money and find lots of surveys and offers to complete.
Is PrizeRebel Available in My Country?
PrizeRebel is available in almost every country but as I said earlier people from the USA and Canada (sometimes even Australia and New Zealand) earn the most money.
But you can definitely join if you are from countries like Italy (where I live) France, Germany just remember you will find fewer opportunities.
How is the Support?
Any legitimate website should offer solid support and help for their members, I review a lot of work from home programs and unfortunately most of them lack when it comes to support.
But I'm happy to say that PrizeRebel does offer some good support in case you run into some problems.
If you have problems with Prizerebel you can simply open a ticket or contact them via their social profiles where they are very responsive.
PrizeRebel Reviews & Concerns
PrizeRebel Scammed me! or Is Prizerebel safe?
These are some of the complaints and concerns I came across during my research.
There are lots of reviews left by Prizerebel members on some review sites like:
Sitejabber
TrustPilot
Survey Police
Below I'll talk about these reviews in details and what they are about.
1) PrizeRebel Reviews on Sitejabber
The first site that I visited to read some Prizerebel reviews is Sitejabber.
This site gave Prizerebel a good rating (3 out 5 stars)
There are some complaints though about things like:
Lots of pre-qualifying questions
Missing payments
problems with redeeming points
2) PrizeRebel Reviews on Trustpilot
The second site where I read some reviews is called Trustpilot
Trustpilot gave Prizerebel a good 4 out of 5 rating because most members have posted positive reviews.
There are a few negative reviews about missing payments and problems getting paid but they are not recurring issues.
3) PrizeRebel Reviews on Survey Police
The last site where I found reviews about Prizerebel is called Survey Police.
Prizerebel got a good rating from Survey Police as well (4 out of 5 stars)
There are a lot of positive reviews here, there are a few negative reviews but they are pretty baseless and not recurring.
I read a negative review saying that prizerebel stole his info and sold it but based on my experience and lots of other people PrizeRebel is safe and the information you give them is completely safe.
Make sure you read their terms because many did not respect the terms and got banned, that's why they call PrizeRebel a scam.
What I Liked About PrizeRebel
1-  Lots of Surveys Available
Most surveys and GPT sites out there have a limited number of tasks and surveys every day.
One thing I liked about Prizerebel is they have quite a lot of surveys available.
Which means you can expect to always be busy with this site answering surveys and doing different tasks.
I noticed lots of opportunities became available at Prizerebel when they started to partner up with other sites like Peanut Labs and OfferToro.
2-  Different Ways to Cash out
Everyone has their favorite payment method, some want to donate their earnings, some people love getting paid via Paypal and so on.
The good thing about Prizerebel is there are different payments methods ranging from gift cards (both physical or digital) to direct bank deposit.
On top of that there is a low cash out threshold of $1!
3-  PrizeRebel is Easy to Navigate
The site is designed very well you can quickly get used to it and immediately start completing offers and surveys to earn money.
The site interface is very important because I personally signed up for websites that look like they have been built in the 90's and are VERY hard to browse or get used to.
4-  Good Referral Program
Earning 20% to 30% of your referral earnings for a lifetime is very good.
I know many surveys that offer a lower percentage of your referral earnings and for only a year.
And remember that referring people is the most profitable way to make the most money out of Prizerebel.
Want to get Lots of Referrals to PrizeRebel?
​
Check out My Top Recommendation Here!
What I Didn't Like
1- Inactive at PrizeRebel? Say Goodbye to Your Points!
When I first joined Prizerebel I used to use the site to complete surveys and the available tasks.
But after a few months, I stopped doing that and ONLY focused on referring people to it by writing reviews like this one.
Unfortunately, if you're inactive with Prizerebel for 6 months you will lose points.
Today I review different surveys and most of them will send me payments automatically because I send them referrals.
I got 14 referrals on Prizerebel that earned me 72 points.
But these pointed disappeared because I personally don't login to Prizerebel anymore.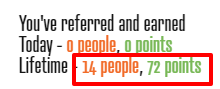 But fortunately, I found a better way to work from home thanks to the Wealthy Affiliate training where I earn over $3,000 a month now.
2- You Get Paid in Points… I Want Cash!
Maybe it's just me but I hate any website that has points currency, I mean I don't you just pay in USD?
Generating points just makes thing confusing most of the time.
3- Answer Pre-Qualifying Questions… All the Time!
Most websites will have you to fill out your profile where you put your personal data.
This general profile survey is good because it helps the survey sites determine which surveys to send you or not based on your profile.
The problem with Prizerebel is they don't get you to fill up this general survey but you're required to answer pre-qualifying questions all the time before a survey.
That's frustrating.
Quick 2019 Update!
Now If you link your Facebook account to your Prizerebel profile you can skip 70% of these pre-qualifying questions
4- It's Hard to Qualify for Surveys!
I read different negative reviews about members complaining about how hard it is to qualify for the surveys.
But I found out that people outside the USA, Australia, and Canada get screened out during the surveys.
Some members also report that they would spend a lot of time into a survey only to get screened out.
Is PrizeRebel a Scam? Final Review
PrizeRebel is not a scam, It's a reputable company that has been around for a long time.
It has paid out their members however it's a slow way to earn money.
But if you sign up for PrizeRebel and other reward sites like Swagbucks you can earn a bit more.
Alternatively, check this reliable way to make a full-time income from home with your passion.
It's the exact same way I use to make AMAZING commissions like this.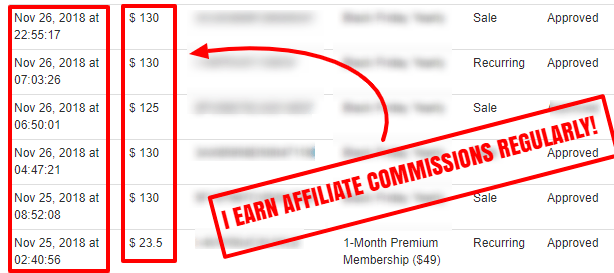 My November affiliate commissions thanks to Wealthy Affiliate!
I hope you found my Prizerebel review useful if you did please share it with your friends by using the social buttons.Any questions, comments or feedback?Feel free to share your thoughts by dropping a comment below.